Did you know that there was a complete guide to all aspects of your phone? It's called a user manual and it answers possibly anything you would want to know about your phone.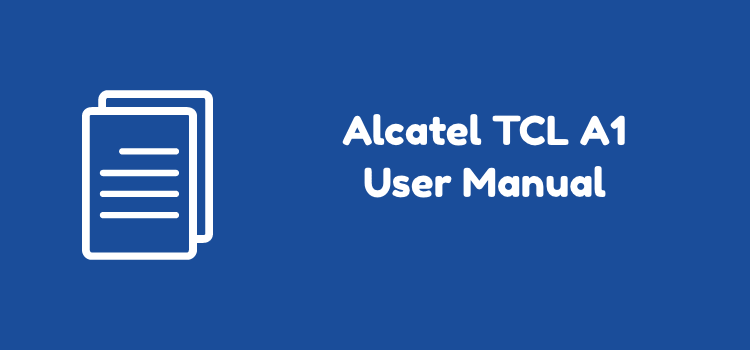 As with other manuals, the Alcatel TCL A1 (A501DL) user manual is your most comprehensive guide to every possible aspect of your phone.
Available on your phone or through the PC, this user manual details the basics about your phone, how to use it and all other things pertaining to your Alcatel TCL A1 smartphone.
Alcatel TCL A1 User Manual
The Alcatel TCL A1 (A501DL) user manual contents are divided into several sections as discussed below:
Your Mobile
This section is about the phone. It shows you important keys like the Back Key, Home Key, Volumes Key, Power Key and Recents Key. Also, it contains a drawing of the phone, naming the important slots and their work.
Getting Started
If you are new to this to the Alcatel TCL A1, you won't have much problem using it this is because this section pretty much walks you through how to use the phone. Whether it's making a call, saving a contact, sending a message or taking a photo, you won't have trouble doing it.
Read also: Alcatel TCL A1X A503DL User Manual
Text Input
Here, you learn about using onscreen keyboard, text editing and Google Keyboard.
Calls
This section deals with placing a call, rejecting or answering a call, and how to use the call log.
Contacts
Need to save contacts? No problem. You will learn how to add a contact, how to import, export and share contacts and how to delete contacts.
Messages
Messaging is an integral part of communication, and you no doubt want to learn how to send messages with your Alcatel TCL A1. Thankfully, this section addresses just that.
From composing a message to sending it to opening messages you've received on your phone, it covers everything you need to send messages.
Read also: Alcatel TCL A1X Review: Pros and Cons
Email
Like most of today's smartphones, the Alcatel TCL A1 has robust email capability. You can send and receive emails right from your phone.
This section teaches you all about emails, plus configurations and settings to make you manage your emails much better.
Getting Connected
You will learn to connect your phone to the internet, as well as about Wi-Fi Connectivity. Also, if you want to share your phone data with others, you will learn all of it here. There is also a lot discussed under Bluetooth connectivity.
Factory Data Reset
If you should ever want to reset your phone to factory settings, here is the place you want to go. It details, in step-by-step guide, how you can go about it without requiring help from anyone.
Download User Manual
There is so much more that's contained in this comprehensive Alcatel TCL A1 (A501DL) user manual. With the manual, your entire possible question has a solution.
Consider it your answer to every issue you may have with your phone. With this manual, you have the best go-to guide to using your phone.
Download: Alcatel TCL A1 A501DL User Manual (891 KB)