Solve the issue on your TracFone LG Lucky L16C by performing factory reset that will get the phone back to its factory setting that gives you another chance to use the phone without any problem with the system and its performance.
Hard Reset Tracfone LG Lucky L16C – One of the easiest ways to solve performance issue or trouble with the system or glitch, or something like that with your LG Lucky L16C is by performing factory reset. It is true that you will lose all of your valuable file, third party app and other additional stuff that you put in there. But that should not be a problem as long as you had back it up first so you can restore it later.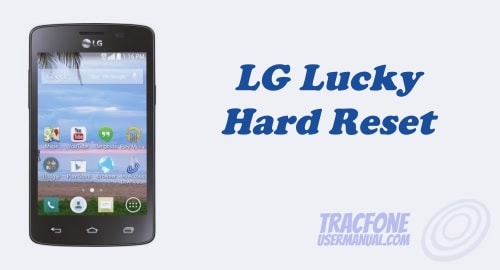 Related Posts:
➥ TracFone LG Lucky L16C Phone Review
➥ TracFone LG Lucky L16C User Manual
➥ How to Hard Reset Tracfone LG Sunrise L15G
Soft Reset LG Lucky L16C
Now, the question is how do you perform this action? If you want something simple, opt for soft reset. All you need to do is follow this guide and you are done with it:
Go to "Settings" on the phone
Tap on "Back Up and Reset" option
Tap on "Factory Data Reset"
Proceed by tap "Reset Phone"
If you had set your sequence code, you need to enter it now, but if not, go with the next step
Choose the "Erase Everything" and then confirm it
Hard Reset LG Lucky L16C
In the other hand, you also can go for hard reset method that works by entering "Recovery Mode". Once you turn off the phone, press "Power button and Volume Down button" in the same time until LG logo appear. Release the buttons and then immediately press them back until it enter Recovery Mode. Once you enter this mode, follow this guide:
Use the "Volume button" to navigating through the menu and highlight the "Wipe Data / Factory Reset" option
Press "Power button" to select it
Confirm it when it asked
Wait until the process complete
After that, find "Reboot System Now" option, highlighted it and press "Power button" to select it so it will reboot back to normal mode. There you have, now your phone has gone back to its original settings and rest assures that your problem is solved right now.