LG Stylo 3 L83BL and L84VL is the midrange phablet with a stylus that delivers uneven experience thanks to its big screen size, big battery and advanced software, which will be discussed in this review.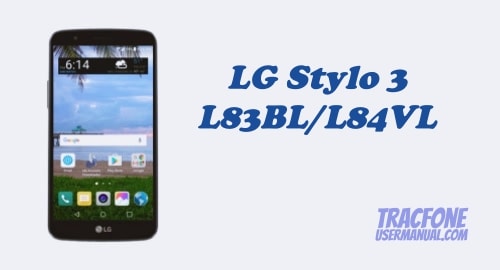 Introduction
What is the equipped alternative of Samsung Galaxy Note 7 with its stylus? Anyone who is looking for a mobile device with a stylus and the big screen should take a look at LG Stylo 3. LG Stylo 3 is one of the most interesting midrange devices that are available this day. It also doesn't hurt that this device is only half the cost of Note series.
Bringing up plenty features, using the latest Android OS and powered by powerful RAM and processor makes this device a popular choice in the market.
Design
Bar form factor and huge physical size is the most standout aspect of this phone. Measuring at 6.12" x 3.14" x 0.29″ and 5.25 ounces, this phone is indeed a big one. It's two handed phone of course because with its stylus, people are going to need both hands to use it unless they placed the phone on a desk or table while using it.
Display
5.7 inches screen size is big enough but why not? With its big screen, people can write and draw their idea as big and as vivid as they can to make a point.
LG use 1280 x 720 pixels resolution on LCD screen for this phone. It qualifies as HD but the large screen makes the pixels spread out, thus reducing its sharpness. It works just fine, but it will be so much batter is LG use full HD resolution.
Software
Operating on the clean build Android 7.0 (Nougat) is clearly an advantage for this phone. LG also use its UX 5.0+ UI that completes the whole look of the phone. The interface in this phone is very similar to LG V20, which mean that anyone who ever uses it will have no problem using LG Stylo 3.
Related Posts:
➥ TracFone Samsung Galaxy J7 Sky Pro Review
➥ TracFone LG Stylo 3 User Manual
Camera
LG equipped this phone with two cameras, a rear camera with 13 MP and front camera with 5 MP. It also has flash, autofocus, gesture shot, selfies light and beauty shot features. People also can use the camera to record video at 1920 x 1080 pixels that work pretty stable at 30 fps.
The 13 MP camera work great although it has a problem to capture detail and correct color in the low light area. As for the 5 MP front camera, it also works well enough thanks to the ability to capture wide viewing angle.
Performance
LG Stylo 3 running using Qualcomm Snapdragon 435 MSM8940 and 1.4GHz Octa-Core Processor. With that kind of processor and 2 GB RAM, this phone should have no problem working on multitasking and also playing the high-end game.
To support it, even more, LG provided 16 GB internal storage (but only 8.44 GB that is ready to use). It goes even better with its MicroSD that can store up to 2 TB additional data.
Connectivity
For the network, this phone supports 4G LTE, which is basically what most people are going to use. For another part of the connectivity system on this phone, it has Wi-Fi, Bluetooth version 4.2, S-GPS for a more accurate location, microUSB and microphone jack. It also has several connectivity features that are available for LG device only such as SmartShare Beam and LG Air Drive.
Battery
LG Stylo 3 has a removable cover and removable battery that will delight many people. Using 3200 mAh lithium ion battery, the phone should be able to stay up for 20 hours of talk time and 13 days in standby time. It means that people can use it a whole day with a single charge.
Wrap-up
Other than a slightly disappointed camera performance, LG Stylo 3 seems able to deliver good performance. The big screen and easy to use a stylus, not to mention its mid-range price, this particular device worth to look at.
TracFone LG Stylo 3 L83BL/L84VL Specifications
Body:
Form Factor: Bar (Touchscreen), Size: 6.12″ x 3.14″ x 0.29″, Weight: 5.25 (ounces)
Display:
5.7 inches, LCD Screen, Resolution: 1280 x 720 (HD), Display Colors: 16M
System:
Operating System: Android 7.0 (Nougat)
Processor: Qualcomm Snapdragon 435 MSM8940, 1.4GHz Octa-Core Processor
Camera:
Rear Camera: 13 MP, Front Camera: 5 MP, Video Recording: 1920 x 1080 pixels, 30fps
Camera Features: Flash, Auto Focus, Gesture Shot, Selfie Light, Beauty Shot
Memory:
RAM (Memory): 1.5 GB
Internal Storage: 16 GB (Usable up to 8.44GB), Support MicroSD (Up to 2 TB)
Network:
Support 4G LTE
Connectivity:
Wi-Fi: 802.11 a/b/g/n, Bluetooth v4.2 A2DP, USB: microUSB 2.0, GPS: S-GPS, 3.5mm Jack
Battery:
Lithium-ion, 3200 mAh, Removable
Standby time: Up to 13 days, Talk time: Up to 20 hours
Sensor:
Accelerometer, Proximity Sensor, Fingerprint Sensor
Other Features:
Hearing Aid Compatible, Multimedia Messaging, FM Radio, Stylus Pen