More details information about Samsung Galaxy J3 Luna Pro S327VL, the new phone that has some similarities with its predecessor, Samsung Galaxy J3 2016 with several enhanced features to suited people need even more.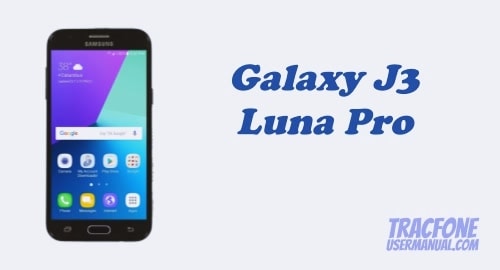 Introduction
In 2016, Samsung release Samsung Galaxy J3 and now in 2017, they release the next generation of smartphone that looks pretty similar to its predecessor. Samsung Galaxy J3 Luna Pro offer people with similar features like J3 2016 with several enhanced features to give a much better user experience.
Design
A bar form factor design is the first thing to notice. This particular form factor is the most popular one where most smartphone this day using it. As for the size, it measures at 5.547" x 2.760" x 0.343" and 5.079 ounces. Not too heavy to carry around and not too big to make it hard to handle using one hand.
Display
On the display side, we will find 5 inches TFT LCD screen with 1280 x 720 (HD) resolution. The screen size is big enough to show up everything and it considered as the most appropriate size that will fit people palm easily. In the other hand, the HD resolution is good enough to provide a clear and accurate picture.
Software
Running on Android version 6.0.1 Marshmallow is good enough. This is one of the latest version of the Android version with better performance in so many areas, thus helping in a much better user experience.
Camera
A 5 MP camera sit in the back and 2 MP camera sit on the front. For such a new phone like this phone, the camera resolution is pretty low which is a little bit disappointing. But thankfully the camera already equipped with flash and 4x digital zoom feature.
For the video recording capability, it can shoot a video for 1920 x 1080 pixels and run steadily at 30 fps. This is a good performance that this phone can offer, considering the resolution camera is not too good.
Related Posts:
➥ TracFone Samsung Galaxy J3 Luna Pro User Manual
➥ TracFone Samsung Galaxy J7 Sky Pro Phone Review
Performance
Running on 1.4 GHz quad-core Qualcomm Snapdragon 425 SoC processor with Adreno 308 GPU to take care of the graphic makes this phone have a better performance compared to its predecessor. It means that it is capable of running multitasking and keep the phone stay smooth with several apps working in the background.
But it still uses 1.5 GB RAM and 16 GB internal memory just like its predecessor. For more storage option, people can use MicroSD card that can handle up to 256 GB.
Connectivity
This phone is a CDMA device that supports Verizon Wireless LTE network. No need to worry because it already supports 4G network for faster internet connection.
It also has Wi-Fi for internet connection, Bluetooth version 4.2 to connect to another Bluetooth device, micro USB, A-GPS for point out the location and also a 3.5 mm jack.
Battery
To many people delight, Samsung uses the removable battery for this phone. It means if something bad happens with the battery, people can simply replace the battery and don't have to worry to have to replace the device as well.
With its 2600 mAh lithium ion battery, this phone could keep up with people use for up to 31 hours and in the standby time, it can last for up to 22 days.
Wrap-up
Overall the phone performance is good enough. It is much better than its predecessor but not by much. The camera resolution is lower that other smartphone in its class so it could be a disappointing factor for some people.
The other part of the phone works just fine. Those who don't have too many demands on how their phone should work may have found that this phone can satisfy their need.
TracFone Samsung Galaxy J3 Luna Pro S327VL Specifications
Body:
Form Factor: Bar (Touchscreen), Size: 5.547″ x 2.760″ x 0.343″, Weight: 5.079 (ounces)
Display:
5 inches, TFT LCD Screen, Resolution: 1280 x 720 (HD), Display Colors: 16M
System:
Operating System: Android 6.0.1 (Marshmallow)
Processor: 1.4GHz Quad-Core
Camera:
Rear Camera: 5 MP, Front Camera: 2 MP, Video Recording: 1920 x 1080 pixels, 30fps
Camera Features: Flash, 4x Digital Zoom
Memory:
RAM (Memory): 1.5 GB
Internal Storage: 16 GB, Support MicroSD (Up to 256 GB)
Network:
Support 4G LTE (Verizon)
Connectivity:
Wi-Fi: 802.11 a/b/g/n, Bluetooth v4.2 A2DP, USB: microUSB 2.0, GPS: A-GPS, 3.5mm Jack
Battery:
Lithium-ion, 2600 mAh, Removable
Standby time: Up to 22 days, Talk time: Up to 31 hours
Sensor:
Accelerometer, Gyro Sensor, Geomagnetic Sensor, Proximity Sensor
Other Features:
Hearing Aid Compatible, Multimedia Messaging