User Manual for Tracfone LG Premier L62VL – User manual guide is a help book for user of LG Premier LTE L62VL that support Tracfone service that contains all sort of information about the phone and everything that user can do with it.
Do you wonder what kind of thing that you can do with your new LG Premier L62VL from Tracfone? No need to wonder anymore, because this user manual guide will guide you along the way. As the name stated, this guide will help user to understand more about this phone, what it have to offer and of course how to use it.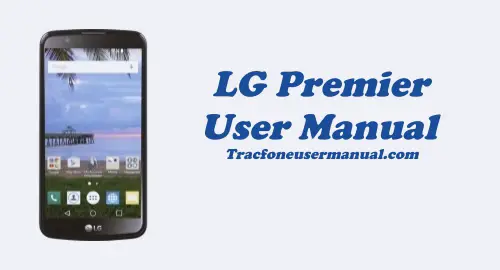 LG Premier LTE L62VL User Manual Guide
Start with the first section that explains about the phone features and specification. This is where you will know what kind of features this Android phone has, the physical size of the phone, the battery type, its talk time and so on. It is a starter and you need to know all of it before you move to the next section, the tutorial.
The tutorial section will guide you step by step to perform different action on this phone. For example, you wish to know how to set up voicemail on the phone. Go to Messaging categories, tap or click on it and it will expand into several sub categories including Set Up Voicemail. Just tap on this sub categories and it will bring you to new page that show you step by step on doing just that.
It works that simple and all you need to do is tap or click on the categories and sub categories that you want to know. It is so simple and so easy to use, even novice or beginner user can understand it easily.
That is the best part of user manual guide where it will point you the right way on doing something with the phone. With this guide, you don't have to wonder anymore because the answer to any of your question about this phone is already answered in this guide, so better keep it around for now and also for future reference.
Tracfone LG Premier LTE L62VL User Manual: PDF Download | Online Tutorials. This user manual guide is provided by Tracfone and you will download from their server. If you find a broken link, please feel free to contact me through comment form below.