A thorough explanation on how to fix mobile network issues on LG Rebel 4 LTE, this article shows what can be done to get the network working in no time.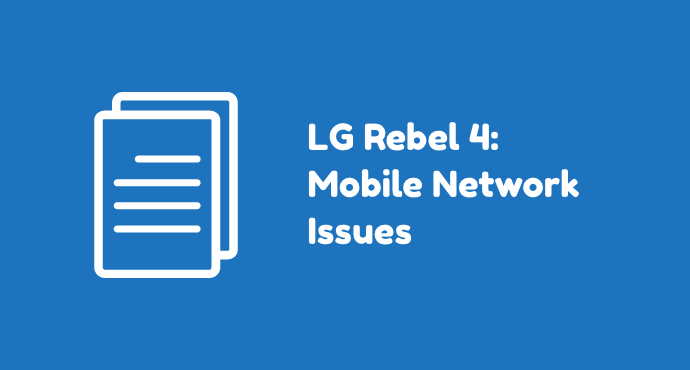 Mobile network is something we rely heavily as a smartphone user. It's a service that connect us to the world. A smartphone would lose its means as a communication device without it.
Yet, mobile network issues are something we still have to deal from time to time. If we lead a busy day at the time, this issue could interfere with your daily life.
This article discusses how to fix mobile network issues on LG Rebel 4 LTE. These are tutorials, troubleshooting methods, and quick fixes for when there's a lack of service on your phone. All you can do alone without professional help.
Rebooting the phone
The most common quick fix that's worth to try every time is restarting the device. This method could work for many issues, including your network issue.
Restarting works by getting the phone into a fresh start. For network issues, it helps restart connection to the service tower.
Reinserting the SIM Card
It's not impossible that your phone is out of service because the SIM Card slips from its holder. Open the back compartment of your LG Rebel 4 to reveal the card slot. Take the SIM Card then insert it back again and restart the phone.
But before putting back in, check whether the SIM card is damaged and needs to be replaced. Because sometimes that's the case for service issues.
Checking the coverage
Specifically for LG Rebel 4 users who just moved into a new area, or are currently traveling, you can try checking the area where you at right now.
It's to make sure you're within the carrier's coverage area. Type your carrier name and the word "coverage map" into the Google search form.
Aside from coverage, it's also worth to check your position. For example, if you're inside a building, it's possible that the wall or the layout hinders the phone from getting an adequate signal. In this case, move to a more open location.
Check the common network configurations
This method makes sure you have the right settings for the mobile network on your device. There are two main things you need to check here: The preferred network type and Access Point Name (APN).
To set the preferred network type on LG Rebel 4, go to Settings > Network & internet > Mobile Networks. Tap the "Network Mode" option and choose "Automatic" or "LTE/3G/2G", whichever is indicated with the word "preferred".
To set Access Point Name, go to Settings > Network & internet > Mobile Networks. Tap "Access Point Names" and select a choice based on which carrier you use from the access point list available.
Reset Network Settings
Instead of configuring things one by one, you can do a once-for-all reset for network settings. This option will return the device network settings for mobile network. It's a pretty quick procedure and can resolve any mobile network issue you have.
However, it's not only mobile network that's affected. Reset Network Settings also return Wi-Fi and Bluetooth to their blank state. It means you'll have to re-enter information like Wi-Fi passwords. You'll also need to pair Bluetooth devices again.
If you're okay with the downside, perform this reset by going to Settings > Backup and Reset. Afterward, tap the option "Reset Network Settings." Restart the phone once the reset is done.
Checking Wi-Fi Calling settings
Some carriers allow users to make calls using Wi-Fi. Wi-Fi Calling improves the quality of your call by using a Wi-Fi network when available. Although it's a convenient feature, it could result in your phone getting no signal while the Wi-Fi Calling is active.
Some users reported this condition so it's worth to try disabling Wi-Fi Calling when you have network issues.
To turn off Wi-Fi calling on LG Rebel 4, go to the Settings app. Then tap Network & internet > Wi-Fi Calling. Afterward, toggle the slider off by tapping it.
Wiping the Cache Partition
Your phone store temporary software files in a space called cache partition. It helps apps and functions load faster.
However, after a long period, the accumulating files can be junk and cause issues on your phone. Especially if you have never done it, clearing cache partition is highly advisable.
Wiping cache partition requires you to enter LG Rebel 4's Recovery Mode. It's a technical procedure but there's no requirement to backup. However, proceed with caution and follow the guide carefully.
Perform Factory Reset
The last step for any troubleshooting involves factory reset. Including for your Rebel 4's network issues, you can consider performing factory reset after trying everything else without success. This step requires back up beforehand since all data will be wiped out.
The troubleshoots above talks about how to fix mobile network issues on LG Rebel 4 LTE by yourself. As an additional step, you can ask for help from your carrier's customer service. Especially if you suspect the cause of the issues lie on their end, something you can't fix by yourself.
We're glad to hear more about your experience with network issues on LG Rebel 4 LTE. Also, ask us a question if there's something you don't understand yet. Don't hesitate to drop a comment on the discussion below.