Here on LG Rebel 4 LTE review we assess this phone based on display quality, performance, and other factors. See if LG Rebel 4 (L212VL / L211BL) is worth to be your next budget phone.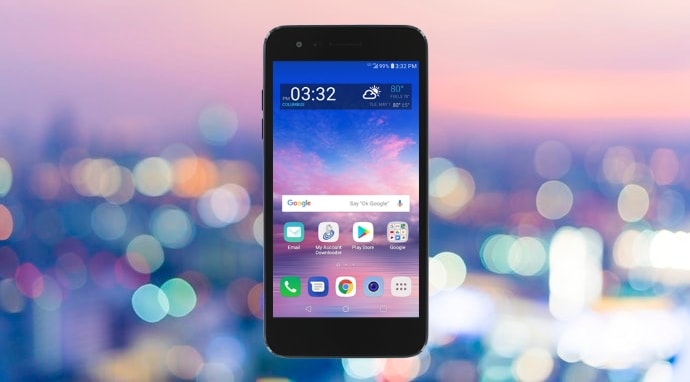 LG Rebel 4 LTE (L212VL / L211BL) is a budget-friendly device from LG. LG released it as a slight upgrade from its older sibling LG Rebel 3. Rebel 4 features a 5-inch HD IPS Display and a snapdragon processor.
The processor and the display are enough to make this phone attractive. Especially considering it also comes with affordable price at $49.99.
Rebel 4 also features an 8 MP camera with flash, a 16 GB internal storage, and 2 GB of RAM. It runs on Android 8.1, which at the time of this phone's release was the latest Android version on the market.
Here's the breakdown of LG Rebel 4 LTE review in detail. We examined each aspect of this phone to find out whether Rebel 4 is worth considering.
Key Specs
LG Rebel 4 LTE (L212VL / L211BL) specifications:
Weight: 140g
Dimensions: 144.8 x 71.9 x 7.9mm
OS: Android 8.1
Screen size: 5.0-inch
Resolution: 720 x 1280
CPU: 1.4 Ghz Quad-core, Qualcomm Snapdragon 425
RAM: 2GB
Storage: 16GB
Battery: 2500mAh, Removable
Rear camera: 8MP
Front camera: 5MP
Design
Just like Rebel 3, or any phone on this price range in general, LG Rebel 4 comes in a plastic body.
Plastic material isn't a problem most of the time, as long as the company knows how to design a phone well.
In the case of Rebel 4, we'd say LG has done a pretty good job. The phone looks elegant and expensive. We like their choice to get rid of any physical button. It makes the Rebel 4 looks more modern.
As a comparison, competitors such as Samsung Galaxy J3 Orbit, also priced at $59.99 by TracFone, still uses a physical button.
So, we have a clean-looking phone right here. LG also got rid of its logo on the front, unlike in the previous version of Rebel phones.
As for the weight and thickness, we'd say LG Rebel 4 falls into the average category. At 4.95 ounces, Rebel 4 is slightly lighter than Galaxy J3 Orbit (5.08 ounces). Rebel 4 is also thinner at 0.31 inches.
However, the back cover is really in contrast with the minimal looking front. If J3 Orbit manages to maintain its sleek look on the back cover, things are messier with Rebel 4.
The back looks cramped with the camera, LG logo, speaker, and TracFone logo stacked to one another.
But on the bright side, the back cover has a rugged texture. Rebel 4 won't easily slip from your hand as a result.
The back cover also hosts the power button, which is a rather odd placement. This power button looks like a fingerprint scanner. At first, it felt awkward pressing the power button with our index finger.
We have gotten used to the power button being on the side. But eventually, this new placement felt natural to us.
The unusual placement of the power key leaves side view clean. There isn't any key aside from the volume button on the right side.
To conclude, LG rebel 4 is pretty and sleek on the front and on the side, but you will need a case to cover up the messy back cover.
Display
As LG claims, the 5-inch HD TFT display offers rich image colors, clear texts, as well as clarity from any angle. We found LG delivers those claims mostly. A 5-inch display is not the biggest on the market.
Motorola Moto E5 ($69.99), to compare, has a 5.7-inch display. But at least it's a high definition screen with a resolution of 1280 x 720.
An HD display means more vivid colors and an overall pleasant visual experience. That's what we felt with Rebel 4.
The crispness doesn't disappoint and just like what LG promised. The viewing angle is also wide. We could still see what's on the screen even though the phone is tilted to a dramatic angle.
However, since Rebel 4 display isn't AMOLED or a Full HD screen, we still aware of several weaknesses. When looking closer at texts, we saw the pixelated bits on the text's edges.
The black color is also less deep compared to phones with an FHD or AMOLED display. Those are drawbacks that mostly would go unnoticed by the untrained eyes, though.
So we consider, the display quality is enough for basic users who are the target consumers of Rebel 4.
We also feel that the display is a little bit dim under bright sunlight. The brightness itself doesn't struggle, which means the phone is not completely unreadable under the sun.
The light sensor works well enough adjusting to the surrounding environment. We just think the display can perform better under natural lights.
Camera
Upon finding out that this phone has an 8 MP back camera, we were not surprised. It's an acceptable resolution for phones at this price range.
Rebel 4 competitors such as Moto E5 and Galaxy J3 Orbit also come with an 8 MP camera. For video recording, Rebel 4 is also no different, the back camera can take a 1080p video.
Since camera resolution is not a unique point of Rebel 4, we tried to find out other things on the camera that separates this phone from its competitors.
The first thing we noticed is Instant Focus. This feature works like Auto Focus, only during it performs better. LG uses an algorithm to decide which object is the focus, and the phone does it fairly quick.
However, like every phone on this price range, the camera struggles when the environment or the lighting condition is far from optimal.
For example, during low light situations, and when the lighting is too contrasted between the object and the background.
For a less optimal situation, LG equips the camera with features such as HDR. Sadly, there's no manual mode. Therefore you won't be able to adjust ISO or White Balance manually.
We also appreciate the zero shutter lag feature. Many budget phones actually have an issue about shutter lag.
A shutter lag is a lag between when you press the shutter button and the time the camera actually captures the picture.
When it happens, picture can come out blurry. It's because there's a possibility that the phone moves during the milliseconds of the gap and creating a shaky picture as a result.
So, when Rebel 4 has a zero shutter lag, it means users can capture sharp images quickly and effortlessly.
For the front camera, LG Rebel 4 has a 5 MP camera. So far, it takes decent selfies. A feature worth noting from the front camera is the Auto Shot, which helps taking selfies automatically using facial recognition technology.
In our opinion, this is even better than Samsung's Palm Gesture Shot (taking pictures using a certain hand gesture).
Storage
LG Rebel 4 has a 16 GB of storage, 10 GB of which is available for users. This is an acceptable amount for a 50-dollars phone. And we're also glad that Systems only takes around 1/3 of the total storage.
Compared to Samsung phones, LG has a lighter launcher and less bloatware, hence why there is so much space left on the storage.
This phone also comes with expandable storage. However, it's a pity that Rebel 4 only allows up to 32 GB of storage. This number is comparatively low when looking at Galaxy J phones with their 400 GB allowed capacity.
With 32 GB, it means consumers will have to update the SD card sooner, especially if you take a lot of pictures and HD videos.
Performance
LG rebel 4 is armed with a 1.4 GHz Quad-core Snapdragon processor which works alongside 2 GB of RAM. If you are upgrading from last year's release of Rebel, you will notice a significant improvement in performance.
Apps launch quicker with less delay. The RAM can handle more apps when multitasking. Websites also load smoothly. There's no performance-related issue for surfing and the internet so far.
In addition to the everyday task, Rebel 4 also handles special tasks well, such as entertainment (streaming), and some gaming.
Although Rebel 4 doesn't come with a dedicated graphics processor, in our experience Snapdragon processor performs better in gaming than counterparts such as ARM and Mediatek processor.
However, with only 1.4 GHz clock speed and Quad-Core setup (not the faster Octa Core), Rebel 4 limits on light games only. But it's still better than nothing.
Rebel 4's fluid UI interaction is also supported by Android 8.1 Oreo. It's a pretty recent version of Android. LG also leaves the Android as-is without adding too much customization. As a result, we get a very seamless experience.
Many phones with a heavy launcher such as Samsung, tend to show delays when accessing the Home screen. We didn't experience that with LG Rebel 4. Home launches smoothly although many apps were running in the background.
LG only adds its custom apps such as QuickMemo+. It is a note-taking app with additional features that regular notepad doesn't support.
LG also adds multi-window support on Rebel 4, which is another nice addition. Since the display is big enough, it's comfortable to stack two apps together on one screen.
At this price, it seems normal not to expect advanced security features such as fingerprints. But we were disappointed because Rebel 4 doesn't add Face Unlock, especially since it already uses face recognition for the camera.
Security features stay at basic with PIN, Password, and Pattern. LG doesn't even equip Rebel 4 with KnockOn or KnockCode, their custom-made security features that appear on other models such as LG Fiesta 2.
Other sensors were also basic with proximity, light sensors. and accelerometer. However, this phone doesn't come with an indicator light that blinks when there's a new notification.
For us, it's quite a bummer since a notification light is a way to know incoming messages without having to wake the screen.
The overall Rebel 4 performance is good, but not perfect. That's how we conclude LG Rebel 4 review on the performance aspect.
Connectivity
LG Rebel 4 support all three network bands (2G, 3G, and 4G LTE). Call quality is superb. We've experienced no dropped calls so far.
When receiving calls on loud surroundings, we could still hear the caller clearly. The drawbacks come with voicemails. To access voicemail, mobile data needs to be turned on.
For the internet, setting up a connection was also quick too. There is no issue both from connecting mobile data and Wi-Fi.
GPS is readily available for navigation. Bluetooth and micro USB handle connections to other devices. What Rebel 4 doesn't have is NFC (Near Field Communication) technology, which doesn't come as a surprise for a phone at this price.
Battery
Rebel 4 is equipped with a 2500 mAH battery, a reasonable capacity for a phone with a 5-inch screen size. LG claims that Rebel 4 battery can reach 11.5 days on standby. Talktime is up to 15.8 hours.
However, the actual battery life would vary depends on usage and networks. We found that battery consumption is decent, as the phone can get through one full day with regular use and everything on (e.g Mobile network, GPS).
The charging port it's still a micro USB port. This phone also doesn't support fast charging. But in general, it's pretty quick to fill up the battery back to full again, as the capacity is not too big.
Another thing about Rebel's battery is, it's removable. For some people, it's an attractive feature, since a removable battery is more flexible than a non-removable one.
Wrap-up
In short, our final verdict on LG Rebel 4 (L212VL / L211BL) review is generally positive. This phone is a good choice for a budget phone under $50. It has a sizable display, decent processor, an okay camera, and easy-to-use software.
LG specific features are also a nice plus, such as the face recognition camera, LG capture+, and advanced notepad QuickMemo. We recommend Rebel 4, but not without warning its drawbacks as we described previously on every point.
Rebel 4 is on a tight race with its direct competitor Samsung Galaxy J3 Orbit. Both phones have pretty much similar technical specifications. Both also come from caliber brand names.
LG excels on several aspects, such as less bloatware (therefore more room on Internal Storage) and a slightly faster processor.
Meanwhile, Samsung has more expandable storage and more battery capacity at 2600 mAh. With striking similarities, those little differences can be a crucial deciding factor for consumers.
Pros:
HD Display
Fast processor for the price
Face recognition selfies
Affordable price
Cons:
Only up to 32 GB expandable storage
Messy back cover design
No indicator light