TracFone LG 442BG, a simple phone with basic features that will serve well for those who are looking for a phone to use for basic need including make a call and text a message along with some additional features for user convenience.
Sometimes, simpler is better. That goes for many things including smartphone. If you think that smartphone is way too complicated for you, then you don't have to use it. Instead, take advantage of basic and feature phone that will cover all the basic function that you need without add the complication.
TracFone LG 442BG Quick Review
TracFone LG 442BG is a simple phone that equipped with basic features and also some additional features to give your further convenience. It has flip form factor, which is very nice to look at. It also comes with two display, with 2.2 inches main display and 0.98 inches additional display.
This phone comes with all features that you can hope for. It uses 230 MHz processor, 128 MB RAM and 2 GB internal memory. For a basic phone like this, those are more than enough to ensure the phone great performance.
Despite the fact that this is a basic phone, you will find that the additional feature in there is pretty up to date. For example, this phone already supports 3G connection. Many smartphone in the market still use 3G, which makes this basic phone score better. It also use Mini SIM card, which is exactly the type of SIM card that most phone use this day. It means you can transfer this SIM card to other phone just in case you need to, without have to worry for any compatibility issue.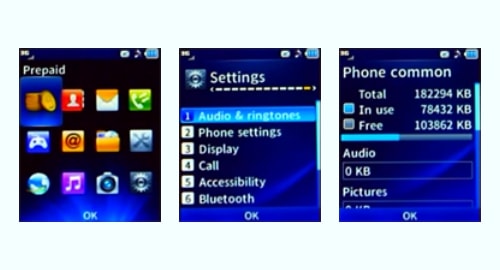 Now for the other aspect of the phone. This phone equipped with one camera that you can use to take picture and record video. The resolution from the picture you take with the phone camera is good enough, range from 640×480 pixels to 1280×960 pixels. As for the media player, this phone support several file format for audio and video such as WMA, MP3, MPEG-4, and H.264. For a basic phone, those are pretty nice features.
The only thing that was lack from this phone is the strength of its battery. Using a 950 mAh battery, this phone can hold up for 2.1 hours of talk time only, although it will last for 7 days on standby mode. Some people would love to have a phone that can last for more, especially if they only use the phone basic function.
This phone offer people with the simplicity of basic phone without forgetting the additional features for people convenience. It may be the kind of phone that work for some, depend on the person need.
Tracfone LG 442BG Specs and Features
Included Battery:
Lithium-ion
Size:
3.85″ x 2.00″ x 0.73″
Standby time:
Up to 7 days
Talk time:
Up to 2.1 hours
Weight:
3.63 (ounces)
Included Accessories:
AC Adapter
Battery
Features:
2.2″ Screen Size
Battery Capacity 950 mAh
Internal Memory 2 GB
RAM Capacity 128 MB
1.3 MP Camera/Video Recorder
Bluetooth
Multimedia Messaging
Handsfree Speaker
Graphics Download
Ringtones Download
E-mail
MP3 Player
Voice Dialing
Hearing Aid Compatible
Voicemail
Alarm Clock
Color Screen