Follow the easy way to perform factory reset on TracFone LG Premier LTE L62VL without have to worry for making any mistake and get the desired result in short amount of time for better phone performance.
Hard Reset Tracfone LG Premier LTE – Factory reset is the final step to take when other troubleshooting action didn't bring the desired result. This is also the same action that people take to clean out their phone from personal information, before it goes to the market and sell to other people.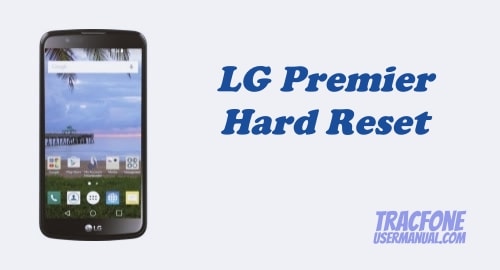 So, how to perform factory reset on LG Premier L62VL? Before we begin, always start with back up data. Back up need to be regularly and also before performing factory reset. No one wants to lose their personal data, file, video, picture and every valuable file that was stored in the phone. That is the main reason for performing back up.
Related Posts:
➥ TracFone LG Premier Phone Review
➥ TracFone LG Premier User Manual
➥ Hard Reset on Tracfone LG X Style
Soft Reset Tracfone LG Premier
Now we go to the first method of performing factory reset, called soft reset. Go to Settings > Back up and Reset > Factory Data Reset > Reset Phone > Erase Everything > OK. The process will begin shortly and it may take a while before finished. Reboot the phone after it's done.
Hard Reset Tracfone LG Premier
The second method called hard reset. This method work best if you can't access Settings menu on the phone.
Turn off the phone
Press and hold Power button and Volume Down button
When LG logo appear on the screen release both buttons for 1 second and then press it back
Keep pressing until it reboot to Recovery Mode
Use Volume button to navigate through the available option and find the "Wipe Data / Factory Reset Option"
Select this option by using Power button
Confirm the action as much as it needed and wait for the process to take place
After that, find "Reboot System Now" option, highlighted it and press "Power button" to select it so it will reboot back to normal mode. After the process is complete and the phone has been rebooting to normal mode, check on it to see the change that took place.