With the Blu View 3 (B140DL) user manual, you don't have to worry about incorrectly using your phone. Check out the document for details.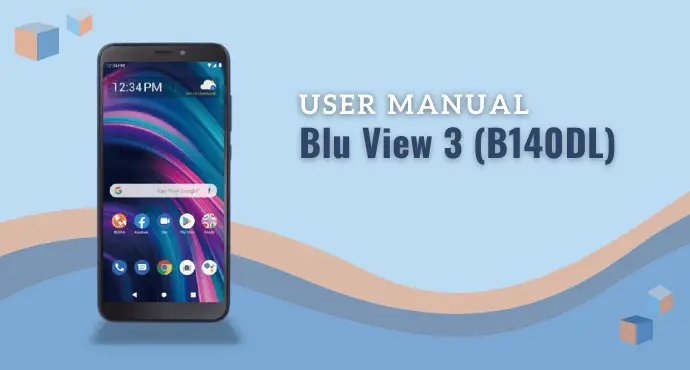 What's the first thing you do after buying a new phone like the Blu View 3? We'd immediately want to turn it on and start exploring its various specs and features.
But before you press that power button, you must do your research on the phone. With the Blu View 3 (B140DL) user manual, that research only takes minutes!
Covering the basics like phone set up, to instructions on app usage, all the information you need is ready at your fingertips. Get rid of any confusion with this document.
For an inside scoop on what the user manual contains, check out the following summary. If you need more info, we've got the full document ready for you later on.
To be able to explore the Blu View 3, you'll need to be familiar with the navigation bar. This is a dedicated area that displays the device's navigation buttons. These system buttons will allow you to control the phone seamlessly.
In the user manual, you will find three different symbols that are found in the navigation bar. Each symbol is given a brief explanation of what it does to the phone. With this information, you don't have to worry about getting lost.
Notification Settings
If you have a phone like the Blu View 3, there will be a bunch of notifications popping up on your notifications bar. The notification bar is located on the top of the screen, displaying useful and important information about your phone and your apps.
To control your notifications, you can check out this particular section. You can learn how to access shortcut notifications, clear notifications, or access the quick notifications settings menu. You can have better control over how you receive notifications.
Call Functions
Need to call someone with your Blu View 3? Making and receiving calls are some of the most basic things you can do with any device. Anyone who has trouble doing so on this device can turn to this section for helpful guidelines.
In this chapter, there are different instructions for placing a call, call options, and accessing call logs. Furthermore, it shows you a picture of what your dial keypad should look like on your device. Now you're free to make any calls to whoever you'd like.
Using Bluetooth
If you're using the Blu View 3, you'll need to learn about Bluetooth. Bluetooth is a short-range wireless communications technology that your phone can use to exchange information and connect to different types of devices.
The Blu View 3 user manual gives you a brief guideline on how to turn on your Bluetooth settings. The guideline is easy-to-follow and is written for beginners. Additionally, you'll learn how to pair your devices so that you can begin on your wireless journey.
Read also: Tracfone Moto G Stylus 5G User Manual
Opening The Camera
Time to take awesome pictures with your Blu View 3! Before using the device, we suggest checking out this section. There's an important note that you'll have to follow before using the camera. This tip ensures that all your captured photos are saved correctly.
Once that's done, you can proceed to learn how to take photos with your camera interface. Besides that, you can find out how to record videos. By checking out this section, you can create new memories on your device.
Phone Clock
The clock on your Blu View 3 does more than just tell time. You can use this feature to set up alarms, view the local time in different cities, and run a stopwatch. Explore your clock's full functionalities in the user manual.
Wi-Fi Settings
Connect to the Internet by activating your Blu View 3's Wi-Fi feature. In this section, you will find out how to access your Wi-Fi settings. Once you're able to do so, you can follow the rest of the instructions to make sure you successfully connect to an available network.
Download User Manual
Need more information about your device? Look no further! We have the complete version of the Blu View 3 user manual ready for you. To obtain the full document, all you have to do is click on the available download link. Hope you have fun reading the user manual!
Download: Blu View 3 User Manual (PDF)