The Nokia G400 5G (N1530DL) review shows some interesting parts of the device. Looking for a new mid-range smartphone will be much easier with this. Are you curious about this?
Everyone knows Nokia, a timeless smartphone brand that always develops a unique and advanced one. The Nokia G400 5G is one of them. This phone was released in August 2022 and offered many interesting features.
Nokia understood the assignments by equipping the G400 with many improvements in many aspects. A widescreen with a huge battery, the latest Android operating system, and big RAM and ROM. Don't forget about the impressive triple rear camera.
Moreover, there are many promising features of this device. In this Nokia G400 5G (N1530DL) review, we will discover all features, including the pros and cons. Trust us, it will be useful for your final determination.
Key Specs
Nokia G400 5G (N1530DL) specifications:
| | |
| --- | --- |
| Weight | 198g |
| Dimensions | 166.4 x 76.7 x 8.8mm |
| OS | Android 12 |
| Screen size | 6.58-inch |
| Resolution | 2408 x 1080 |
| CPU | 2.2GHz Octa-core, Qualcomm Snapdragon 480+ 5G |
| RAM | 4GB |
| Storage | 64GB |
| Battery | 5,000mAh, Non-removable |
| Rear camera | 48MP + 5MP + 2MP |
| Front camera | 16MP |
| Features | Fingerprint Reader, Face Unlock, NFC, Fast Charging |
Design
The Nokia G400 5G (N1530DL) smartphone leaves a nice impression when we glance at it. We really love the premium yet minimalist looking. The phone is quite slim and tall, with 166.4 x 76.6 x 8.8mm dimensions. Even more, the phone weighs 198g. The phone is comfortable to hold but may not quite fit into the normal pocket.
Looking at the front design, you will notice a 6.58-inch display screen surrounded by thin bezels. The main buttons are placed on the screen, and the front camera is placed at the center top with a punch-hole design.
The back design comes clean and minimalist with nice line accents on it. Features a triple rear camera which is placed vertically along with an LED flash. You won't find the fingerprint reader on the back. Meanwhile, it's placed on the phone's side.
Read also: Nokia G400 5G (N1530DL) User Manual
Display
The phone's view will be much more pleasing with a 6.58-inch display screen. The size is very proportional. The thin bezels make the phone's screen become more pop-out and give a cinematic-view experience.
One of the major selling points of this Nokia G400 5G smartphone is its 2408 x 1080 screen resolution. With this, users can experience a full HD+ display screen. Even though it's not AMOLED, this screen quality is enough for a mid-range smartphone. The display will deliver rich colors, crisp details and precise accuracy.
Top of it all, this phone has a 20:9 screen ratio which means you can get extra zoom-in for any content on screen. The Corning Gorilla Glass 3 protects the phone's screen from unwanted bumps and scratches.
Camera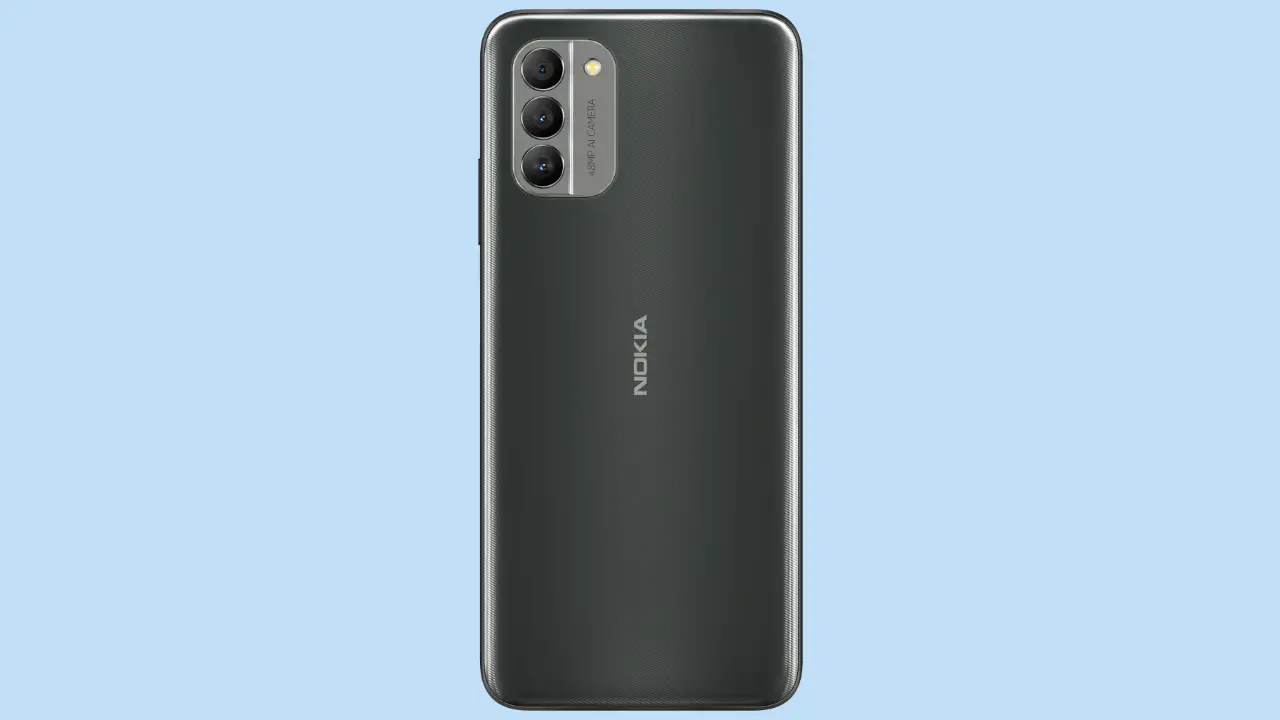 The Nokia G400 5G comes with a set of great cameras; it's a triple. The first camera is a 48MP main camera. Next, there is a 5MP ultra-wide camera and a 2MP macro camera. The cameras are lined vertically and the LED flash is placed beside those cameras.
These cameras have their own functions. First of all, the main camera is great for taking pictures with great detail. The ultra-wide camera is perfect for taking panoramic pictures. Meanwhile, the macro camera can be used for taking a picture with a blurred background.
The front-facing 16MP camera is social media-worthy. It produces great selfies and can be used perfectly for video-calling. Besides that, you can also record 1080p videos with those both cameras. This camera is also equipped with a wind-noise cancellation.
Read also: Nokia G300 5G Review: The Affordable 5G Smartphones
Storage
The Nokia G400 5G comes with 64GB of internal storage for the phone's storage. Sadly, it's not the actual space you can get. From 64GB in total, you can only enjoy around 44GB of it. This is because the phone already comes with pre-installed apps and system junks.
The phone's storage is quite spacious for us. Moreover, if you use the storage wisely, it won't run out easily. But, if it starts running out, there are some options you can do to save the internal storage.
First, you can regularly maintain the phone's storage in the manual and put some files into the cloud. Or, you can put an expandable MicroSDXC storage into a dedicated slot to add more space.
Performance
The Nokia G400 5G smartphone relies on 2.2GHz Octa-core Qualcomm Snapdragon 480+ 5G to boost its performance. This chipset is a perfect pair for 5G connectivity because the phone's performance will improve to be more responsive and power-efficient.
The 2.2GHz Octa-core of clock rate gives an upgrade over lesser models. These processors allow users to experience the device without getting the phone heated and draining the battery.
This processor also works with 4GB of RAM. RAM is where the phone stores all of the users' temporary daily usage data. With those combinations, the performance becomes blazingly faster, and its capability is beyond a cheap smartphone.
A 4GB RAM is responsible for allowing you to multitask. Opening the apps back and forth will also be smoother and effortless. We hardly found any lags and crashes while doing this. After all, we're impressed by this RAM size.
Moving forward, we will talk about the operating system. The Nokia G400 5G operates on the latest Android 12 as its operating system. This version delivers more personal devices by featuring dynamic color capabilities to let you experience the device based on your chosen wallpaper.
Android 12 also features more secure and safer devices. It gives you full control over who can see your phone's data and when. It also puts comfort over everything by designing better accessibility features.
The Nokia G400 5G has several sensors in the phone, such as an accelerometer, gyro, proximity, compass, and barometer. Those all have their own specialties. For example, the accelerometer can detect the phone's orientations, the gyro can detect any movement, and the proximity can be used to avoid accidental touches.
Moreover, the Nokia G400 5G also has two security sensors, such as a fingerprint reader mounted at the side and face recognition. Both can be used to open the device without any passwords.
Connectivity
The Nokia G400 5G is already supported by the latest 5G connectivity technology. But you can still use older bands such as 4G and 3G. As expected from the 5G, the connection is super clear and fast.
Other networks available on this phone are Wi-Fi. With Wi-Fi, you can connect to the internet without a data connection. Like other smartphones, you can turn the phone into a mobile hotspot and allow your friend to connect the internet with yours.
There is also Bluetooth 5.1 connectivity and the USB Type-C cable to share some files or connect to external devices. Fortunately, the Nokia G400 5G supports NFC technology for users to make easy payments.
Battery
The Nokia G400 5G comprises a non-removable battery type with 5,000mAh total capacity. This is huge, but with 5G technology used, it will be another story. The 5G will consume a lot of energy. So, the battery will drain easily if you're using a phone with many connectivity requirements.
A non-removable battery is advantageous – it has a low chance of getting risk or damaged. It uses a USB Type-C 3.0 cable for charging itself, and surprisingly, it's already supported with a fast charging feature. When you're in an urge or emergency, the battery will be full-charged in approximately two hours.
Is the Nokia G400 5G a good phone?
For us, the Nokia G400 5G left a good impression. It has some functionalities that fulfill our needs, especially in a mid-range smartphone. Some remarkable features are the 5G connectivity, a triple rear camera, and the latest Android 12. We're satisfied with those.
However, we also find some tiny little drawbacks. This phone is quite pricey for a mid-range smartphone. For a $239 price, you can get a cheaper device with the same features on other smartphones, though. In the end, with this Nokia G400 5G (N1530DL) review, we just give you an overview of the phone. The final decision is yours to decide.
Nokia G400 5G Pros:
5G connectivity
Triple rear-camera
Android 12
Nokia G400 5G Cons: