Getting your first Android smartphone doesn't have to be tricky. Read this Blu View 2 review to find out about this dependable starter device.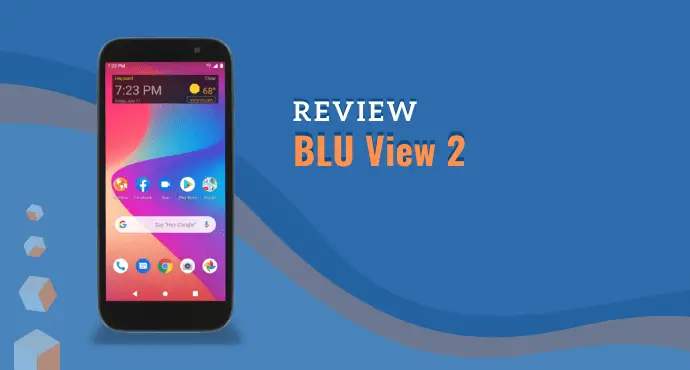 Blu View 2 smartphone was released in September 2020. It's a pretty recent handheld. However, what's unique about this phone is that it doesn't follow the trends.
You can immediately spot it at the first glance. The design reminded us of old Motorola Moto G phones from a few years back. There's no gimmick like infinite display. It also doesn't come with a notch.
Blu View 2 (B130DL) is an entry-level phone, as reflected in both its price and specs. The phone features a modest 5.5-inch display, a MediaTek processor, and 2GB RAM. The battery capacity barely touches 3,000mAh.
It's a phone aimed at a particular group of buyers. Preferably casual and budget-conscious, you could be one of them. Find out if this phone is a perfect device for you in this Blu View 2 review.
Key Specs
Blu View 2 specifications:
Weight: 162g
Dimensions: 153.7 x 71.4 x 9.5mm
OS: Android 10
Screen size: 5.5-inch
Resolution: 1440 x 720
CPU: 2GHz Quad-core, MediaTek Helio A22
RAM: 2GB
Storage: 32GB
Battery: 2,920mAh, Non-removable
Rear camera: 13MP
Front camera: 8MP
Design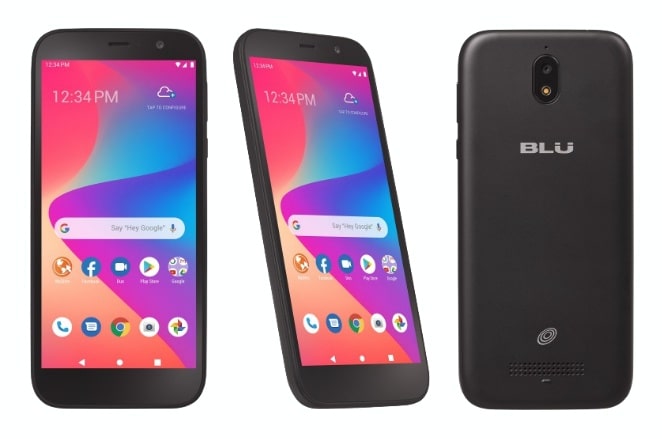 Blu View 2 is a petite little phone that just fits well in most people's hands. It comes with 153.7mm and 71.4mm in height and weight, respectively. The width of the phone, at 9.5mm, is thicker than other phones nowadays. However, overall Blu View 2 is very lightweight at 162g.
The design of the phone is nothing fancy. Yet it is modest and still pleasant to look at. Blu View 2 features a black matte casing and frame made of plastic polycarbonate. In our opinion, the matte finish looks more luxurious than a glossy one.
On the back, you'll see the camera, the Blu logo, and the Tracfone logo, as well as a speaker. There's no fingerprint reader present, signaling the lack of this security feature.
The front frame, although it's not full screen, it's sleek and clean-looking. The bezels are well measured so it's not too distracting. There are a speaker and a front camera at the top. The display is perfectly rectangular.
Overall, it's an okay design for a cheap phone. It's clean and minimalist instead of cluttered with unnecessary items. That way, Blu View 2 still looks elegant despite its low price.
Read also: Blu View 2 (B130DL) User Manual
Display
Blu View 2 comes with another modest spec for its display. At 5.5-inch, the LCD screen holds a resolution of 1440 x 720. It's a high definition (HD+) screen with enough crispness for everyday activity. The size is also not too big nor is it too small.
With a ratio of 18:9, the screen displays a movie with the right length and width composition. It's not a full screen, though, so some people can find the bezels too bulky. At least, there's no notch protruding from the edge and being a distraction.
The brightness on Blu View 2's display is only good indoors. As you move the phone outdoors, you might struggle to see what's on-screen. As for details on the screen, Blu View 2 displays icons and images with a lack of punchiness. Meanwhile, rough pixels are not an issue here.
At this resolution, Blu View 2's display doesn't have a wide viewing-angle either. It means the best viewing experience can only be obtained when you are facing the phone straightly.
In conclusion, the display on Blu View 2 is nowhere near perfect. This phone is indeed for those who don't find display quality a priority. Else, you need to look for more expensive options.
Camera
This device features a 13MP camera on the rear while the front-facing one comes in 8MP. The rear camera is coupled with an LED flash. As you can see, there's no second camera or even a third one.
This single-camera comes with a simple Camera app and a handful of features. You can use them to improve the image quality. For video, enjoy the ability to record a 1080p video with a frame rate of 30fps. The overall camera setup is quite accommodating for everyday use.
The picture quality resulting from the rear camera goes from poor to average. The struggle mostly comes from dealing with low light situations. Indoors or at night is a situation where the camera produces a lot of noise. During daylight, a range of imperfections can occur, such as overexposure, less accurate color, and blurs on objects in motions.
The front camera, at 8MP, also has the same problems although slightly fares better. As far as it's only for selfies, you would see rare problems than when taking various types of objects. Doing a video call also doesn't provide much of a headache. The camera simply works.
Read also:
Storage
With 32GB of internal storage, Blu View 2 provides plentiful space for a phone at this price. Blu View 2 still advises using an expandable storage option for some files like images. However, for app data and system files, there is enough room left here before you need to upgrade.
Using an SD card, you can add Blu View 2's total storage to up to 128GB. It's a lot of space for storing music or movie data. You will need to pay a little bit more to buy an SD card. Regardless, the additional space is going to be worth it.
Performance
Blu View 2 runs on a Quad-core MediaTek Helio P22 chipset as its "brain." Coupled with 2GB RAM, this setup presents average processing speed at best. It's a decent setup for essential tasks but can struggle when things get rough.
This phone supports multitasking despite its low-end performance specs. Partly supported by its Android 10 software, you can stack two apps on one screen. You can also open several apps at once, just not too much. The more apps you use simultaneously, the more performance can suffer.
The tasks you can do seamlessly on this phone range from casual browsing, light document editing, to streaming music or movies. Blu View 2 is a decent device to entertain yourself with some light games too. The Android 10 comes with a sound amplifier for better audio output.
Android 10 on this phone comes with several built-in perks. You can switch to dark mode to make the screen easier for the eyes. There are the smart reply features, gesture navigation, and location controls. This version of Android also benefits from newer security updates and privacy control.
The user interface is intuitive although the launch times of apps are not the fastest. You can navigate the phone with relative seamlessness and minimal lags. Just make sure to not burden the phone with heavy tasks or too many operations at once.
The security options on this phone are outdated. You won't have a fingerprint lock option or Face Unlock. Your choice will be the older PIN/Pattern/Password. It's one of the biggest weaknesses we found in this Blu View 2 review. We are not exactly surprised, though.
Some more features to note include HAC support, which means this phone is usable for people with hearing disabilities. As for sensors, it comes with an Accelerometer and a proximity sensor.
Connectivity
Blu View 2 is a phone supporting almost all network bands such as 4G, 3G, 2G, but not 5G. You can make a call and do some surfing on the internet using the 4G and that would be enough. The speed is satisfactory and also the clarity of voice output during calls.
This phone also comes with Wi-Fi, Bluetooth 5, and GPS. A complete set of supporting network features to keep you connected in various ways. The Wi-Fi is quick to connect while Bluetooth allows you to pair that wireless earbud. Additionally, you can use the phone for navigation with its GPS.
Blu View 2 also has smaller features that are worth noticing. It has a 3.5mm headphone jack. For data transfer, expect a speedy file transfer using the USB Type-C port. There's no NFC, as expected, so this phone is a no-go for contactless mobile payment.
Battery
The battery capacity on Blu View 2 is only a shy away from 3,000mAh. To be exact, the battery is a 2920mAh non-removable Li-Ion one. This capacity promises up to 13.4 hours of talk time. Standby time clocks to up to 17.4 days. Overall, it's not too bad of a battery configuration.
Real-life performance will depend on how an individual would use the phone. Most of the time, a good full day is what you get on normal use. As you get more active, The battery drains more quickly. Meanwhile, charging time is relatively speedy since the phone uses a USB Type-C port.
Is the Blu View 2 a good phone?
Blu View 2 is a good phone for buyers on a limited budget. We have written a lengthy Blu View 2 review but yet to mention the price. We consider it one of the highlights of this phone as it is very affordable.
With only $29.99, you can bring Blu View 2 home. It's an attractive price for many people. Especially if they also want a sizable good display, a reliable camera, and a fuss-free phone design. Blu View 2 delivers affordability and simplicity.
On the other hand, Blu View 2 is definitely not for users who want some bits of luxury and sophistication. In that case, you must look elsewhere.
Blu View 2 Pros
Practical design
HD+ screen
Cheap price
USB Type-C
Blu View 2 Cons
Poor camera
Average performance
No dual camera or fingerprint