Find the download link for Blu View 2 user manual here. Also, read our sneak peek so you get an idea of what you will encounter inside the manual.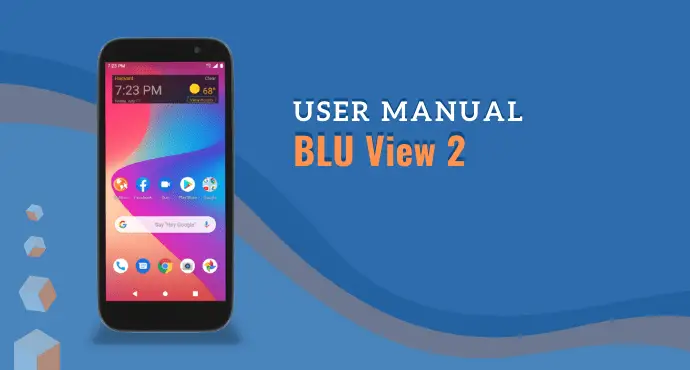 A user manual is often a forgotten element for new phone users. But this little document is not something to ignore. It's where you should take a look at when you are about to explore a new device.
In the case of Blu View 2 user manual, this document provides all the things you need to get started. This manual is simple but informative enough to include all the essentials.
The document starts with introductory chapters. And as the pages go, more configurations, guides, and features are discussed. But overall, it's not too long, it won't take too much of your time.
Before downloading the manual, enjoy our sneak peek below. Take a look at the overview so you know what to expect.
This first chapter explains the Notification and the navigation bar. Treat it like a software layout guide. You will read about the Quick Settings menu, notifications, and status icons.
If it sounds confusing, no need to worry. The manual comes with illustrations and screenshots. It will make everything easier to understand. You'll also learn some tricks like clearing the notifications bar and accessing the quick notifications menu.
Call functions
Since calling is an essential feature, it's no surprise the manual put the chapter here in the beginning. What you will read here is how to place a call, using call options, and viewing call logs.
This section also includes contact management. Learn how to access, add, and delete contacts. Like the previous section, this manual also provides illustrated tutorials. The minimal text and more pictures approach makes everything more understandable.
Read also: Blu View 2 (B130DL) Review: Dependable and Affordable
Bluetooth & Wi-Fi
Connectivity is the main topic of this chapter. More specifically, it discusses Bluetooth and Wi-Fi. Learn how to turn on Bluetooth and pair it with other devices. The Wi-Fi part guides users on accessing a network and all the setup needed before you can browse the internet.
Camera and Photos
There's not much inside the Camera section, but all the basics are available. You will read about how to open the camera, take a picture, and record a video. There's also a bit of explanation about using the camera modes.
In Photos, Blu View 2 user manual walks you through the ins and outs of the Gallery app. Learn how to open the Gallery, view your pictures and videos, and do some little editing on your photos.
Read also:
Multimedia apps
If you're trying to find entertainment on Blu View 2, the Play Music app is your answer. To learn more about this app, head to this section in particular. If you'd rather listen to music offline, FM Radio is your friend.
This section covers how to use the radio app too. Lastly, you will also read about File. It's the file manager app available on this phone.
Settings
All the Blu View 2 technical settings in one place. This section provides information regarding networks, apps management, battery, and many more. This is where you look into when you need to turn on power saving or use adaptive brightness.
Further, this section also covers security settings, accounts management, and accessibility features. Lastly, system settings are what you will read by the end of the section. It discusses gestures, backup, and reset options.
Troubleshooting
When you run into an issue, this last chapter would be your best friend. Here, find the solutions to common problems, such as when your phone won't power on or when the battery refuses to charge.
With every issue, the manual gives you several solutions you can try. You can fix it yourself without having to ask for professional help. In our opinion, this chapter can be the one you would refer to the most.
Download user manual
The overview above has shown how informative Blu View 2 user manual is. You can read it when you know nothing about the phone and needs a guide. On the other hand, the manual also comes in handy when you bumped into a phone issue. In short, keeping a manual is useful. Download the PDF file through the link below.
Download: Blu View 2 User Manual (PDF)