LG L16 Lucky as part of the ever growing selection of Tracfone smartphone is a solid phones that has its pros and cons but it also the kind of device that you may find appealing for your daily use.
Tracfone is a company that sells prepaid cell phone service as well as cell phone to use with their service. The phones selections from Tracfone are not the latest product in the market but they are more than enough to satisfy most user and the affordable price that it was offered doesn't hurt either.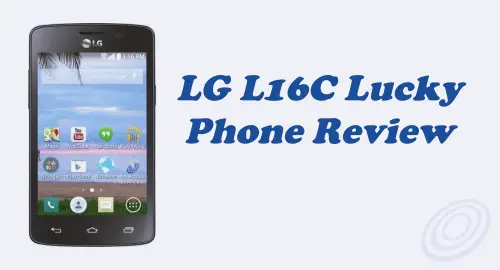 Tracfone released new phones that use their prepaid service from time to time and in 2015, they add LG L16 Lucky or simply LG Lucky as part of their ever growing selection.
As it said before, this phone may not be the latest phone that has all the magnificent features, but it proved to be a decent and solid phone that may work just fine for your need. Let's take a closer look on this phone to help you decide whether it is the kind of phone you need or not.
Start with the OS that is use. It use Android version 4.4 KitKat, that is not the newest Android version but still it work great. This version is compatible with most of apps that is available in Google Play Store and for most people that is more than enough.
In the inside, this phone use 1.2 GHz dual core processor and 512 MB RAM. If you compare it to the latest smartphone that usually use Quad core processor and at least 2 GB RAM. But you need to remember that this phone is not part of the latest smartphone and that kind of processor is actually capable to handle apps nicely and works just great for moderate use. But is you are a heavy user that use lots of heavy apps then you may want to look for something else.
The 4 GB internal memory is enough to store a variety of apps. If you plan to store more data, then you can use its SD card that can store up to 32 GB more data.
The screen size is only 3.8 inches, which some people find way too small for their like but it will do great for those who use their phone mostly for make a call and occasionally use it to texting and browsing. This is the matter of personal preference so there is no right and wrong.
The battery life of this phone is not too good where it can last only 7 hours talk time and 10 days of standby. You may find that you need to charge it more than once in a day especially is you use it a lot so this is drawback that you must fully aware before you decide to buy one.
Last but not least is the affordable price. This phone is available from Tracfone in two conditions, new and reconditioned. New phones will cost you $29.99, while the reconditioned phone is available for free. Now you know everything about this phone, you can see that that this phone may not work for everyone, but it certainly have its own appeal that work for certain people, what about you?
Tracfone LG L16C Lucky Specs and Features
Included Battery:
Lithium-ion
Size:
4.43″ x 2.50″ x 0.49″
Standby time:
Up to 10 days
Talk time:
Up to 7.3 hours
Weight:
4.2 (ounces)
Included Accessories:
AC Adapter
Battery
Features:
3.8″ touchscreen display
Android 4.4 (KitKat) OS
1.2GHz dual-core processor
3 megapixel camera/video recorder
3G/WiFi capable
4GB internal memory
Alarm Clock
Bluetooth
Calendar
Call Waiting
Caller ID
Email
GPS Enabled
Handsfree Speaker
Hearing Aid Compatible
Instant Messaging
MP3 Player
Multimedia Messaging
Multitasking
Touch Screen
Vibration Alert
Voice Dialing
Voicemail