Alcatel TCL A3X user manual covers a wide range of topics. It helps with configuration, troubleshooting, or simply knowing some useful tips.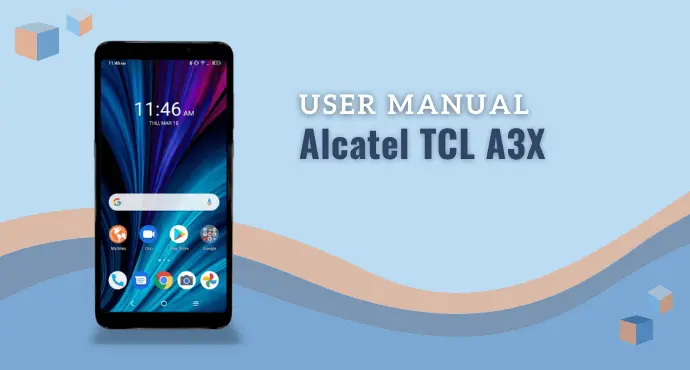 When understanding a new phone, there's no better source than its own user manual. The first advantage of reading a manual comes from its comprehensiveness. You can find everything in one place.
This principle applies to the Alcatel TCL A3X (A600DL) user manual as well. Skimming through its index page, one would see how topics are diverse. It begins with getting started, gradually getting into a more advanced topic.
Reading a user manual is optional, but highly recommended. Owning a copy is a similar case. You can have a reliable guidebook and open it whenever you need help.
This is a short overview of the manual. At the end of the article, find the download link to the full document.
Your Mobile
Consider this chapter as an introductory section of the manual. It includes some basic setup you need to take in the beginning. This chapter helps you with many initial settings, from inserting the SIM card to navigating the Home screen.
It comes with a layout page as well. This part comes with an illustration of the phone's physical component. Refer to this page if you are not sure what a button or a connector is for. It's better to do that rather than doing some random trial and error.
Read also: Alcatel TCL A3X (A600DL) Review: Triple Camera is the Main Attraction
Gmail
All you need to know regarding the email apps available on Alcatel TCL A3X. Learn how to create an account, access your existing account, if any, and some basic email management. The manual will show you how to create a folder, label an email, and many more.
If you use email a lot at work, this chapter helps you move your workspace to the phone. You can learn about marking certain emails important on the mobile app. Even a guide for printing emails is available here, including how to save an email as a PDF.
Google Apps
Gmail is not the only Google app pre-installed on Alcatel TCL A3X. In total, there are nine other apps, from Play Store to Google Duo. This manual will guide you through each one of them. Read the short description to get the gist of what each app is for. 
Security and Biometrics
Find what are the options for securing your phone in this chapter. One of them is the Face Unlock. Read some tips to make sure your face is recognized when you set this type of lock method.
Alcatel TCL A3X also has a feature called Smart Unlock. It keeps your device unlocked when it detects that you are still using it. Otherwise, the phone immediately locks itself when it senses that you put it down. Read more configuration for Smart Lock on this manual.
Read also: Moto G Stylus 2021 User Manual
Wireless Features
There are plenty of ways to get connected on Alcatel TCL A3X. You can use mobile data, a Wi-Fi network, or Bluetooth. Each connection type differs in purpose and configurations. To distinguish each of them, read their description in this manual.
This section covers advanced settings too. This is where you can discover information regarding hotspot and tethering, private DNS, and wireless emergency alerts. Mark the pages just in case you need these techs later on.
Calendar and Alarm Clock
People also use their phones as reminders and alarms. Take advantage of the Calendar and Clock apps to increase efficiency in your everyday life. Learn how to set an event in this section of the Alcatel TCL A3X user manual. Additionally, you might find the Clock app to be more useful.
This app is where alarm, timers, and stopwatch features are located. You can even glance into other time zones around the globe. The manual has the guide you need should you want to use one of these clock-related features.
Customization
There are several customizations you can do with this phone. It varies from appearance, such as changing a wallpaper, to audio. With audio settings, you can set a custom ringtone or configure a silent mode.
In the manual, refer to chapter Settings for guidance. Here, not only customization is discussed. The topic broadens into privacy (i.e screen pinning), creating an account, to customizing buttons and gestures.
Download User Manual
This sneak peek is just the tip of an iceberg. More information is waiting to be revealed in the full document. Make sure you own a copy of the Alcatel TCL A3X (A600DL) user manual. To make it easy for you, here's the download link for the PDF file. Click on it to get yourself a copy.
Download: Alcatel TCL A3X User Manual (PDF)