Reading the Moto G Stylus 2021 user manual is always helpful. Here, you can read about the distinct feature this phone has about how to use the stylus.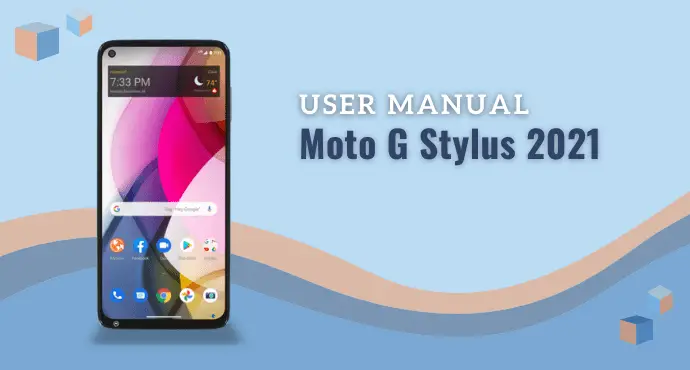 Like every other phone, Moto G Stylus 2021 comes with a manual when it's released. This manual is where you should refer to for guidance.
People complain how manuals are usually boring. It's not the case with the Moto G Stylus 2021 user manual. Written in a clear and concise manner, the whole document is easy to read.
Inside, get tips and tricks, tutorials, and troubleshoot instructions. You may be a beginner trying to get started. Or instead, an experienced user wanting to check out something. Regardless, you'll find what you need here.
Before, enjoy a sneak peek here. The download link is available below. It will give you access to the full document in pdf format.
Get Started
There's so much to do to get a phone start-up and running. With Moto G Stylus 2021, it includes installing the SIM card, charging the battery, and connecting to the Wi-Fi. Before you get confused, start with this chapter. There's a chronological instruction on how to get started.
This chapter also includes basic care about your phone. For example, how to deal with minor water damage. It's a good read for users who want their phones to be durable as long as possible.
Improve Battery Life
A battery is probably the part of the phone that breaks the quickest. Hence it's important to know how to take care of it. Moto G Stylus 2021 user manual has some golden tips. It includes knowing the proper way to charge, and extending the battery life.
Further, you'll discover more about improving the battery performance. You may turn on or turn off certain features. For more details, consult directly to the user manual. There are quite a handful to learn inside.
Stylus Shortcuts
Moto G Stylus 2021 comes with a stylus pen as indicated in the name. This smartpen doesn't just allow you to take handwritten notes and scribe doodles. It comes up with more features and shortcuts to make your phone experience more seamless.
Read about the pop-up shortcut that can be triggered by the stylus. Get to know each of them, and even better, you can customize the menu to your liking. Discover more about what the stylus can do in this chapter.
Apps
There are plenty of apps on Moto G Stylus 2021. Many of them are names you must be familiar with, such as Phone, Messages, and Chrome. But don't skip this chapter, nonetheless. Because it offers more than just basic app information.
Learn about using the Coloring Book app. This is a unique app that takes advantage of the phone's stylus well. Another app that utilizes the stylus is Moto Note. You can read about it in this chapter too.
Read also:
This chapter discusses all the connections on Moto G Stylus 2021. Whether it's the mobile network, Wi-Fi, or Bluetooth, everything is covered. Not just to a network, it also includes connection to other devices as well.
For example, you can cast your phone on a TV. This chapter guides you with cloud as well (i.e, how to sync your files.) Furthermore, if you want to print a document from your phone, this manual also explains how to connect your device to a printer.
Protect Your Phone
Learn about protecting your privacy by utilizing the security features on Moto G Stylus 2021. With this phone, you have the option to enable screen lock, screen pinning, and turning on the app safety feature. If you are looking for help with data backup, this section is also what you need.
Accessibility
The accessibility feature is here to make things easier. With Moto G Stylus 2021, you can activate the voice command and make your phone speak. Use this chapter as a guide before you activate this feature.
In this section, the manual writes about Hearing aids too. There are several things you need to know before pairing a hearing device with the phone. Read the setup guide and the requirement list to prevent any errors later. 
Download User Manual
That's the end of our overview. Make no mistake, there's still more to discover about the phone in the full manual. Download Moto G Stylus 2021 user manual through the link we give below. Keeping a personal copy can be useful in times when you suddenly need help with the phone.
Download: Moto G Stylus 2021 User Manual (PDF)