Alcatel TCL A3X review shows how you can get a triple-camera phone for under $100. There are more perks offered besides that, including Android 11.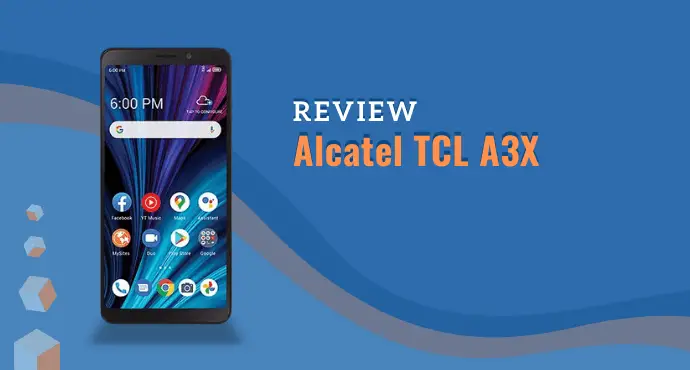 Alcatel TCL A3X smartphone was released in 2021. This is a budget phone with some sought-after attractive features. One of them is a triple-camera.
For a price under $100, it's amazing how customers can get three cameras on the back. The lineup consists of a 13MP main, 5MP depth, and a 2MP macro lens.
Another striking feature is the Android 11. Being the latest widely available version, the operating system has better AI, performance enhancement, and many other perks. The Google Assistant on this phone came with its own dedicated button.
In this Alcatel TCL A3X (A600DL) review, we'll dig more details about the phone's specifications. Enjoy our verdict in the end, to know whether or not this phone is the right one for you.
Specifications
Alcatel TCL A3X (A600DL) specifications:
| | |
| --- | --- |
| Weight | 164g |
| Dimensions | 156.6 x 75.5 x 8.6mm |
| OS | Android 11 |
| Screen size | 6.0-inch |
| Resolution | 720 x 1440 |
| Processor | Qualcomm Snapdragon 460 |
| CPU | Octa-core (4×1.8 GHz Kryo 240 Gold & 4×1.8 GHz Kryo 240 Silver) |
| RAM | 2GB |
| Storage | 32GB |
| Battery | 3,500mAh, Non-removable |
| Rear camera | 13MP + 5MP + 2MP |
| Front camera | 5MP |
| Features | Face Unlock |
Design
Compared to many new-released phones today, Alcatel TCL A3X begs to be different. The 156.6 x 75.5 x 8.6mm device looks like it doesn't keep up with the trends. It doesn't look outdated, but the absence of a notch makes you wonder if it's a newly-released phone.
Yes, this phone has a big display encircled by small bezels. However, it is not a full-screen display. There are quite big spaces on the top and the bottom.
Some people might like this choice of design. No notch means no awkward curvature on the side of the screen when you're watching a video full-screen.
Moving at the back cover, you can see obvious textures on the phone's back casing. Ergonomically speaking, this design style is beneficial in preventing your phone from slipping. However, we also think it makes the phone look cheap. There's no glossiness or a sleek look that adds a luxurious touch.
As for buttons, there is one addition besides the usual Power and Volume buttons. A dedicated Google Assistant button is also present. All in all, the design of Alcatel TCL A3X emphasizes more on functions and practicality.
Read also: Alcatel TCL A3X (A600DL) User Manual
Display
Alcatel TCL A3X comes with a 6-inch display and 720 x 1440 resolution. We found this to be a decent size for a budget phone, especially considering the price. After all, 6-inch is huge and a treat in itself for easier navigation.
The display has curves in all of its four corners. Since the phone lacks a notch, you can enjoy browsing the screen and watching movies with zero distraction. The bezels are also thin enough to give the impression of a full-screen display.
With a 6-inch size, you can multitask with ease. Texts are clear and easy to read. You can stack two apps and there's plenty of space for both. The display is also intuitive, recognizing users' gestures.
The display comes with the Dragontrail 2D glass which adds extra protection. It's not as super as Corning Gorilla Glass, so a screen protector is still recommended. It's also advisable to get a bumper case for more protection.
As we mentioned before, the 720 x 1440 resolution is great. It's an HD-quality display that gives users high-definition graphics output. However, you must know that it isn't perfect. For example, it gets dim under the sun due to not having enough strength for its brightness.
Camera
The cameras on this phone consist of a 13MP main lens, a 5MP depth lens, and the last one is a 2MP macro camera. For the front-facing camera, enjoy the provided 5MP lens. There's also an LED flash available.
This triple-camera is probably the strongest selling point of Alcatel TCL A3X. It's the best feature the phone offers at this price point.
Quality-wise, the 13MP lens is considered average. Pictures that come out of it are decent, but won't wow anyone with an understanding of what good photography is. It's great for social media but not beyond that.
At least the other lenses give you the opportunity to mix and match settings so you can get the best results possible. The 5MP depth lens is especially incredible to add nuance to your photo. A typical depth lens usually is only 2MP.
However, Alcatel TCL A3X kicks it up a notch by providing a better quality lens. The result is a better-looking portrait with background blur.
Alcatel TCL A3X's cameras also rely on software to deliver the best results. This triple-camera is AI-powered. It can help you detect what's the best setting or lens using a technology called AI Scene Detection.
For example, it can recognize whether you are about to take a photo of landscape or architecture. Then, the phone would choose which camera mode is the most suitable.
Read also: Alcatel TCL A3 (A509DL) Review
Storage
There is 32GB of storage available on this phone. Again, a typical spec for storage on a budget phone. The real capacity is lower. However, since TCL A3X doesn't install their own custom Android, there is still plenty of space left for apps and personal files. It's different from phones from LG or Samsung.
However, you may find that after a time, you run out of space. For this issue, TCL A3X does not forget to include a solution. An expandable storage option is available.
Performance
Alcatel TCL A3X runs on a Qualcomm Snapdragon 460 with 2GB RAM. The CPU is an Octa-core processor with an operating speed of 1.8GHz. This phone runs on Android 11 for its operating system.
This phone promises smooth performance that is still energy-saving. In our opinion, they do a good job for an entry-level phone.
Launching apps and switching screens don't invoke frustration by giving users lag. The RAM is only 2GB, though. So, you must still keep in mind to not burden the phone.
This device is the most comfortable when used for entertainment. Videos run smoothly and without delays. The screen refresh rate seems to be decent.
As mentioned earlier, Alcatel TCL A3X runs on Android 11. It has several advantages over the previous one. One of them is more responsive AI. This AI works in many areas of the phone, including the camera, battery management, and performance optimization (Smart Manager.)
The Google Assistant is better and faster. Using the voice assistant is an alternative when you want to use the phone hands-free.
One of the perfect occasions would be when a user is driving. The phone can receive voice commands to call, navigate, send a message, or perform a Google search. There are still many others to try.
Alcatel TCL A3X has no fingerprint sensor. You might have noticed it when inspecting the phone's body and can not find any reader.
The absence of a fingerprint reader is the phone's main tradeoff. These days, securing your phone is important. Additionally, a fingerprint reader can function as many other things (i.e. a camera shutter.)
Instead, Alcatel TCL A3X chose to use Face Unlock technology. How well does it work? Well, just passable. It's slower than using a fingerprint reader, or even, using a PIN or password.
When the lightning situation is poor, the phone can't recognize faces well. Although, in this case, you can argue that having Face Unlock is still better than nothing.
For other sensors, there are Proximity and Accelerometer Sensors on this device. Again, a standard lineup for a smartphone. To conclude, the only thing we're excited about in this Alcatel TCL A3X review for performance is the Android 11.
Connectivity
Alcatel TCL A3X is a phone supporting 4G and other older bands. No 5G here, which doesn't come as surprising. Talking on the phone is loud and clear. Internet surfing here goes uninterrupted. Things work pretty fast with this phone most of the time.
This phone packs a complete setup of communication essentials. Apart from the mobile network, you'll also find the usual Wi-Fi, Bluetooth, and GPS. You can also use this phone as a Wi-Fi router using the mobile hotspot feature.
Alcatel TCL A3X comes with the latest Bluetooth 5.0 Wireless Technology. It allows you to pair the phone with a device located as far as 10 meters. For the GPS, it uses A-GPS/GPS capabilities. No NFC is found on this device.
Battery
A 3,500mAh battery powers all the operations on Alcatel TCL A3X. With this capacity, Alcatel TCL A3X can run up to 440 hours on standby. Real-time usage is much lower, of course. In our opinion, battery performance is average just like most phones at this range. Most of the time it got you through the day on a single charge.
The talk time is 17 hours on 4G, which is great but still an average number. Alcatel TCL A3X's battery is non-removable. It doesn't come with a fast-charging feature.
All in all, this Alcatel TCL A3X review on the battery shows nothing special specifications. However, it is still a decent battery setup on a phone under $100.
Is the Alcatel TCL A3X a good phone?
Alcatel TCL A3X is a phone for casual users with a slight preference for good cameras. Most features are basic and average, but this phone has a triple camera. That could be a good reason to buy. It sets the phone apart from its competitors.
You can purchase the Alcatel TCL A3X for a reasonable price of $70, which is a great deal considering its triple-camera, 6-inch HD display, and decent battery life. However, it lacks some essential features like a fingerprint reader.
That's our verdict for the Alcatel TCL A3X review. It's a good and reliable budget phone overall.
Pros: triple-camera, large display, comfortable design
Cons: no fingerprint reader, average performance