Samsung Galaxy A10e (S102DL) review dissects the phone's features, complete with the pros and cons. Everything worth considering before deciding to buy one.
Samsung Galaxy A10e comes to the global market in early 2019. It introduces several upgrades from Samsung's Galaxy A series that came before.
Among the feature worth noting are the edge-to-edge display, the new Android 9.0, and a long-lasting battery. It also introduces the latest security features such as Face Recognition.
Samsung places Galaxy A10e into the budget-friendly market. It is marketed on a $159.99 price tag, which clearly on the low range.
This Samsung Galaxy A10e review dissects whether or not the phone is worth the money it needs to spend in order to bring one home. Let's check it out.
Key Specs
Samsung Galaxy A10e specifications:
Weight: 141g
Dimensions: 147.3 x 69.6 x 8.4mm
OS: Android 9
Screen size: 5.83-inch
Resolution: 720 x 1560 pixels
CPU: 1.6 Ghz Octa-core, Samsung Exynos 7884
RAM: 2GB
Storage: 32GB
Battery: 3,000mAh, Non-Removable
Rear camera: 8MP
Front camera: 5MP
Design
The first thing we noticed about Samsung Galaxy A10e's design is that it follows the trend. It has a full-screen view just like many phones released lately.
The full screen leaves a little bit of space in two areas: the top part, where the front camera resides, and the bottom part for a small bezel.
The edges are still noticeable. There is still a silvery streak along the edges although Samsung designed it as thin as possible.
The body of the phone is made of plastic. It is lightweight, durable, and nice looking. However, you won't feel a sureness just like when holding a phone made from metal.
The plastic body is understandable at this price point. So we suppose it's not a big problem for many people. Especially since the phone is designed beautifully with minimal clutter, both on the front part and on the back part.
If the front part of the phone is almost all occupied by the display, the back is almost full body.
There are only the camera and Samsung logo on the back cover. You might have already noticed that something is missing. Yes, unfortunately, there's no fingerprint sensor here.
The edges are where Samsung crams up keys, ports, and connectors. Speakers are located at the bottom and the top.
The tray for cards lies on the left bezel, while Volume keys and the Power key are on the right. It might sound crowded, but Samsung still manages to make everything placed in a non-obtrusive way.
Display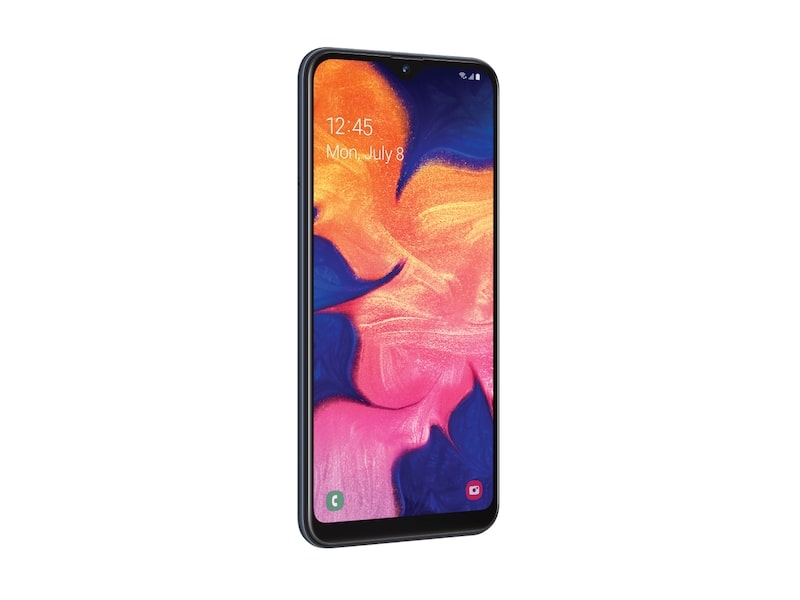 Samsung decidedly put the A10e display as the main attraction of this model. The display comes in an almost 6-inch screen, or to be specific, 5.83 inches one.
The big display on A10e translates to more space for app browsing and viewing. However, it means you will need to operate it with two hands at times.
The display type is PLS (Plane to Line Switching). When compared to IPS, a PLS screen has some advantages, including more brightness and better viewing angles.
Will it beat a display with AMOLED technology? The answer is, it won't. More expensive types of the screen still come out better than A10e's PLS.
We think that Samsung Galaxy A10e delivers good quality with its display. The resolution is 720×1560 pixels which means A10e has an HD screen.
The display is quite sharp with decent viewing angles. With the amount of price you pay for this phone, it's safe to assume that you'll get exactly what you pay for.
For some people, the notch could serve as a source of annoyance. A10e, like many other phones today, offers full-screen viewing when watching videos.
The notch can be something awkward that's really noticeable to the eyes. It's not only A10e who has this problem, but other phones with a notch have it too. It's a little detail to consider before buying.
Camera
Looking at the technical specification for A10e's camera, we didn't find anything that stands out. The camera comes with an 8-MP rear camera which we personally think could be a little higher.
There is an LED flash, also a standard on today's smartphone. Meanwhile, the front camera comes in 5 MP resolution.
The magic of A10e's cameras lies in the inside: the software. Although nothing special, A10e's cameras benefit greatly from Samsung software.
The Camera app comes with useful modes that could enhance the picture quality. There is the Pro mode, where users can select some settings manually, such as ISO, exposure, and white balance.
Other features include HDR, where the phone can adjust light sensitivity and color depth automatically.
Users can also take advantage of various shooting methods to make picture-taking easier. You can either use the Floating shutter button, palm gesture, or the Volume keys.
Galaxy A10e's rear camera is able to record high-quality videos. The maximum resolution allowed is 1920×1080 pixels at 30 fps.
That is another perk of this phone's camera. No image stabilization, though. It means smooth footage really depends on how steady can you be while filming.
To sum up Samsung Galaxy A10e review for the cameras, A10e has an adequate one although it can be better in some aspects.
No surprise though, given the price. The cameras are what Samsung typically gives for a phone under 200 dollars.
Storage
The 32 GB of internal storage Samsung provided in Galaxy A10e can store a lot of files. But we can see all the space easily filled up in no time, especially if you take a lot of high-quality pictures and videos.
Furthermore, the 32 GB isn't the real capacity. After taken by system files, users only have around 20 GB.
External storage is available. You can add up to 512 GB of storage, which is a lot of space. Technically, 512 GB of space can store up to 100,000 photos. But of course, you will spend more money since SD card is not included in the box.
Performance
Samsung Galaxy A10e comes with a Samsung Exynos 7884 processor. The CPU is an octa-core with a processing speed of 1.6 GHz.
The phone also comes with a GPU, a Mali-G71 one. A10e has everything it needs to run day-to-day tasks. It is also capable of some demanding tasks such as gaming, thanks to the GPU.
The RAM that's only 2 GB can hinder the performance at times. 2 GB is a typical amount for phones on this price range, so it didn't come out as surprising. But it means a really demanding task could make the phone laggy.
If you often edit pictures or video on your phone, while opening many apps in the background, this phone may not keep up with you.
However, A10e enjoys the latest installment of Android 9.0 Pie. The operating system promises an overall efficient performance on your phone.
When the RAM can't handle the multitasking well, the software takes over by shutting off unnecessary background apps. This results in more free space on RAM and longer battery life.
Android Pie, paired by Samsung's own UI offers helpful visual experience when navigating the phone's apps and screens.
There is Easy Mode that provides larger text and icons. This is a more straightforward mode for everyone who might get overwhelmed by a smartphone's typical appearance.
Galaxy A10e provides multitasking, therefore you can open two apps on the same screen. This feature takes advantage of A10e's large screen. We got an overall nice first impression when stacking from one app to another.
In addition, Samsung also provides its custom apps such as Samsung Notes, which supports voice typing. Popular Google apps are also available, such as Gmail, Drive, and Maps.
As mentioned earlier, A10e doesn't come with a fingerprint sensor. But it doesn't mean the phone has no interesting security features. In place of fingerprint technology, A10e uses face recognition instead. The feature uses biometric technology.
Biometric sometimes is either a hit or a miss. This is an ongoing technology. So, for it to works properly, you have to be in the right condition.
For example, a well-lit room, no glasses on the face, and make sure the camera is clean. It's not perfect and when compared to the fingerprint unlock method, face recognition is actually slower.
As for the miscellaneous feature, Samsung Galaxy A10e provides standard sensors such as accelerometer and proximity sensors. There are features for people with extra help such as hearing aid compatibility.
Connectivity
Galaxy A10e runs on GSM and CDMA band with availability for 2G, 3G, and 4G LTE. Wi-Fi is available, as of the norm for today's phones.
Depending on the carrier, this phone supports Wi-Fi calling and Hotspot Tethering. There's also Bluetooth, and this phone has the latest version of it, Bluetooth v5.0.
GPS location finding on Samsung Galaxy A10e is pretty accurate. It detects location quickly and no delay from the app side. The phone already uses USB Type-C, so expect faster performance than the older MicroUSB.
What this phone doesn't have is NFC. If you're often using your phone to pay something, you might want to consider other phones instead.
Battery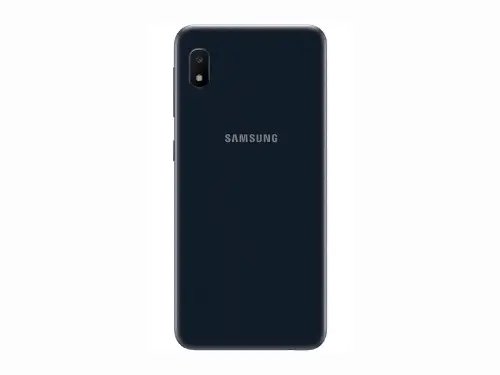 Samsung markets A10e's battery as long-lasting. The capacity for the battery is 3000 mAh.
It is above average than most phones around the same price range. However, it should be taken into consideration that the screen of A10e requires a lot of power.
Therefore, performance is pretty average when compared to other phones with a smaller battery and smaller screen.
A10e's battery can take you through the whole day under normal use, but it struggles to last until the next day. Additional perk such as Fast charging is not available. As for the type, A10's battery is non-removable.
Wrap-up
To conclude Samsung Galaxy A10e review, we think this phone is a perfect choice for some people. Those people are buyers with limited budget but high demand for quality.
However, this phone is certainly not for people who like taking good quality photos. The camera is only average. Some people do not feel safe without a fingerprint lock, thus A10e is not for them either.
If the lack of features don't concern you, then go for Samsung Galaxy A10e. With A10e, you get a big HD screen, the new Android, and capable processor for only $159.99. In our opinion, it's a fair price.
Pros:
Fast 1.6 GHz processor
Android 9.0 Pie
Big HD display
USB Type-C
Cons:
The camera can be better
Average RAM capacity
No fingerprint sensor