Looking for a budget phone with impressive specs? In this Moto G Power review, get to know this Android 10 phone with a big display and triple camera.
Motorola Moto G Power is an exciting phone that makes you impatient to purchase. The first impression could make potential buyers attracted already. The main character would be its massive design. On the back, you will also see the triple-camera.
Boasting a 6.4-inch display, this phone offers more beneath its lavish appearance. That includes the newest android, a fast processor, and fast charging.
But what's really attractive is its triple-camera lineup. For photography enthusiasts, the camera specs will make them curious about the extent of what this phone could do.
In this Moto G Power (XT2041DL) review, we'll try to extensively dissect each of the phone's features. Let's take a look at how the phone fare in terms of design, software, and hardware specs.
Key Specs
Moto G Power (XT2041DL) specifications:
Weight: 199g
Dimensions: 159.9 x 75.8 x 9.6mm
OS: Android 10
Screen size: 6.4-inch
Resolution: 2300 x 1080
CPU: 2GHz Octa-core, Qualcomm Snapdragon 665
RAM: 4GB
Storage: 64GB
Battery: 5,000mAh, Non-removable
Rear camera: 16MP + 8MP + 2MP
Front camera: 16MP
Design
Moto G Power is a massive phone. At 159.9 x 75.8 x 9.6mm for its dimension, the phone towers many of its competitors. However, Moto G Power is pretty slim, ensuring it is comfortable to hold despite its size. It weighs only 199g.
The design is all you want on a phone released in 2020. It's sleek, premium, and features an edge-to-edge look for the display. The phone's bezels are really thin on all four sides.
Another amazing thing is that Motorola chose aluminum for the frame. The metal casing makes the phone look more expensive than it actually is. However, the back casing still uses plastic.
There is no notch housing the front camera. Instead, the front camera is planted with the screen on the top left area. This ensures more space is optimized for the display.
Moto G Power comes in smoke black color. It's glossy and has a subtle texture on the back. The texture results in better grip and fewer fingerprint marks, which is a nice choice for design.
Additionally, Moto G Power also has a water-repellent design. Although not entirely waterproof (you can't bring the phone when swimming), the coating still helps against spills and light rains.
Display
Moto G Power features an expansive 6.4-inch IPS display with FHD quality. The display resolution is 2300 x 1080 pixels which means an impressive 397ppi pixel density. Meanwhile, the screen ratio is 19:9.
The display is one of the key features of Moto G Power. Not only is it sizable and more than average, the display also has the best quality. With the big pixel density, Moto G Power spoils its users with crisp colors and detailed graphical output.
At this point, it's hard to notice flaws such as pixelated edges. They are basically non-existent. The best thing about the display is that it is surrounded by thin frames. It gives the ultimate movie viewing experience without any distraction.
The screen quality on Moto G Power is unquestionable. At Full HD, Moto G Power can easily be compared to mid-range to high-end phones. There's no official information regarding scratch-resistant features such as Gorilla Glass. However, it is suspected that the phone has it, given the predecessor, Moto G7 Power features this protection.
For some people, the front camera can get in the way. Although it is located in the far corner of the display, it does present some degree of awkwardness for users. We personally think it is something that will take a while to get used to.
Camera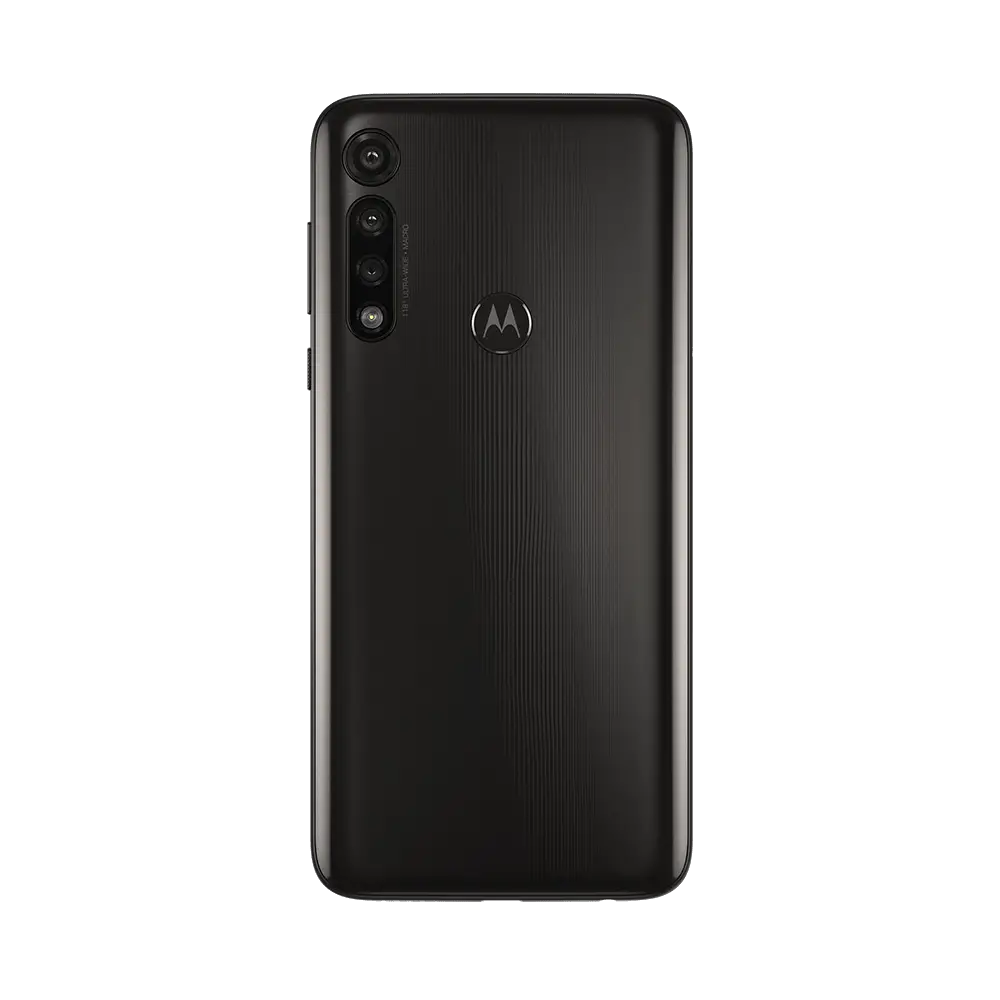 Another eye-catching feature of Moto G Power is its triple camera system. There are three cameras, a 16MP wide-angle with a 2MP lens. Then there's a macro minimum distance camera at 8MP.
The front-facing camera is no less impressive. Here, Moto G Power provides a 16MP camera with a technology called Quad-Pixel. This technology allows better selfie results without needing an LED Flash.
Back to the rear cameras, their combination provides a wide range of possibilities for photographers, amateur or professional alike.  Thanks to the many cameras, you can experiment with Shot optimization and High-res zoom. The macro camera can capture a vivid detail and very rich image results.
The Camera app further adds more possibility to be creative. Features you can explore here include ultra-wide angle shots,  Smart composition, Manual mode, and RAW photo output. Image results exceeded our expectations by far.
Not stopping at pictures, the cameras also support the cinematography enthusiast. Recording videos opens you to possibilities of using features like Hyperlapse, Macro video, and slow motion. You can access these functions via either the front camera or the rear cameras.
Even better, the cameras on Moto G Power are also equipped with electronic image stabilization. Using the help of the gyroscope sensor, the technology helps users achieve less shaky and smooth cinematography.
Storage
With moto G Power, you can store all the photos you took on a 64GB internal storage. The capacity is sizable and enough to hold all your data for a while before needing an SD card.
You might not need an SD card if you are frugal with your storage. Which is probably impossible since if you take pictures and download content a lot. Even if you do need it, an SD card slot is available on this phone. As always, you have to buy it separately. You can add as big as a 512GB sd card with this phone.
Performance
Moto G Power is powered by a 2GHz Qualcomm Snapdragon 665 processor. The GPU that comes with it is Adreno 610. For the RAM, the phone provides a 4GB space for it. Meanwhile, Android 10 is the choice for the phone's operating system.
Qualcomm Snapdragon 665 is a powerful Octa-core processor. Combined with 4GB of RAM, they make an unstoppable duo that could handle all kinds of tasks. Of course, there are plenty of high-end phones that could do more. But for a phone under $200, it's a steal.
It's no question for basic tasks. You can say that this phone is overqualified for them. Therefore, take advantage of their power by playing around with more demanding tasks. Whether it's viewing an ultra HD video to editing the RAW picture you took with the camera.
We found that the phone gives an excellent user experience most of the time. Everything feels smooth regardless of how many apps are open in the background. The Adreno 610 GPU is far from disappointing when it comes to gaming.
Like usual, Motorola didn't make any alteration to Moto G Power's Android. As a result, we got a pristine, original version of Android 10. There's no launcher or custom modification that could put weight on the performance.
However, Motorola didn't shy away from adding their own apps. Introducing Moto Experiences​, where you can customize display and accessibility as you like, making the phone more accommodating according to your needs.
There's also Moto Gametime​. This is an app that lets you block distractions as you play games. Those distractions include incoming notifications from apps or calls. The app also helps optimize the phone so you can get the best gaming experience.
Since this Android is new, you will also enjoy the faster interaction on apps, more optimization on performance, and several new gestures for navigation. Beyond that, Android 10 also offers hardware optimization like with the battery and screen brightness.
For sensors, there is the fingerprint sensor, a proximity sensor, an accelerometer, and gyroscopes. The fingerprint reader is located at the back. Meanwhile, the gyroscope is what provides the camera with image stabilization.
The conclusion for this Moto G Power review for performance is, this phone is more than capable. Especially for meeting today's demand for fast and intuitive technology. Both its hardware (CPU and RAM) and the operating system works well in providing the best smartphone system for users.
Connectivity
Being a 2020 phone, Moto G Power is equipped with the latest technology such as 4G support and Bluetooth v5. There's also Wi-Fi and Wi-Fi hotspot. For its SIM card type, Moto G Power uses a nano-SIM. The type of USB port used here is USB Type-C.
In terms of call quality and internet speed, we didn't find anything that unsatisfactory. Everything runs well with clear loudspeakers. You can take advantage of the Dolby audio features too.
Internet speed is generally fast, and of course, it has to be supported with a fast data plan too. Find more information about Tracfone data plans for a faster internet connection.
GPS is available, as expected. You can enjoy navigating the town using the pre-installed Google Maps, which now has an incognito mode for better privacy. Sadly there's no NFC on this phone, though. It means no NFC mobile payment is facilitated with this phone.
Battery
Moto G Power runs on a non-removable 5,000mAh Li-Po battery. As you can see, we have a gigantic battery here. Motorola claims you can last up to 3 days with a single charge, which is impressive for a smartphone with a big HD display.
In reality, it depends on each individual's usage. If you browse or stream a lot, at best two days the phone can stay turned on.
The battery also comes with a 10W rapid charging feature. So even when you run out the battery quickly, you can easily recharge the phone quickly. This feature is also useful for busy phone owners.
Is the Moto G Power a good phone?
Moto G Power is sold by TracFone at under $200 price tag. With an offer like that, Moto G Power is tempting to have. The price is considered cheap if you count the perks you will get. Those perks include a big display, big battery, fast processor, and big RAM.
Not to mention the triple camera system. If you put emphasis on camera quality, Moto G Power offers more value compared to the price. The cameras also come with additional features that get you even more creative.
That's all for our comprehensive Moto G Power review. For those of you who don't intent to seek smartphones, read this list of 10 best Tracfone flip phones for seniors. Flip phones can be a much cheaper alternative.
Moto G Power Pros
Big FHD Display
Triple camera
Fast processor with 4GB RAM
Big battery
Moto G Power Cons
Placement of front camera may look awkward
No NFC