Discover a complete Alcatel TCL A1 review here. What's reviewed include performance, camera, battery, and others. Everything is explained in detail.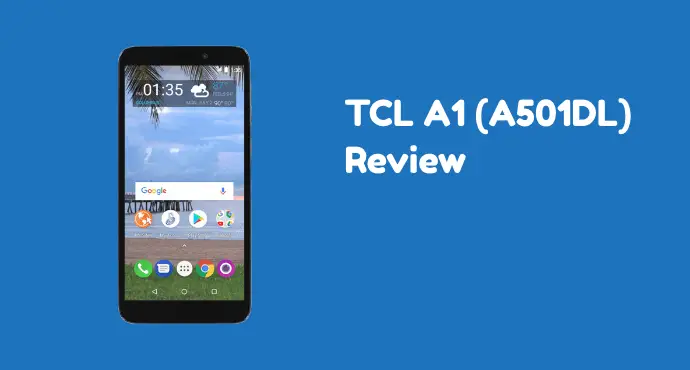 Tracfone has plenty of affordable products in their shop. One phone that's worth considering is Alcatel TCL A1.
This phone is released in 2018 and considered as a starter phone. It has a very low price tag while the device provides the essentials feature to get you through the day.
One of the key highlights of Alcatel TCL A1 (A501DL) is the LTE support, the big display at 5 inches, and a decent battery. There are some other features too, including the camera and Wi-Fi support.
In this Alcatel TCL A1 review, let's see how the phone performs in every aspect that we consider important.
Key Specs
Alcatel TCL A1 (A501DL) specifications:
Weight: 145g
Dimensions: 136.7 x 65 x 9.9mm
OS: Android 8.1
Screen size: 5-inch
Resolution: 854 x 480
CPU: 1.1GHz Quad-core, Mediatek MT6739
RAM: 2GB
Storage: 16GB
Battery: 2,200mAh, Non-removable
Rear camera: 5MP
Front camera: 2MP
Design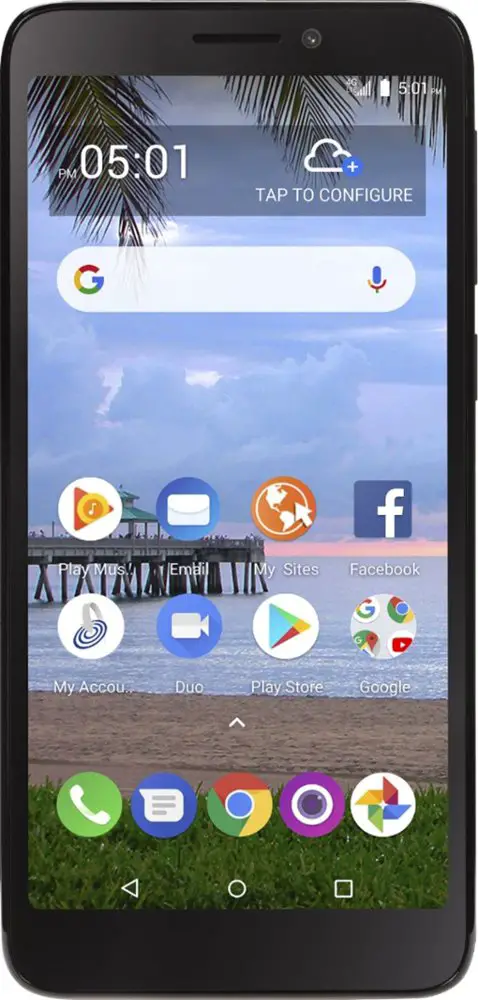 Alcatel TCL A1 has a very simple design. The display is enclosed by a black casing that's made from a plastic material.
On the front, you will see the camera and the speaker on top of the display. The front bezels are quite thick, but there is no physical button installed.
The phone uses soft buttons inside the software. So you won't find any Home button, App switch button, or the Back button here.

On the back, there's another loudspeaker accompanied by the rear camera and the LED flash. Apart from that, there are also the TCL logo and the TracFone logo.
The keys such as the Power button and the Volume keys lie on the right side. Alcatel decided to leave the other side vacant without any keys.
We also notice that the back cover is not entirely smooth. It comes with texture which can help secure the phone when a user is holding it.

Alcatel TCL A1 casing is also curved on its four corners. Therefore, the phone is comfortable to hold although it's quite sizable.
In conclusion, Alcatel TCL A1 design is largely practical. It is simple and beautiful to look at but there's nothing remarkable with it.
The phone also has no extra protection like waterproof or metal frames. The build quality is in line with its affordable price.
Read also: Alcatel TCL A1 User Manual (TracFone)
Display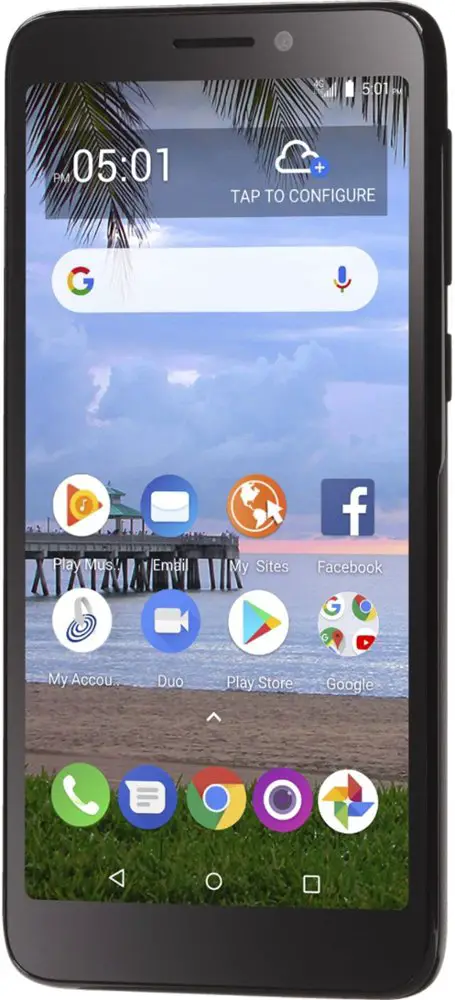 Alcatel TCL A1 features a large 5-inch FWVGA  screen. The spacious screen lets users browse apps and other content comfortably.
The display is also coated with scratch-resistant protection called Asahi glass. This way, TCL A1 could withstand the daily wear and tear better compared to a phone with no protection.
The display output is good enough for everyday use. You will get a decent view of images and the phone's user interface, but reading texts can be a little bit tricky.
This is because Alcatel TCL's screen is still prone to display rough edges for texts. We can easily notice it whenever we zoom the display in.
For the aspect ratio, TCL A1 has an 18:9 which allows comfortable watching on motion pictures. Sadly, it doesn't have that wide of viewing angles.
This is because the overall quality is below average. The resolution of the display is only 854 x 480 pixels.
Another downside is the display can be hard to read outside. You will need to cover the screen with your hand so you can see things better. 
On one side, it is not surprising since this phone is very cheap. If you decide to buy it, the display is one of the things you will need to make a compromise of.
Camera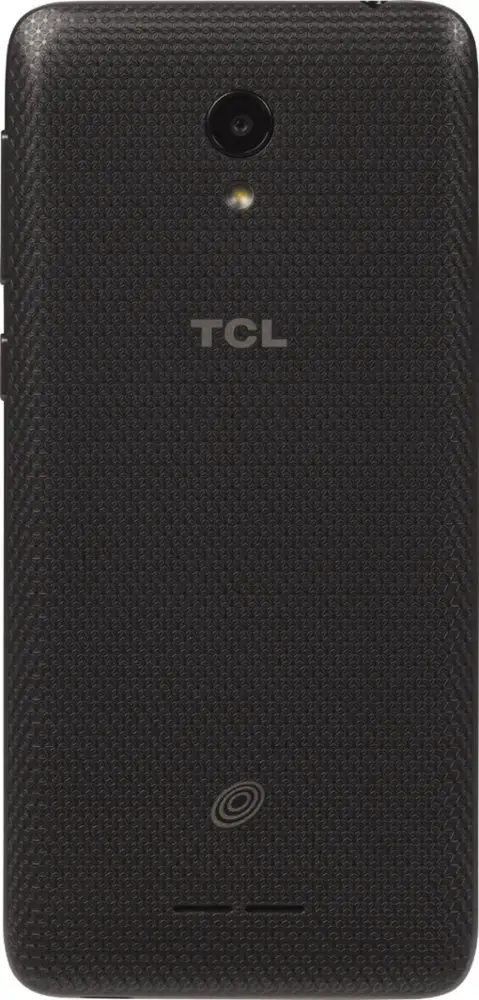 A camera is something important on a smartphone today. Even though it's not a priority on a starter phone like TCL A1, it is still available for occasional photo-taking activity.
So it's not surprising to find out that the camera specs are quite minimal. For the back camera, Alcatel installed a 5MP lens along with an LED flash.
The camera is perfect for anyone who isn't a photography enthusiast. The image results are okay for social media purposes but not anything beyond that.
TCL A1 camera focuses more on social media experience. It's apparent on the features available inside the camera app.
You can quickly edit a photo, make a collage, and upload it to the internet. This feature is called Social Mode.
Meanwhile, the front-facing camera comes with a resolution of 2MP. Again, it's far below average for today's smartphone, although you can take some nice selfies with it.
2MP is enough for video call, just don't expect high definition recordings of your face. On the bright side, it means fewer data to use while having video calls.
Another plus side of the front camera is that it comes with a flash. It helps users getting brighter results when taking selfies in low light conditions.
Read also: Alcatel TCL A1X Review: Pros and Cons
Storage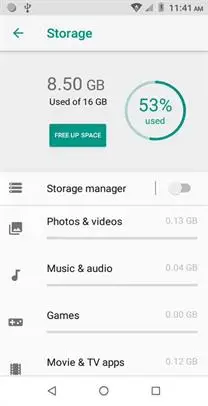 For an entry-level phone, the amount of 16GB for the internal storage is not surprising. It's enough to store users' files from photos to internet downloads.
The capacity can hold plenty of image files. Especially since photos taken with TCL A1 camera are low in resolution, therefore they have small file sizes.
But there's still a possibility that users would run out that 16GB. That's why Alcatel TCL A1 (A501DL) also provides an external storage option.
You can add an SD card to the phone. It's not included in the box so you'll have to buy it separately. The maximum allowed capacity is 128GB.
Performance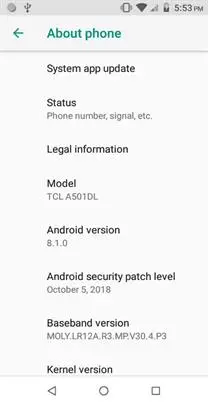 Alcatel TCL A1 is a basic smartphone. Therefore its simplicity also applies to the CPU setup.
It's safe to expect nothing extravagant in terms of performance. From the CPU and also the amount of RAM the phone has.
TCL A1 runs on Mediatek MT6739 processor. This processor is a Quad-core processor with a CPU speed of 1.1GHz. It's a popular choice for many entry-level smartphones.
The important thing about this processor is that it's able to support LTE. Meanwhile, the CPU works alongside 2 gigabytes of RAM.
The performance is decent for a phone this price. One thing you should be aware of is that it works best with basic tasks only. What's included as basic tasks, for example, are calling, texting, and light internet browsing.
Some other activities are also included, such as taking notes, taking pictures, and setting up reminders on the calendar. Beyond that, the phone can be really slow.
Demanding apps such as photo editors and heavy social media apps can struggle here. They will be harder to use on TCL A1.
This phone uses Android 8.1 Oreo as its software. It's the Google mobile operating system and this version comes in 2018. So TCL A1 has the most updated version at the time this phone is released.
Android 8.1 Oreo is fast and has a lot of improvement from the previous versions. The best thing about it is that TCL didn't modify it at all.
Manufacturers usually modify Android in their phones. They would install their own themes and launchers.
However, Alcatel decided to stick to the untouched version. Thus making it lightweight to load and navigate. This is the best decision since TCL A1 doesn't have an ultra-fast CPU to begin with.
On the Home Screen, you will see the important apps such as Phone, Messages, and Chrome browser. Users can access the app drawer by swiping up the Home screen.
There are still some pre-installed apps that are not from Android itself. Among them are the Facebook app and the TracFone My Account app.
For sensors, TCL A1 surprisingly has the most important ones. You can find the Accelerometer, ambient light sensor, and proximity sensor.
The phone also supports Hearing Aid devices. On top of that, users can also plug in their earphones to the available headphone jack.
To summarize Alcatel TCL A1 review for the performance, this phone is an all-round device for everyday use. It's not much, but it's simple and can do basic tasks well.
Connectivity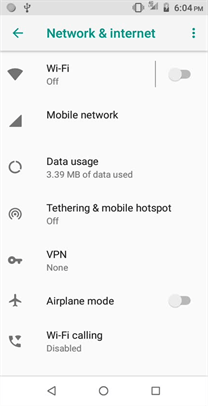 With TCL A1, you can enjoy 4G LTE fast connection. As mentioned earlier, the CPU system of this phone does support this type of network.
The call quality is not the crispiest, but you can have minimal dropped calls. The LTE connection also works well for internet browsing.
Apart from LTE, you can enjoy other ways of connecting to the network or other devices. These other features include Wi-Fi, Bluetooth, and USB connection.
A micro-USB port is available if you want to plug the phone into a computer. The Wi-Fi on TCL also supports Tethering or mobile hotspot.
This phone also provides GPS. You can access it via location-based apps such as Google Maps.
Battery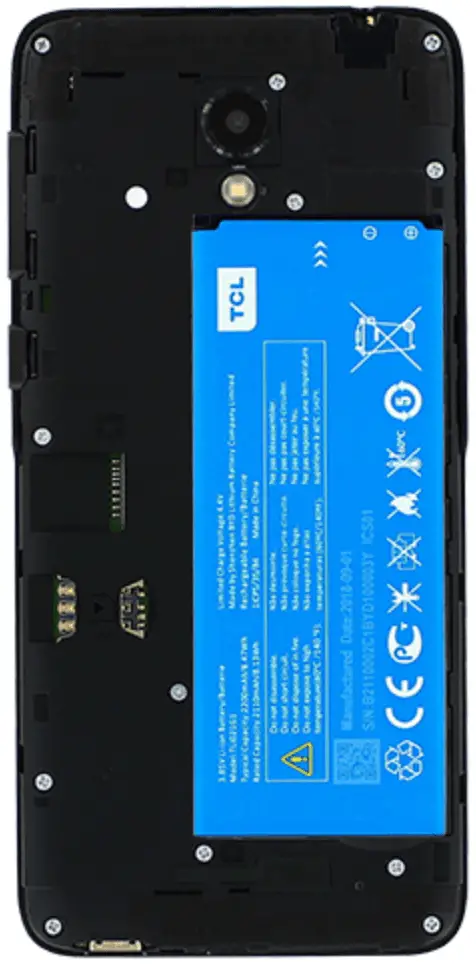 The battery on TCL A1 is quite small at 2,200mAh. But considering the phone's minimal specs, TCL A1 doesn't need a lot, to begin with.
The capacity can handle 9 hours of talk time with 4G. For its standby times, TCL A1 can reach up to 300 hours on 4G.
It is able to last you one full day of use on a single charge. But this is considering that you limit yourself to normal use only.
On heavy use such as video streaming, the battery is quick to run out. So it's advised to stay away from those activities if you want to preserve the battery life.
Finally, as additional information, TCL's battery is removable. The battery type is Lithium-Ion (Li-Ion).
Is the Alcatel TCL A1 a good phone?
Alcatel TCL A1 has a sizable screen, enough performance level, and cameras. For communication, you have 4G, Wi-Fi, and Bluetooth. It got everything you need. Therefore it can be an option for people who are just starting with Android smartphones.
Many new users usually don't want to pay a lot for their first phone. TCL A1 (A501DL) is perfect because the price is also very cheap.
The retail price is $29.99. However, you can get it cheaper at a discounted price of $24.55.
That pretty much sums up our Alcatel TCL A1 review. This phone aims for the less demanding customers and is best used for essential tasks only.
Pros:
Very affordable price
Big display
LTE support
Cons:
Poor camera quality
Entry-level performance