TracFone LG 238C is a flip phone with basic function for those who are looking for something that easy and simple to use, while in the same time provide all the necessary function to connect with other people.
Even in this modern time like this where smartphone rules the technology world, not everyone inclined to use one. There is nothing wrong with Android based smartphone, but some people may find that its way to complicated for their simple need. A basic phone such as TracFone LG 238C with basic function that allows people to send text, make call and browse the internet is the kind of thing that these people want.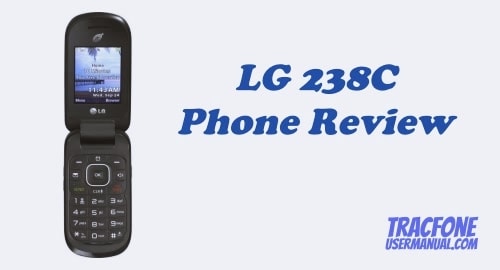 TracFone LG 238C Quick Review
TracFone LG 238C is indeed a basic phone. This flip phone is good looking and with its compact size, it was easy to carry around on people pocket. The screen size is only 2.2 inches, which is pretty small compare to most phone this day that have screen size range from 4 to 5 inches. It is small but it is enough especially for those who don't spent too much time looking at the screen and only use it to make call and send important message.
This phone is a basic phone but it also comes with several additional features that people may use. It has a camera, 1.3 MP one. The resolution is very small indeed and it won't gives people a high quality picture like they want. It means that this phone is not something that people who love to take picture will enjoy.
It also has a web feature, a simple one but a web nevertheless. User who seldom browse the internet can use this feature at their own time. Whether people are going to use it or not, it was there, just in case it was needed.
Surprisingly, it also have Bluetooth feature. It allow user of the phone to connect and transfer data with other Bluetooth device. Bluetooth and web are inseparable part of modern smartphone where people are in constant use of both features. So, it really make sense if LG as this phone manufacture put both feature on this device, albeit its simplicity.
User can expect the phone to last for around 2 hours if they using it constantly to call other but if its left to standby mode, the battery will last for up to 8 days. In general, this phone works okay for those who are looking for a phone to make call and text message only. But for those who are looking for something more sophisticated, then this one simply will not do.
Tracfone LG 238C Specs and Features
Included Battery:
Lithium-ion
Size:
3.86″ x 2.01″ x 0.74″
Standby time:
Up to 8.7 days
Talk time:
Up to 2.3 hours
Weight:
3.43 (ounces)
Included Accessories:
AC Adapter
Battery
Features:
2.2″ screen
3G speed
1.3 MP Camera
Voicemail
Alarm Clock
Web
Bluetooth
Calculator
Calendar
Call Waiting
Caller ID
Color Screen
Graphics Download
Handsfree Speaker
Hearing Aid Compatible
Phone Book with up to 1,000 Entries
Ringtones Download
Text/Picture Messaging
Vibration Alert
Voice Dialing