Everything about ZTE Cymbal-G LTE Z232TL and Z233VL as part of TracFone line up, completed with everything a phone would have with the old fashion clamshell design.
Enjoy the new taste of a phone from TracFone ZTE Cymbal-G LTE Z232TL and Z233VL with its clamshell shape and Linux OS, which will help the user to adapt from the old time phone into something more sophisticated.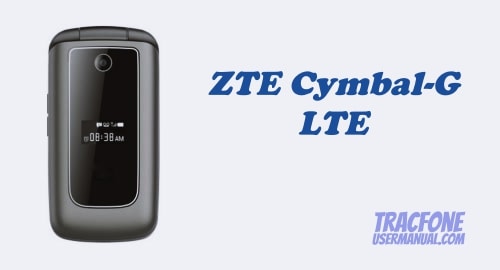 Design
Clamshell with a touch screen is the unique designs sport by ZTE Cymbal-G. Perhaps, the main idea of this phone is to help user from being shocked when moving from the old time feature phone into smartphone.
Build in small size measured at 4.26″ x 2.18″ x 0.73″ and weighed 4.59 ounces, therefore it is so easy to wrap it in people's palm.
Display
ZTE Cymbal-G builds with two displays. The external display is only 0.96 inches in size using monochrome TFT screen, while the internal display is 2.8 inches in size and using color TFT LCD screen with 240 x 320 resolutions.
Software
The operating system as the brain of this phone was using not Android but Linux. This is something unusual because most smartphone out there using Android as it OS, and the fact that is using Linux offer people with a different kind of user experience. This is also what makes this phone unique.
Camera
Unfortunately, ZTE Cymbal-G only has one camera. The 2 MP rear camera is the only thing people can use and as expected, the quality is not that good. People can use it to take a picture and also video recording. At this point, this phone is indeed similar with the old time feature phone.
Related Posts:
➥ TracFone LG Rebel 2 LTE Phone Review
➥ TracFone ZTE Cymbal-G User Manual
Performance
For a small size phone like this phone, ZTE Cymbal-G is quite powerful. ZTE equipped it with Quad-core 1.1 GHz, Qualcomm Snapdragon 210 MSM8909 as it processor. The 512 MB RAM is big enough for such a small package, which ensures people about its performance.
People can store everything on its 4 GB internal storage where up to 827 MB usable. For most people, such is a small storage space, but no need to worry because this phone supports microSD that can keep up to 32 GB data.
Connectivity
The small package doesn't always mean that it can't do something worth it. This phone is a fine example, where it already supports 4G LTE for faster internet connection. ZTE Cymbal-G also has Wi-Fi connection, Bluetooth version 4.1, micro USB, A-GPS and a 3.5 mm Jack. The entire part of connectivity system in this phone is the same as the one available on another type of smartphone.
Battery
ZTE entrusted a removable, 1500 mAh lithium ion battery to power up this phone. At this capacity, the phone should be able to stay up to 10 days on standby time, and for talk time, it can last for up to 8 hours.
Wrap-up
To wrap up this review, let's take a look at the pros and cons of this phone.
Pros:
Quad-core processor. For such a small size phone, using quad core processor is a big plus. Bigger smartphone out there also use this type of processor so it was easy to imagine how good it will work.
It already supports 4G. With this feature, people can browse around easily using without having to worry about having a slow connection.
MicroSD. People can use microSD to stored additional file.
Cons:
People can't download any application in this phone and it means people are stuck with the built in app.
Small size memory, but people can work it out with microSD card.
No front camera means no selfies.
What about it? This phone looks like a transition between the old feature phone into the era of smartphone, which may do well for those who just start using smartphone but may not serve well for people who already used to with the sophisticated and complicated smartphone.
TracFone ZTE Cymbal-G LTE Z232TL / Z233VL Specifications
Body:
Form Factor: Clamshell (Touchscreen), Size: 4.26″ x 2.18″ x 0.73″, Weight: 4.59 (ounces)
Display:
2.8 inches, External Display: 0.96 inches, TFT LCD Screen, Resolution: 240 x 320 px
System:
Operating System: Linux
Processor: 1.1GHz Quad-Core, Qualcomm Snapdragon 210 MSM8909
Camera:
Rear Camera: 2 MP, Front Camera: No, Video Recording: Yes
Memory:
RAM (Memory): 512 MB
Internal Storage: 4 GB, Support MicroSD (Up to 32 GB)
Network:
Support 4G LTE
Connectivity:
Wi-Fi: 802.11 a/b/g/n, Bluetooth v4.1 A2DP, USB: microUSB 2.0, GPS: A-GPS, 3.5mm Jack
Battery:
Lithium-ion, 1500 mAh, Removable
Standby time: Up to 10 days, Talk time: Up to 8 hours
Sensor:
Accelerometer, Proximity Sensor
Other Features:
Hearing Aid Compatible, Multimedia Messaging, FM Radio