The complete specs comparison between Samsung Galaxy A10e and Galaxy A20. Know which one is better for you by comparing all the features available.
Samsung Galaxy A line comes with several phones of different sizes and specs. For some people, it can be confusing. That's why we try to help you analyzing two Galaxy A phones that come around the same time.
Here's the specs comparison between Samsung Galaxy A10e (S102DL) and Galaxy A20 (S205DL) which are released in 2019.
Galaxy A20 is priced at $229.99 while A10e comes with a $159.99 price tag. Looking at the price alone, you might have guessed that A20 has the better specification.
You're not wrong, but better specs alone won't determine whether a phone is right for a certain individual. Here's the comprehensive comparison between the two.
Design
On the first impression, we can see that Galaxy A20 is the bigger one between the two. A20 size is bigger since it has to accommodate a 6.4-inch screen. On the other hand, Galaxy A10e is smaller as it only comes with a 5.8-inch screen.
For build quality, both phones use the same plastic material for the frame and the body. The front is made from glass. One thing that separates A20 and A10e is the availability of Corning Gorilla Glass 3 on the former. It means Galaxy A20 has a better build quality despite both are made from plastic.
Comparing the aesthetic of the design, both phones are roughly similar since they adopt the same concept. The screen takes almost the entire screen.
Both A20 and A10e use the infinity display design which has very thin bezels. The front-facing camera lies on the top of the screen, hosted by a small notch.
While the fronts look almost identical, the back cover differs between each phone. A20 looks a bit more crowded but it's because it has more components.
There are an additional camera and a fingerprint sensor on the back of Galaxy A20. These details are absent on Galaxy A10e.
Drawing a conclusion for the design, there's one major factor where A20 wins. And that factor is the protection (Gorilla Glass), therefore A20 is more resistant to scratch and other minor damage. Other than that, both phone is similar in build quality, material, and aesthetic.
Display
From the size alone, A20 clearly wins because of its 6.4-inch screen. This number is also above average when compared to other phones of similar price out there.
Galaxy A10e comes with a 5.83-inch display size. It may be smaller, but it's still a decent screen size for today's phone. Besides, A10e's size fits better on one hand than A20's.
We had to takes several things into account when comparing the display quality. Both phones has the same resolution at 720 x 1560 pixels.
However, the pixel density is different between the two: 268 ppi on A20 vs 295 ppi on A10e. It means A10e has a slightly better quality screen. Theoretically, A10e's display should be sharper and provide more details than A20's.
But A20 uses better technology. The display of Galaxy A20 uses Super AMOLED screen technology. Against A10e's PLS TFT screen, A20 wins by a mile.
An AMOLED screen is brighter. The colors come out a lot more vivid with high contrast. An AMOLED screen also presents deeper blacks. It has better visibility when you use the phone outdoors.
Therefore Galaxy A20 is the ultimate winner when it comes to display. It offer more in term of quality and size. We'd recommend A20 for buyers who don't want to sacrifice on the viewing experience.
But if display is not your priority and you want to save some money, Samsung Galaxy A10e is the more sensible option.
Camera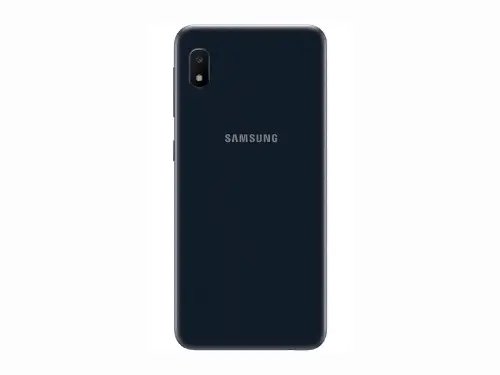 There are two cameras on the back of Samsung Galaxy A20. The dual camera alone makes A20 more interesting. Galaxy A10e only comes with a single 8 MP rear camera and a 5 MP front-facing camera.
Meanwhile, the dual camera on A20 consists of a 13 MP main lens and a 5 MP secondary lens. The selfie camera on A20 has an 8 MP lens.
As we had expected, Galaxy A20 cameras take better pictures. The second camera makes offers opportunities that are not possible with A10e's camera.
One of them, for example, is taking a picture with a blurred background. The ultrawide-angle lens also helps when you want to capture more objects in one shot.
The camera on A10e could be better, but Samsung decided to put only an 8 MP lens on the rear. The photo results are decent but less sharp when compared to photos taken with A20's camera. Although both phones have LED flash, A20 still provide better results on low-light situations.
Which one a user should buy depends on their preference and needs. For example, if you travel a lot and takes a lot of picture, we'd say A20 has a better setup to capture your memories. But if you rarely take photos, the camera on A10e is more than enough.
Storage
Both Galaxy A20 and Galaxy A10e provide the same amount of internal storage at 32 GB. It's a bit disappointing for A20. We had hoped that it provides more space considering users pay more when purchasing A20.
Pictures taken with Galaxy A20 have larger file size, therefore you would run out of space faster than with A10e.
There is an expandable storage option for both. Samsung Galaxy A20 offers up to 512 GB of external storage and the same goes with Galaxy A10e.
Concluding the specs comparison between Samsung Galaxy A10e and Galaxy A20 for storage, both phones ties with each other.
Performance
At the core, Samsung Galaxy A10e and Samsung Galaxy A20 have different things to offer. A10e comes with Exynos 7884B chipset. The octa-core setup consists of dual 1.6 GHz Cortex-A73 and hexa 1.35 GHz Cortex-A53.
On the other hand, Galaxy A20 uses Samsung Exynos 7904. It's also an octa-core chipset with dual 1.8 GHz Cortex-A73 and hexa 1.6 GHz Cortex-A53. For the GPU, both phones use Mali-G71.
Looking at the details of the CPU, we can see that Galaxy A20 is at an advantage. Moreover, Galaxy A20 has more RAM at 3 GB. Therefore, it's able to take advantage of the CPU power even more.
Galaxy A10e, on the other side, has only 2 GB of RAM. Although it's understandable looking at A10e's price, it won't hide the fact that it's slower.
In hindsight, especially when the phones are new, users won't notice the slight difference in performance. Both phones are swift in the beginning. Switching between screens and multitasking can be done with minimal lag.
However, later when you start installing more apps, A20 would give a smoother user experience overall. It also handles demanding tasks better than A10e.
A casual user probably won't have a lag problem with A10e. But if you fall into the heavy users category, it's recommended to choose A20 instead.
Moving to the software, both A10e and A20 use Android 9.0 Pie as their operating system. It means you'll get the latest version of Android along with its perks and features. All Google apps are available. And there are also custom apps and features by Samsung.
A20 has more custom apps pre-installed compared to A10e. Those apps include Samsung Wearables and Samsung SmartThings, where you can control other Samsung smart devices with your phone.
You can have those apps on Samsung Galaxy A10e, however you'll have to download them first from Galaxy Store. Other than the pre-installed apps, nothing else is fundamentally different between the software of A10e and A20.
Sensor is where A10e and A20 differ greatly. The most obvious is the lack of a fingerprint sensor on A10e. That way, A20 with its fingerprint feature is the clear winner when it comes to security. To compensate, A10e has Face recognition, which A20 also has. Galaxy A10e also lacks gyroscope sensor.
To conclude this point, the main advantage of Galaxy A20 is the better chipset, bigger RAM and the availability of fingerprint. Taking all into accounts, Galaxy A20 is better performance-wise, which is actually not surprising.
Connectivity
On networks and connection features, both phones are almost identical. Both support the major GSM band (2G/3G/4G LTE). They perform well when used for callings, texting, and internet browsing.
There's also support for Wi-Fi and Bluetooth. GPS is readily available on both phones for location finding. For USB connection, they both use a USB Type-C port.
There is one difference that makes A20 far more favorable in our eyes. And that difference is the existence of NFC on Galaxy A20. Since mobile payment is getting widely popular, choosing Galaxy A20 with its NFC is the better investment.
Another advantage of A20 is that it supports Bluetooth tethering while A10e doesn't. Bluetooth tethering allows users to share internet connection via Bluetooth.
Battery
Galaxy A10e comes with a non-removable Li-Ion 3000 mAh battery. Meanwhile, Galaxy A20 has a Li-Po 4000 mAh battery, also non-removable.
Despite having a bigger battery, A20 doesn't last significantly longer than A10e. The performance is roughly the same. It's because A20 has a larger screen, therefore it consumes more energy than A10e's screen.
Both phones can last until the end of the day under normal use. If there's anything that set A20 aside, it's the Fast Charging feature, which A10e doesn't have.
The Fast Charging lets users charge their phone faster than what's normal. It may be not an essential feature, but it does add some convenience.
Wrap-up
This is our final thoughts for the specs comparison between Samsung Galaxy A10e and Galaxy A20. Although coming from the same line, A20 and A10e cater to different types of customers.
Casual users could opt for Samsung Galaxy A10e. It's more economical for your budget. In addition, the phone still provides a lot of useful features to help you with daily tasks.
On the other hand, Samsung Galaxy A20 is for those who want more and better: more screen size, better build quality, more camera, and so on.
There is a $70 dollar difference between the price. We'd say it's a fair price for the additional perks as long as your budget allows for that.
Samsung Galaxy A10e pros:
More affordable price
More ergonomic design
Decent processor for everyday tasks
Slightly higher pixel density
Samsung Galaxy A20 pros:
Better and brighter AMOLED screen
Dual rear camera
Faster processor
Bigger battery
Fast charging
Has NFC