LG Treasure L51AL from Tracfone offer lots of nice feature along with its big screen and affordable price that makes it a budget smartphone that is something worth to consider by everyone.
Tracfone has lots of smartphone from all type, brand and price to offer. The LG Treasure LTE L51AL is part of the mid level or budget smartphone category. It mean that this phone is something that have lots of nice feature that should be able to meet people need and it was offered at affordable price.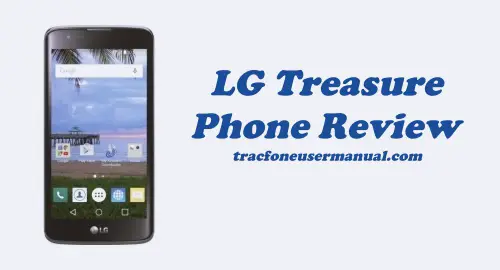 Just like any other phone, there is good part and bad part about LG Treasure and this is vital information that everyone needs to know. Start with the good part of the phone. It comes with low price, less than $100 from HSN. Other retail store such as Amazon and WalMart may have better offer with it, meaning that people can get better bargain.
The best part about this affordable price is that the price is already covered the airtime card that worth for $99 that makes the phone itself literally free. Basically that is such a great deal that should not be missed out.
The phone has 5 inches of touch screen, which is big enough for better and clearer viewing experience. This is actually an average size of smartphone screen this day, so it is not too stand out but it doesn't fall out either. The resolution at 480 x 582 pixels is not the best at its class but somehow LG managed to make the screen look brighter and clearer, so there is no problem in that.
As a budget smartphone, LG Treasure has surprisingly good camera with 5 MP resolutions both on the rear and front camera. Compare it with other smartphone in the same class, LG Treasure is really stand out in this part.
LG Treasures come with Android version 5.1.1, which is a newer version that is much better than the 4.0 version. But since it support Tracfone service, user will not get Android OS update, but still it work good enough for most people.
The bad part of the phone comes from the internal memory and the processor it use. This phone uses 1.1 quad core processor. Do not make mistake, this processor is good enough for daily use but still it still below other phone that use at least 1.2 quad core processor. It means that this phone may face some performance problem when user uses it to run large capacity app.
Other thing that is worth to notice is the internal memory of the phone. The phone comes with 8 GB internal memory. It is big enough but half of it (4GB) were used by the phone system and the pre installed app. It leaves people with only 4 GB internal memory that will run out fast enough if user keep fill it with large size file such as video or game. Many smartphone also has the same amount of internal memory, so it should not be a huge problem, since it also have slot for microSD card to store up to 32 GB additional data.
Overall, this phone comes with nice feature that will satisfy average user. The price is very affordable and with the whole feature that it has, it surely will be a nice improvement from older Tracfone smartphone.
Tracfone LG Treasure L51AL Specs and Features
Included Battery:
Lithium-ion
Size:
5.65″ x 2.85″ x 0.35″
Standby time:
Up to 11 days
Talk time:
Up to 9 hours
Weight:
4.93 (ounces)
Included Accessories:
AC Adapter
Battery
Features:
Android 5.1 (Lollipop)
5″ touchscreen display
5 MP Camera/Video Recorder
5MP front-facing camera
4G LTE/Wi-Fi Connectivity
1.1GHz quad-core processor
Alarm Clock
Bluetooth
Call Forwarding
Color Screen
E-mail
GPS Enabled
Handsfree Speaker
Hearing Aid Compatible
Instant Messaging
MP3 Player
Multimedia Messaging
Multitasking
Proximity/Accelerometer Sensor
Touch Screen
Voice Dialing
Voicemail