Figure out whether this device is the next best purchase on your shopping list. Check out this Tracfone Orbic Magic 5G review for all important details.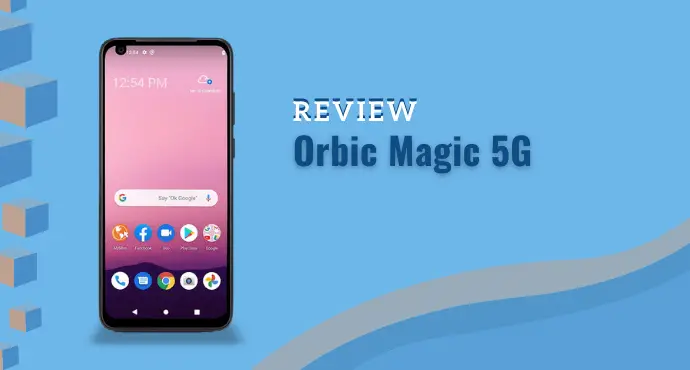 The Tracfone Orbic Magic 5G smartphone was released in September 2021. Searching for a reliable 5G device in the market can be stressful, especially if we're trying to find something affordable.
That's where the Orbic Magic 5G smartphone comes in. Boasting 5G connectivity, it also has a long-lasting 5,000mAh battery, a large 6.78-inch display screen, and 6GB RAM.
With its retail price, the phone is attractive at first glance. However, does the actual performance truly reflect the smartphone's specifications? It can be risky to buy without some research.
In our Tracfone Orbic Magic 5G (R678EL) review, we'll take a look at the inner workings of the phone. Skip the long hours of research and check out this summary.
Key Specs
Tracfone Orbic Magic 5G specifications:
| | |
| --- | --- |
| Weight | 230g |
| Dimensions | 173 x 80 x 9mm |
| OS | Android 11 |
| Screen size | 6.78-inch |
| Resolution | 1600 x 720 |
| CPU | 2.2GHz Octa-core, Qualcomm Snapdragon 690 |
| RAM | 6GB |
| Storage | 64GB |
| Battery | 5,000mAh, Non-removable |
| Rear camera | 48MP + 8MP + 2MP |
| Front camera | 16MP |
Design
At first impression, the Tracfone Orbic Magic 5G is a nice phone to look at. The compact size and its thickness go well hand-in-hand. When holding the phone, it feels just right in the palm. The device's portability works well for people who are also on the go and require something lightweight.
At the front, we have the display screen surrounded by slim bezels. The bottom bezel is slightly thicker, but that's because it provides users with some space to hold the phone comfortably. What's interesting is the placement of the front camera. It looks like a combination of a hole punch and a teardrop notch design, which can be a bit awkward to look at.
Right on the back cover, we have the three rear cameras placed in a single vertical line. There's some uniqueness to it, considering that most cameras nowadays are grouped in a square layout. Near the cameras is the phone's fingerprint scanner that's not hard to miss.
As for buttons, there's not much going on except for volume controls and the power button. Overall, we appreciate the simplicity this phone has to offer. As minimalist as it can be, the phone doesn't look like an average stock budget phone. Although, we would have liked it if the color had a slight sheen to it.
Read also: Tracfone Orbic Magic 5G (R678EL) User Manual
Display
The Tracfone Orbic Magic 5G comes with a 6.78-inch display screen. The display screen size is notably large on this device. This can be attributed to the slim bezels, which provided more space for the display screen to expand. With ample display screen size, we were able to enjoy content without having to strain our eyes.
The smartphone is supported by a resolution size of 1600 x 720 pixels. This resolution size goes hand-in-hand with the phone's 20:9 aspect ratio. These two features ensure that on-screen content can be stretched without risking any pixelated images or videos.
The Tracfone Orbic Magic 5G display screen comes with HD+ quality. With High Definition, we're able to enjoy fluid and sharp content. We noticed that colours appear more vivid and stronger. It may not have the most prominent textures, it's a great quality that works well with the phone.
To protect the device, the smartphone has scratch-resistant glass. This should be helpful for anybody who tends to accidentally drop the phone. However, we'd suggest giving it an extra layer by adding tempered glass. Part of buying a smartphone is maintaining it. It's better to prep it with extra add-ons than to see it damaged.
Camera
The Tracfone Orbic Magic 5G smartphone has a 48MP rear camera. At this megapixel, we managed to get some sharp shots over and over again. Quality isn't compromised, and it shows in how sharp our images turned out to be. With LED flash, we're able to capture moments no matter how dark the environment is.
In addition to the 48MP rear camera, the phone has an 8MP Wide camera and a 2MP Macro camera. These two extra cameras provide another level of variety for our photography needs. The Wide camera works well for landscape images, while the Macro camera goes great for close-ups.
Moving away from the rear cameras, the Tracfone Orbic Magic 5G has a 16MP front-facing camera. With these megapixels, you can capture great selfies in sharp quality. In addition to taking photos, both rear and front-facing cameras let us record wonderful videos. Videos are recorded in 4K UHD quality.
Experiment with the phone's photography options by playing with the available camera modes. From Portrait Mode to HDR mode, there's much to explore using this phone's cameras. Additionally, the camera is integrated with a QR code scanner. It's a simple tool but is super helpful considering how many establishments nowadays are using QR codes.
Read also: Alcatel TCL A3X (A600DL) Review: Triple Camera is the Main Attraction
Storage
The Tracfone Orbic Magic 5G has 64GB of internal storage. Since this is still raw hardware, much of the space is already used up for preloaded apps. As a result, only 43GB is available to users. This amount of memory left is still enough to store a couple of apps and data.
However, you still can expand the phone's memory card. This is possible by inserting a MicroSD card into the phone. The phone accommodates up to 512GB of expandable space. It's a lot of space for anybody who needs lots of room to store hundreds of memories and multiple apps.
Performance
The Tracfone Orbic Magic 5G smartphone operates on a Qualcomm Snapdragon 690 to support the device's 5G. The hardware is known for providing accessible means to 5G connections. Utilizing both speed and strength, the processor aims to achieve higher power efficiency. With better performance, comes more sustainable and reliable connectivity.
The octa-core chipset currently runs on 2.2GHz. The speed contributes to the device's amped performance and seamless graphics rendering. On top of that, the processor is integral to the phone's image and video quality. Through these features, the chipset ensures users will have a phone that is supported by next-level computing and durability.
In addition to the processor, the Tracfone Orbic Magic 5G runs on 6GB RAM. We all know how important RAM is to devices these days. A functioning phone should have at least 4GB RAM for some decent multitasking. Considering the device of this stature, we're pleased with the phone's 6GB RAM.
With 6GB, you can operate tons of heavy-duty apps that require more legwork. What's relieving is that due to the RAM's large size, we've experienced minimal to no lags or crashes. Anybody who needs to switch back and forth between large apps will have a frictionless time navigating through this smartphone.
Next up is the smartphone's Android 11 OS. We talk a lot about operating systems in our reviews. Our Tracfone Orbic Magic 5G review is no exception. Android 11 has been garnering popularity amongst smartphones. The reason behind this is because of the OS's tier of features and flexibility for customization.
To get a glimpse of the OS, the Android 11 redesigns notifications by simplifying them and adding little widgets. This is to ensure we don't get overwhelmed by the continuous pop-up messages. Also, anybody who's a big fan of privacy can expect new permission settings to alter. All in all, there's much to be explored with Android 11.
The Tracfone Orbic Magic 5G is installed with multiple sensors. For starters, the accelerometer is used to detect the orientation and speed of the device. Then there's the proximity sensor to prevent accidental touches to the phone's display screen. Lastly, we have ambient light, which is responsible for controlling the phone's automatic brightness.
To unlock the smartphone seamlessly, the smartphone has a fingerprint scanner at the back of the device. It's a more accessible option of entering into the device instead of having to type in pin codes. Our advice is to give the initial configuration some time. Setting up the fingerprint scanner typically requires quite a bit of patience before it can run smoothly.
Connectivity
The Tracfone Orbic Magic 5G smartphone supports a 5G connection. Alternatively, the phone has a Dual Band Wi-Fi feature if there's a hotspot available. These two features allow a fast connection, especially since they're boosted by the processor's capabilities. And with Wi-Fi, we're able to save up data connection and money.
The smartphone comes with Bluetooth version 5.1. With Bluetooth, you can pair your external devices like speakers, headphones, and more. Also, with Bluetooth, you can send our documents to other devices wirelessly. But for a more conventional approach, you can use the USB Type-C port to connect the device with a wire.
Battery
The Tracfone Orbic Magic 5G smartphone provides 5,000mAh of battery capacity. With a battery this huge, the phone can last throughout the day. Since the battery is non-removable, the battery is securely protected from external damages. This is important as the battery is a crucial component of the smartphone.
With this large battery capacity, charging doesn't have to be frequent. But whenever the device starts running low in juice, you can utilize its Quick Charge 3.0 feature. With only a few minutes of quick charging, you will have more than enough battery juice to keep the phone alive for hours. 
Is the Tracfone Orbic Magic 5G a good phone?
The Tracfone Orbic Magic 5G has shown us a couple of impressive features. Don't be fooled by its clean and minimalist design. Behind the exterior are a couple of powerful specifications that are worth the price. From the large battery to the triple rear cameras, this smartphone speaks for itself.
The smartphone goes for a retail price of $300. To summarize this Tracfone Orbic Magic 5G review, this smartphone does what it promises. Finding an affordable 5G device in the market can be difficult, but this smartphone proves us wrong. Combining quality 5G quality connection, a sturdy processor, and other reliable features, the smartphone is worth the purchase.
Tracfone Orbic Magic 5G Pros
HD+ Display Screen
Triple cameras
Great CPU
Big Battery
Tracfone Orbic Magic 5G Cons
Weird front camera placement