BLU View 1 (B100DL) review, one of the affordable phones with a 1.5GHz Quad-core processor, Android 9.0 as its software, a decent battery, and 4G support.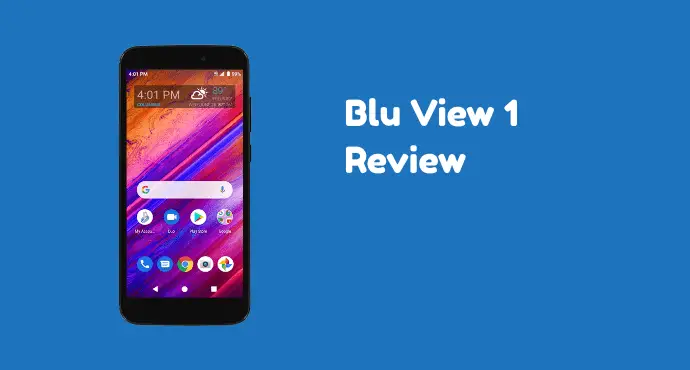 Among many affordable phones available on the Tracfone site, one of them is Blue View 1 (B100DL). This is an entry-level smartphone released quite recently in 2019.
It features a 5.5-inch display and an LTE support. Inside, the phone is powered with a 1.5GHz Quad-core processor and 2GB of RAM.
In this BLU View 1 review, we take a look deeper into its specs. The specs covered here range from its design, storage, to battery.
Hopefully it will give readers the necessary insights. Therefore, you can decide whether or not Blue View 1 would be a good phone for you.
Key Specs
BLU View 1 (B100DL) specifications:
Weight: 153g
Dimensions: 142.2 x 71.1 x 10.1mm
OS: Android 9
Screen size: 5.5-inch
Resolution: 960 x 480
CPU: 1.5GHz Quad-core, Mediatek MT6739
RAM: 2GB
Storage: 16GB
Battery: 2,500mAh, Removable
Rear camera: 8MP
Front camera: 5MP
Design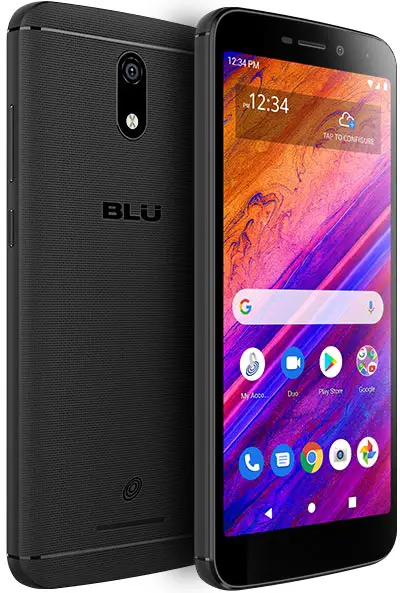 BLU View 1 features the bar design just like many other phones in the market. It has the dimension of 142.2 x 71.1 x 10.1mm.
This phone is slim enough to hold. At the width of 10.1mm, it's not bulky at all when slipping it inside your pocket.
The length is also comfortable for average-sized human hands. It's not too long that it will be difficult to hold.
It's sleek and distraction-free on the front part of the phone. We saw that the phone has no physical buttons here.
The front part consists of the display, the front camera, and the speaker. Keys are neatly tucked on the right side.
On the back, the casing has texture along with two vertical lines on its top and bottom. Here, you will find the camera and another speaker.
The phone uses plastic as the casing material. It's also common for affordable phones not to choose metal instead.
In short, the design of Blue View 1 is durable enough. The texture on the back, especially. It will protect the phone from accidental slips.
The overall build quality is nothing fancy. But it does its job of giving buyers a phone with solid frames and casing.
Read also: BLU View 1 B100DL User Manual and Tutorials (TracFone)
Display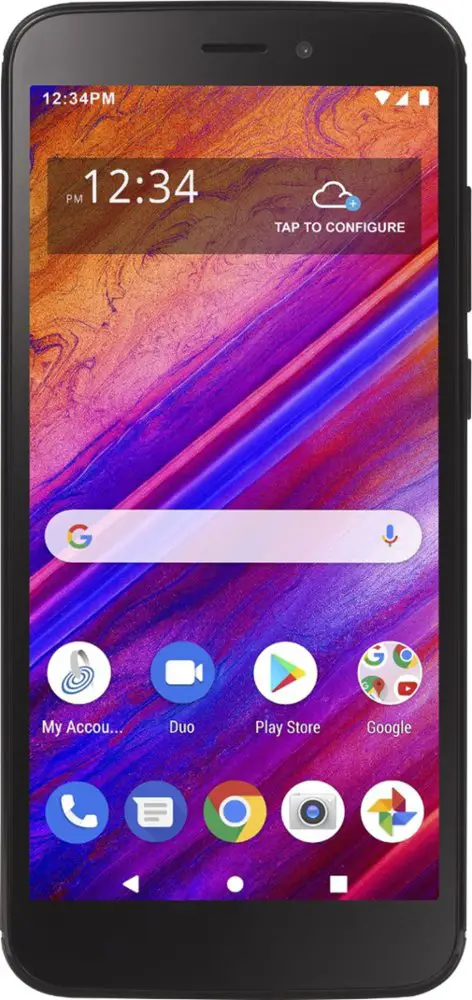 BLU View 1 provides a 5.5-inch display for its users. The display has a resolution of 960 x 480 with the aspect ratio of 18:9.
In our opinion, 5.5-inch is more than enough for a display.  Especially considering this phone is priced under $100.
It provides plenty of space to enjoy the maximum phone experience you can get. We find it comfortable to browse and use apps.
It's the resolution that we found less than perfect. The 960 x 480 display limits the viewing experience to Standard Definition (SD) only.
This display spec is not surprising given the phone's price. However, we thought at least users can get a 720p HD screen.
So it means there are some drawbacks to consider. One of them is the sharpness. Blu View 1 is not sharp enough to display details on small texts and tricky graphics.
Another drawback is the lack of brightness. We needed to cover the screen with the hand on sunny days. It's not a problem when inside, though.
Sometimes the display can be hard to read. It also doesn't have wide viewing angles.
If we can conclude, the display is perfect for casual users. Usually, they don't demand a lot in terms of viewing experience.
Camera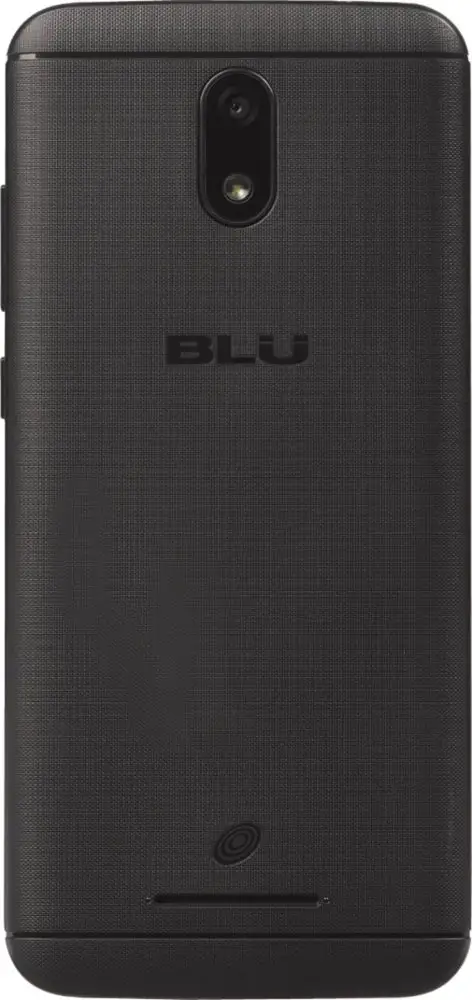 With Blu View 1, you can take pictures with an 8MP rear camera. For selfies, the phone provides users with a 5MP front-facing camera.
The back camera has an LED flash. It assists the camera when taking pictures in a low light situation.
At 8MP, the back camera takes pictures with passable quality. The results are presentable enough for daily snaps.
For example, when we wanted to take a picture of a random thing. Then we'd like to send it to a friend via WhatsApp.
But we don't recommend using it on a more important occasion. For example, at a wedding. You will need a better camera for that.
The front-facing camera offers 5MP of resolution. It's better than we expected for a selfie camera.
The image quality is also good for video calls. The lower resolution means lighter data used. It minimizes lags during a video call.
There is no flash for the front-facing camera. So, it's very hard to get a decent picture when the environment is dark.
For video, the rear camera is able to take 1080p @30fps recordings. However, there's no support features such as image stabilization.
All in all, BLU View 1 review for the camera shows one obvious thing. The cameras here are basic but reliable for light use.
Read also: TracFone Wireless: The Definitive Guide (2020 Update)
Storage
The capacity for internal memory inside BLU View 1 (B100DL) is 16GB. We think this capacity is enough for casual users.
The storage provides plenty of space for new apps and some pictures. Just don't store too many video files here.
If a user insists to store more, the expandable storage is the answer. BLU didn't forget to include this feature on the device.
You can add up to 64GB of SD Card. Buyers must purchase it by themselves since it's not included in the box.
Although requiring some extra steps to buy an SD card, we don't have anything to complain about. For an external storage on an entry-level phone, 64GB is plenty.
Performance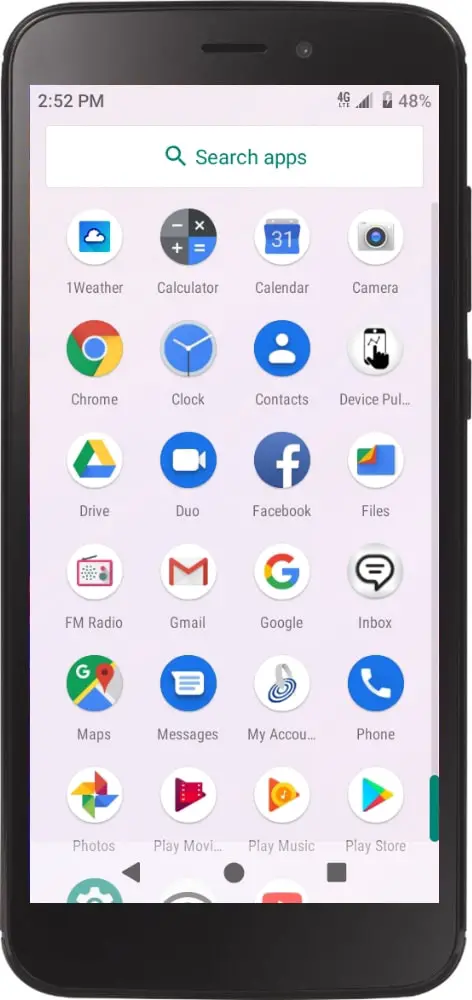 BLU View 1 runs on a quad-core 1.5GHz Mediatek MT6739 processor. For the software, the phone uses Android 9.0 Pie.
The phone also runs on 2GB of RAM. There's also a GPU for the graphic processing, PowerVR GE8100.
The processor setup is an average setup for an entry-level phone. It's not the slowest in the market, which usually starts at 1.1GHz processor.
Hence at 1.5GHz, BLU View 1 has a decent performance. The key here is keeping our activity to light to moderate ones.
For example, doing light browsing, making a call, and using the note app. The phone also still does well on social media apps and light games.
But BLU View 1 can get laggy on some occasions. When loading a browser with dense content, especially graphics, the phone seemed to struggle.
There is also a limit to what mobile games you can run. Make sure not to download high-performance 3D games. Other apps that may not work well here such as video editing apps.
Now let's move to the operating system this phone uses. Android 9.0 is a perfect choice from BLU View 1.
We liked it so much because of several reasons. First, it's the newest operating system at the time this phone is launched.
Therefore it comes up with the latest feature from Google. It has the best and lightest software optimization.
Android Pie's user interface is easy to use. If you don't like typing, you can use the enhanced Google assistant to do tasks for you.
The OS is power efficient. Therefore it helps the phone preserve battery life.
Lastly, the OS fits well with BLU minimal hardware specs. It can run well on low specs devices.
We consider Android Pie as one of the strengths of this phone. It's one of the highlights in this BLU View 1 review.
For sensors, you can find an accelerometer and proximity sensor here. Again, don't expect anything fancy such as a fingerprint sensor.
For other accessibility features, there is a hearing aid support with the M3/M4 rating.
Connectivity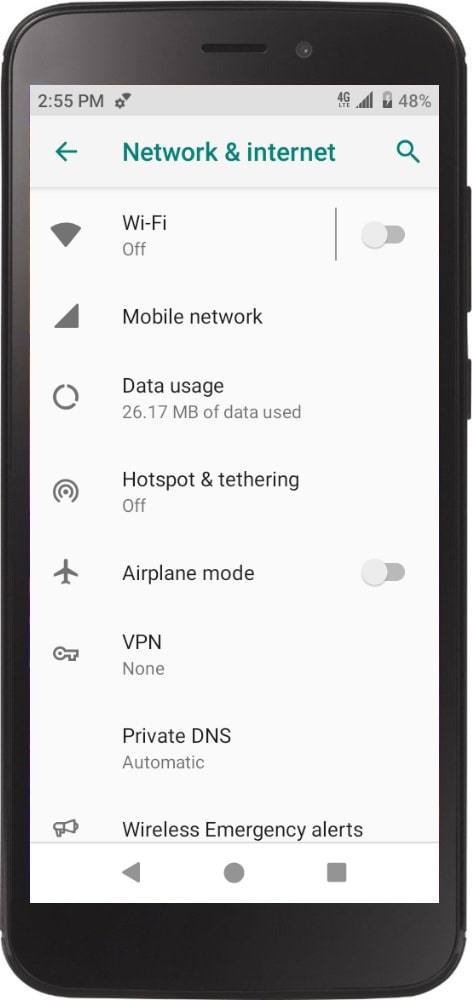 BLU View 1 is a phone well-equipped with 4G LTE supports, Wi-Fi, and Bluetooth. GPS and USB data transfer are also available.
Having fast, clear, and uninterrupted phone conversations was nothing difficult. We found out that the phone gives rare dropped calls.
Connecting to Wi-Fi is also quick. Further, users can enjoy extending features such as Wi-Fi Hotspot.
Between devices, you can connect using Bluetooth and the USB cable. For the USB port, BLU View 1 uses a micro-USB one.
Determining the location using the GPS is quick enough. In our experience, it's not the fastest you can get on a smartphone.
But in this case, it's good enough considering the phone's price range. The device does its job relatively well.
Battery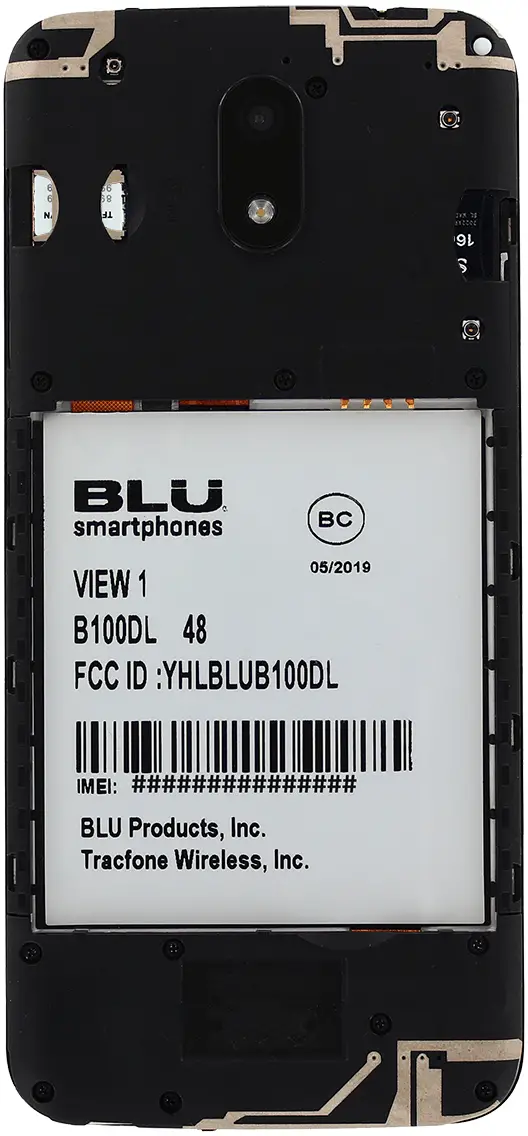 To run everything, BLUE View 1 depends on a 2,500mAh battery. The type used is a removable, Li-Po battery.
The manufacturer itself claims for up to 13.3 hours of talk time. On standby, the device can reach up to 20 days.
We found that the battery can support the 5.5-inch phone well. Considering that we only charged once in the morning, the capacity mostly took us to the end of the day.
This is only with standard usage. The phone is easier to run out of battery if we use it more heavily.
Overall, we found this to be normal. The battery on BLU View 1 is not beyond what we initially expected.
Is the BLU View 1 a good phone?
BLU View 1 (B100DL) is a perfect phone for certain types of consumers. First, you only do essential stuff with your phone.
Second, you'd like to enjoy a big display, decent battery, and an Android 9 operating system. All while not paying a huge amount of money for them.
Hence, at the retail price of $49.99, BLU View 1 could be your option. At a discount, you can get the phone at $29.99.
Also, get discounts with your phone bills using TracFone Promo Codes, Coupons, and Deals.
As long as you remain a casual user, you will be happy with its advantages. But at the same time, you won't be bothered much by its limitations.
So that's our overall BLU View 1 review.  If you like similar phones, check out this Alcatel TCL LX review as a comparison.
Pros:
Large 5.5-inch display
Uses Android 9.0 Pie
Has 4G support
Affordable price
Cons:
Passable camera
Basic hardware specs
Only 16GB of internal storage