ZTE Blade T2 Lite (Z559DL) review, a decent phone you can get at under $30 price. Key features include a Quad-core processor, 2GB RAM and a 5MP camera.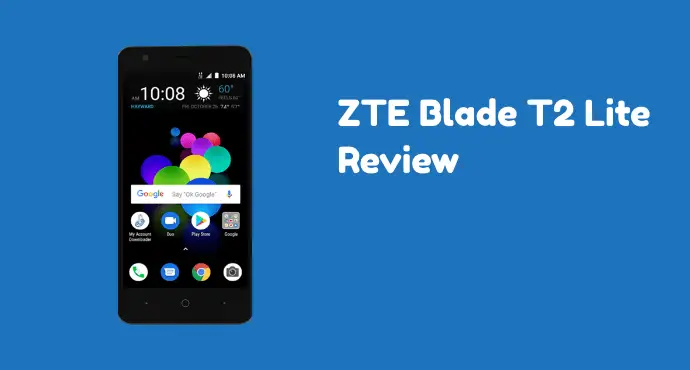 ZTE Blade T2 Lite (Z559DL) is an affordable phone under $30 sold by Tracfone. This device is launched in 2019 with basic specs.
This phone features a 5-inch display and Android 8.1 Oreo. It packs all the essential features such as 4G support and Wi-Fi.
ZTE Blade T2 Lite also packs a 1.1GHz processor and 2GB RAM. The battery can support 12 hours of talk time.
There are other features beyond the essentials too. For example, the 5MP back camera and music player.
In this ZTE Blade T2 Lite review, let's see what other capabilities this phone provides. Discover whether the phone could be your next communication device.
Key Specs
ZTE Blade T2 Lite (Z559DL) specifications:
Weight: 141.7g
Dimensions: 145.5 x 71.1 x 9.1mm
OS: Android 8.1
Screen size: 5-inch
Resolution: 854 x 480
CPU: 1.1GHz Quad-core, Qualcomm Snapdragon 210
RAM: 2GB
Storage: 16GB
Battery: 2,200mAh, Removable
Rear camera: 5MP
Front camera: 2MP
Design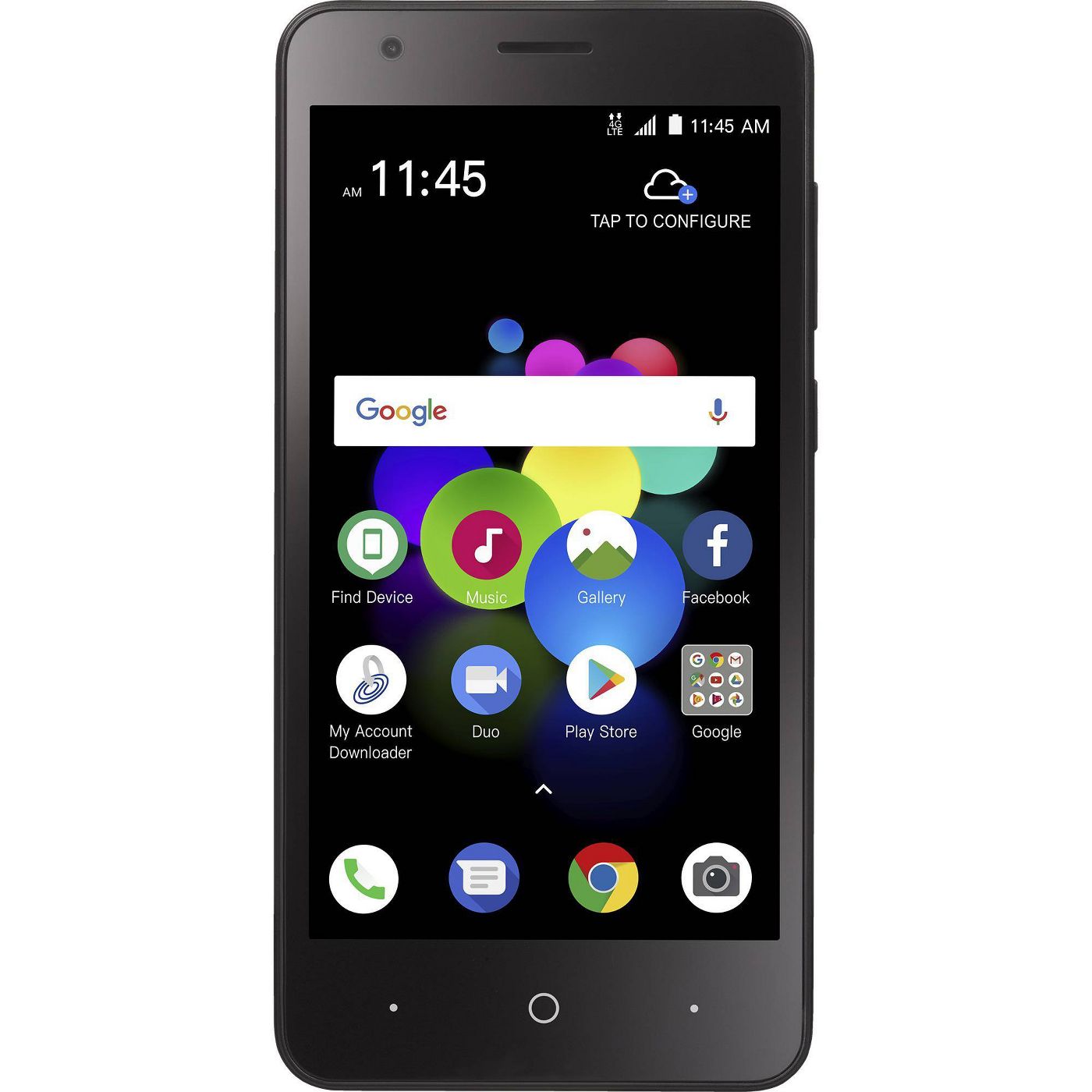 ZTE Blade T2 Lite has a dimension of 145.5 x 71.1 x 9.1mm. For its weight, the phone has a mass of 141.7g.
The body is quite small since it's only housing a 5-inch screen. The phone is also very slim since it manages to pack everything in under 10mm body width.
This device features a design that would remind you of phones from several years ago. Basically, it has a rectangular design just like many other smartphones.
But ZTE Blade T2 Lite still uses physical buttons. On the front, you can see the home button alongside the back button and the app switch key.
The back of the phone is very clean-looking. This is a choice of design we like on ZTE Blade T2 Lite.
It makes the phone look simple. There are only cameras and the logo at the back.
There's also a bit of texture on the back. On sweaty hands, textures could prevent the phone from slipping.
The material of the body is made of plastic. It's not surprising since we didn't expect any more than that.
Plastic may look cheaper than metal, but it's durable. The material is what made the phone lightweight to carry.
Display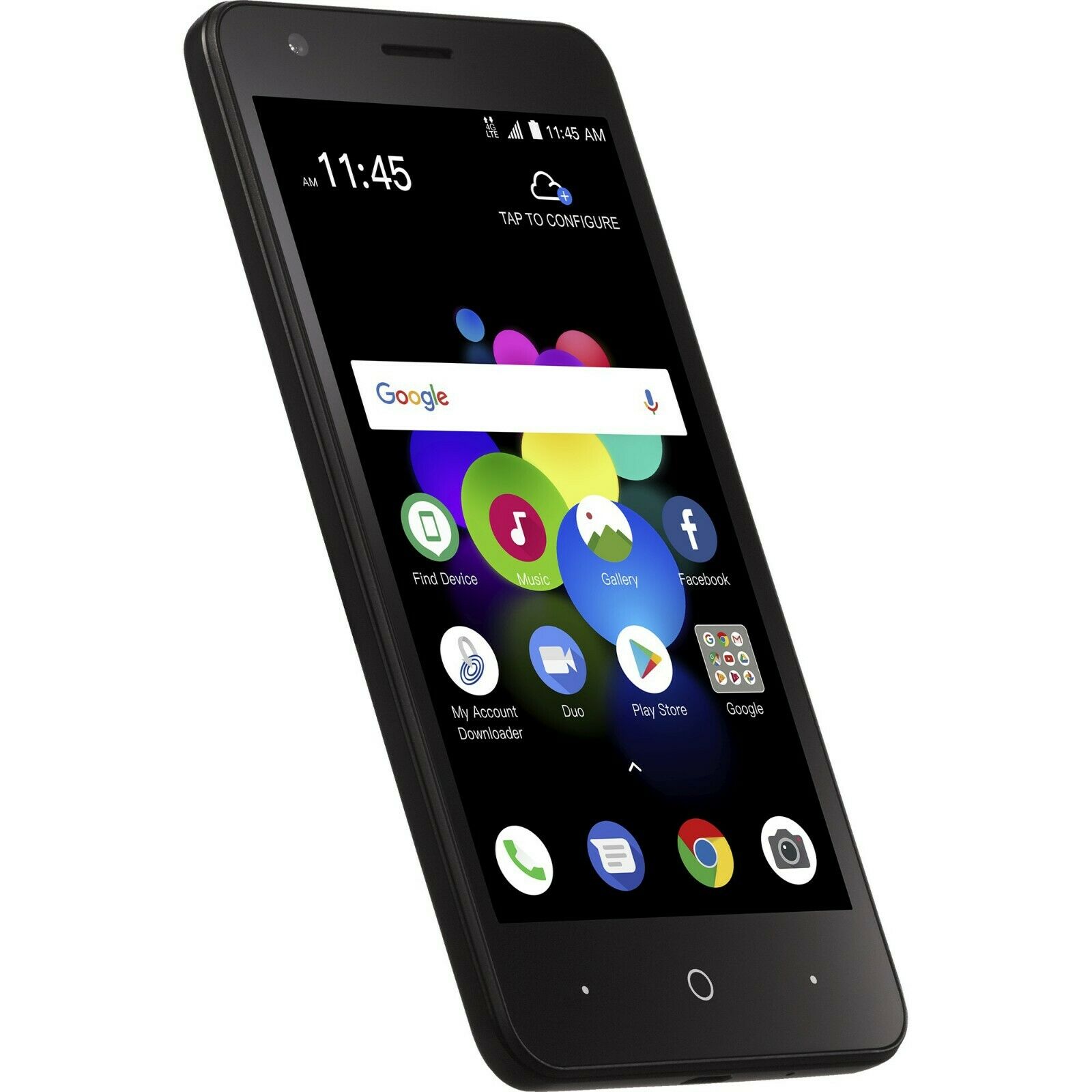 ZTE Blade T2 Lite offers a 5-inch display on its specs. This screen has a low resolution at 854 x 480.
Although nowadays that size may seem small, it's enough for a basic smartphone. The space on the screen displays phone menus quite well.
On the Home screen, we saw three rows of app icons. There is the Google search widget too.
The space on the screen is still enough for other widgets. For example, the digital clock and the weather widget.
Since the resolution is low, some imperfections are apparent. Among them is that you can see clearly the edges on the app icons.
The color output itself is quite sharp. You can see how vibrant the display presents various kinds of colors.
It's the brightness that provides some problems. For example, we found it hard to read what's on-screen under the bright sun.
That's not surprising given the low pixel density. It's something users need to compromise on an entry-level device.
As a touchscreen, the display is intuitive and responsive enough. It doesn't take long to launch an app.
The capacitive touchscreen responds pretty well most of the time. It was also easy to perform swiping and other touch gestures.
The conclusion is, the display on ZTE Blade T2 Lite is very basic. Don't expect anything fancy like you would find on a more expensive phone here.
Camera
For cameras, you'll find a 5MP camera on the back. Meanwhile, the front camera on ZTE Blade T2 Lite is only 2MP.
The back camera has an LED flash while the front-facing camera doesn't. The overall picture quality is below average, in our opinion.
From the resolution alone, it's clear this phone also stays minimal with their camera. It's considered the lowest you can get on an Android smartphone.
The back camera produces passable images. It's good enough for daily needs.
Turn on the LCD when it's dark. The camera will take brighter images but there are still blurs and noise.
In general, the camera won't satisfy any photography enthusiasts out there. Although inside, there are extra functions such as macro mode.
Other enhancing features include panorama and red-eye reduction. With the front camera, you can use Face Detection.
The front camera itself produces below average results. It's only 2MP, so it's really for occasional selfies and video calls only.
When traveling, for example, it's better to use the back camera for memento pictures. The front camera struggles more in a low light situation.
Lastly, the back camera can produce 720p videos. It means you can shoot HD videos using this phone.
It's recommended to consult to ZTE Blade T2 Lite user manual when exploring the camera functions.
Storage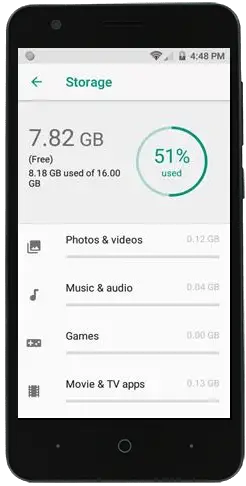 ZTE Blade T2 Lite packs a 16GB ROM storage inside. If a user doesn't use the phone beyond the basics, this capacity can be enough.
You can store several files from images to music. Just remember to not go overboard.
But if you are planning to take a lot of pictures, for example, you will need more. In this case, buy an SD card.
ZTE Blade T2 Lite allows SD card installation. It supports up to 256GB SD cards.
Of course, you will need to buy it separately. But in our opinion, it's a key advantage that the device supports external storage.
Performance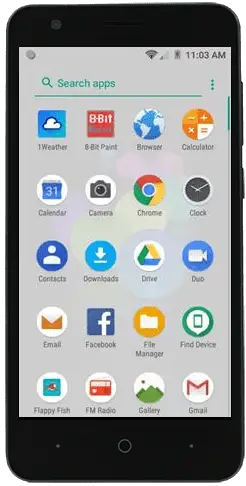 ZTE Blade T2 Lite runs on a Qualcomm Snapdragon 210 processor. The RAM capacity is 2GB.
For software, the phone installed the Google Android operating system. The version it uses is Android 8.1 Oreo.
Let's go back again to the processor. Qualcomm Snapdragon 210 is a quad-core processor with a clock speed of 1.1GHz.
This CPU model is popular among entry-level smartphones. The reason being, the CPU is lightweight while also supporting the latest technology such as LTE.
The performance itself won't blow anyone's mind. It's wise to keep the phone for basic tasks only.
Trying out mobile games, we found out that ZTE Blade T2 Lite struggles a lot at times. Even if the game has low graphics.
When browsing websites, the phone shows some lags on graphics-rich sites. Again, you will want to limit activities such as video streaming through the browser.
Our ZTE Blade T2 Lite review concludes that performance is not the strength of this phone. However, it is not something unexpected.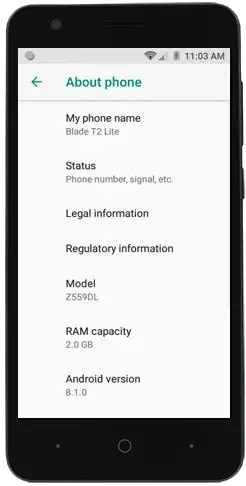 Once again, here we have a phone with a very affordable price tag. It's not surprising if the manufacturer had to cut costs everywhere.
Now, moving to the software, we have Android on this phone. The version is up-to-date although not the latest one.
The Android in ZTE Blade T2 Lite comes without any launcher or themes. As a result, navigating through the menu feels unbothered.
There isn't any bloatware that's disturbing the user experience. The software feels fluid and easy to use.
Apps can be accessed by simply swiping up the Home screen. Google apps are all pre-installed and neatly located inside a folder.
Thus it makes everything easy to navigate around. Users can find important apps on the Home screen, such as the Phone app and the Camera app.
The Google Play Store icon is also located on the Home screen. With it, you can download and install more apps.
For security features, your options consist of the standard PIN, pattern, and password. There isn't any Face Unlock feature or a fingerprint reader.
For sensors, ZTE Blade T2 Lite has several built-in ones. The device is equipped with an accelerometer, light sensor, and proximity sensor.
These are the basic sensors a smartphone must own. We'd say ZTE Blade T2 Lite does its job well in providing the most important sensors.
To conclude, we see ZTE Blade T2 Lite as a capable phone. However, it is mostly for daily communication needs only.
Connectivity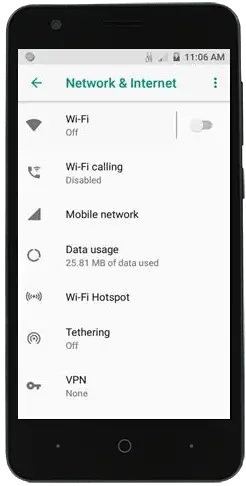 ZTE Blade T2 Lite supports the 4G network. In addition to that, it supports Wi-Fi, GPS, and Bluetooth. 
You can have a clear and fast phone call as long as the network coverage supports it. Aside from 4G, the phone also supports older bands such as 3G and 4G.
Browsing the internet is also quick. Any lags mostly come from the hardware or software, not the network.
Just make sure you have enough balance. Here's the complete guide on how to check your Tracfone balance.
The USB port here is a Micro USB one. It connects the phone to a PC for data transfer as well as for charging.
Determining location with GPS can feel a little slow sometimes. However, most of the time the GPS does its jobs well.
In short, You can say that the network features in this phone are complete. missing features such as NFC are understandable considering the phone's price range.
Battery
At 2,200mAh, the ZTE Blade T2 Lite battery has a decent capacity. The type of battery this phone has is a Lithium cell. The battery itself is removable.
The phone has basic specs and low-resolution display. Therefore it technically doesn't need a lot of power compared to high-end phones.
As a result, 2,200mAh can get you 12 hours of talk time. The low capacity also means the battery is relatively quick to charge.
The key here is not to use the phone heavily. By doing so, it's easy to keep the phone on until the end of the day.
Is the ZTE Blade T2 Lite a good phone?
ZTE Blade T2 Lite is a perfect phone for the right kind of people. The user base this phone targets are casual smartphone users.
They won't need a lot, as long as they can do basic communication tasks. At the same time, they'd like to enjoy the Android experience.
If you are this type of customer, ZTE Blade T2 Lite (Z559DL) might be your option. The good news is, this phone is very affordable.
At under $20, you can bring this product home. Amazon listed the phone with a $29.99 price tag. On discount, you can buy this device at $19.99.
If you want to save more money, check out this Tracfone promo code.
That's our overall verdict for the ZTE Blade T2 Lite review. We hope it helps you make a decision.
You can also check this Alcatel TCL A1 review since this phone also within the same price range as ZTE Blade T2 Lite.
Pros:
Affordable price
4G LTE support
Android 8.1 Oreo
Cons:
Basic display
Low res camera
Entry-level performance