LG K31 Rebel user manual overview with the download link. In the manual, learn about various configurations and features available on your new gadget.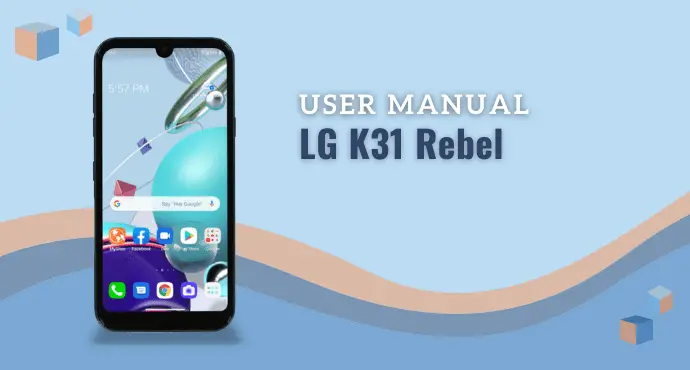 LG K31 Rebel is an amazing phone to own. If you are a new user, congratulations on acquiring a big display phone with a dual camera for under $150. At this point, you must be impatient to explore the device.
But hold your horses. With every new phone, the LG K31 Rebel comes with a user manual. Manuals may sound boring, but make no mistake, that's where users can find interesting information.
LG K31 Rebel (L355DL) user manual doesn't just come with the basics. Hidden inside the pages are LG custom apps and features, tips and tutorials, and many other surprises.
Here you can take a peek at what's inside the document. Once finished, you can download the PDF file through the link provided below.
Custom-designed features
In this first chapter, LG introduces special features you can find on this phone. Instead of basic information, enjoy getting to know the multitasking feature. The most quirky one is the Pop-up window. Then there's the standard multi-window where you can stack two apps' interfaces.
Further, discover all the details about Google Assistant. Starting from signing in, registering a voice, to throwing a command, the manual provides the comprehensive tutorials for each setup process.
Phone components
Now it's time to get to know the basics of the phone. That means the layout, as in the component, ports, and other phone parts a user should know. This section comes with helpful illustrations too.
Several initial setups are also available here. One example is card installation. Know where the card slots are located. Afterward, don't forget to charge the battery properly. This chapter will show you how.
Read also: LG K31 Rebel (L355DL) Review
Touch screen and Home screen
After the external components, the manual also does not forget to include a software introduction. This part is where you can learn the inner workings of LG K31 Rebel. Familiarize yourself with the screens, whether it's the Home screen, the Lock screen, or the App screen.
You will also learn about icons here, from status icons, quick access icons, and widgets. You may be already familiar with some of them, but it doesn't hurt to also learn the rarer ones. Lastly, this part also teaches users about all kinds of screen gestures.
Basic apps
Your phone comes with pre-installed apps like Phone, Messages, Camera, and many more. To learn how to use them, this section provides all the answers you need. The manual comes with basic tutorials such as how to answer a call, send a message, and viewing call records.
In the part about the Camera app, discover what the phone can do with its dual-lens. There's an introduction for various camera modes, such as Portrait, Flash jump-cut, and Auto-exposure. This chapter also covers the Gallery app, where you can learn how to view photos, play a video, and create a movie.
Read also:
Other apps
Further in the Apps chapter, readers will also encounter more apps such as LG apps and Google apps. Take a glance at what QuickMemo+ is. Or try to optimize the phone storage using the Smart Cleaning feature.
Then there are the apps by Google. You will spot familiar names such as Chrome, Drive, and YouTube. But there are also less known apps or new apps such as YT Music and Keep Notes. Make sure to read everything explained in this part of the LG K31 Rebel user manual.
Network & internet
Getting connected is probably the first thing you do after turning on the phone. That's why you can flip to this section directly for a reference. You can find tutorials on connections via Wi-Fi, mobile data, and Bluetooth.
The section also covers miscellaneous network configuration, ranging from the hotspot (tethering), VPN, to private DNS. Everything is available although this part feels a bit technical. But don't worry, every guide is still easy to understand.
Advanced phone settings
The rest of the Settings chapter discusses more advanced configuration. One of the examples is software updates. You will also read about resetting the phone and doing a backup. This part may need more focus when reading it.
Download user manual
That's a bit of a sneak peek on the LG K31 Rebel user manual. In the document itself, there is still a lot to find out aside from what we mentioned above. Here's the download link for the manual in a PDF form. That way you can bring it everywhere you go.
Download: LG K31 rebel User Manual (PDF)