Samsung Galaxy A01 (S111DL) user manual content explanation, summary, and download link. Get a pdf copy here if you are a new owner of this phone.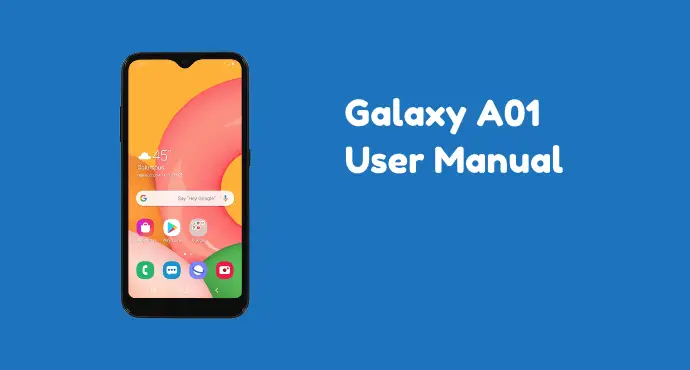 Samsung Galaxy A01 is an interesting phone. And just like any Samsung phone, it comes with a manual. This manual acts as a technical document informing users of what's important. It caters to both new or experienced users.
Inside, the Samsung Galaxy A01 user manual is categorized into several sections. You will find almost everything here.
Therefore, set aside time to read it. If you just bought Samsung Galaxy A01, this is the chance to get to know your device better.
In addition to that, a user manual also provides phone fixes. It will help when you encounter an issue with your device.
Galaxy A01 User Manual
Features
Before everything else, Samsung put the Features section at the beginning of the manual. This is where the highlights are.
Here, you can read about Bixby. It's the Samsung version of the voice assistant.
If you want a quick tutorial for voice assistant, we got you covered. Here a link to the article about how to turn ON / OFF Voice Assistant on Samsung Galaxy Phone.
This section also introduces Biometric security. Biometric protects your phone from unauthorized users.
Biometric is what people call Face unlock. To set it up, make sure to read this part carefully.
Samsung Galaxy A10e is another Samsung phone with Face Unlock. Here's the link for its Samsung Galaxy A10e user manual.
In this section, Samsung also introduces Dark Mode. Dark Mode is a way you customize the screen so it's more comfortable to users' eyes.
Getting Started
There are so many things to do when you have a new phone. If you are confused, this section is the one for you.
In Getting Started, the manual first explains the device layout. Learn about parts and components in this part.
This section also covers the battery. But you don't have to deal with battery installation since it's non-removable.
Instead, learn how to charge the device properly. Afterward, you can finally turn on the phone.
The guide for it is also available here. Including other first-time setup processes such as locking and unlocking the phone.
Getting started section also involves customizing the phone. Here, read about changing the wallpaper and choosing a theme.
Camera and Gallery
There are plenty of menu inside Samsung Galaxy A01's Camera app. It will help enhance your photos.
If you are interested in making your photos more beautiful, this section is for you. It starts with a guide in navigating the camera screen.
Then you'll read about shooting modes. There is also a how-to for video recording as well as more advanced camera settings.
After the Camera app, what's discussed later is the Gallery app. Here, learn about photo editing. Afterward, you can head to the part of the Samsung Galaxy A01 User Manual that explains sharing.
It's a feature where you can instantly share photos or videos. It only needs just one click from the Gallery app.
Read also: LG Classic Flip (L125DL) User Manual
Samsung apps
This phone is heavy with Samsung apps. For example, the Galaxy Store and Samsung Members.
If you need a guide with this app, this section will help you. It also covers the tools app created by Samsung.
Among the few of those Tools apps are Calendar, Clock, and Calculator. Additionally, Samsung also adds a file manager called "My Files."
Google apps
Samsung Galaxy A01 is an Android phone. Thus you will see a complete list of Google apps on its system.
If you want to see a description for each app, use this manual as a guide. You will read the function of Google apps such as Drive, Duo, and Maps, among many others.
Connection Settings
This section discusses the phone settings specifically for networks. It covers all things Wi-Fi, Bluetooth, and Mobile networks.
But that's not all. There are also some less-known functions yet can be important sometimes.
For example, setting up a VPN and private DNS. You will also read about Mobile hotspot and tethering in this section.
Customizations
Customization is not always a display-related setting. Hence here you will read about notification settings too.
This section explains in detail about managing notification. From app icon badges to the status bar, all are covered.
Then it also discusses sound settings. For example, tuning the volume and vibration.
Security settings
If you want to know how to secure your phone, read this section. Firstly, the manual introduces the screen lock type a user can choose.
There are the common ones, such as Password and PIN. But Samsung Galaxy A01 also has a face recognition feature. All of which you can learn in this section.
Account and backup
This section will help you to manage your data properly. You can learn about setting up a Samsung account and a Google account.
There's a part showing how to use Samsung Cloud. Lastly, here you can also read about data backup using a USB storage service.
Download
From the summary above, it looks like Samsung Galaxy A01 (S111DL) user manual has plenty to learn from. The information will help to make your experience with the device as smooth as possible.
So, what are you waiting for? If you are a new owner of Samsung Galaxy A01, grab a copy of the manual through the download link provided.
However, the manual doesn't provide any information about Tracfone. For that, we got you covered with this TracFone Wireless: The Definitive Guide.
Download: Samsung Galaxy A01 User Manual (PDF)