Get to know this budget phone with a Quad-camera setup, big battery and display, and NFC. Discover everything in this Samsung Galaxy A21 review.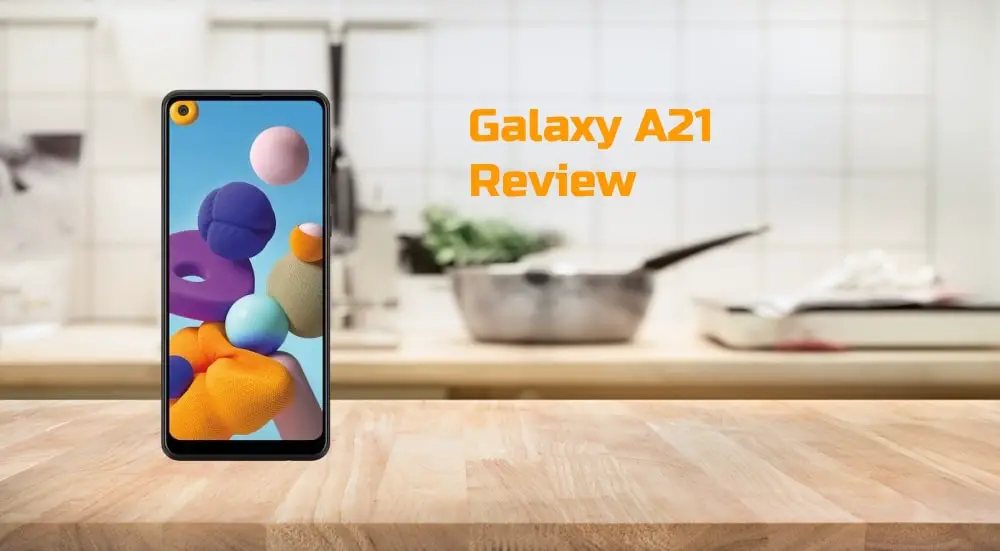 Samsung Galaxy A21 smartphone was released in June 2020. This phone is one of Samsung's newest models to compete in the ever-crowded budget market. To stand out among competitors, Samsung armed this phone with irresistible features.
The easiest to spot is Samsung Galaxy A21's infinity display. It is humongous in size too at 6.5-inch. On the back, a lineup of cameras counts to four in total. All these wonderful things are priced under $250.
In the end, a budget device needs to make some cuts here and there. But how would it be on Samsung Galaxy A21? That's what we're trying to find out here.
In this Samsung Galaxy A21 review, let's see what the phone's potentials are. At the same time, we'll also dissect any drawbacks. That way buyers can be objectively informed before making a purchase decision.
Samsung Galaxy A21 Key Specs
Samsung Galaxy A21 (S215DL) specifications:
Weight: 193g
Dimensions: 168 x 77 x 8.1mm
OS: Android 10
Screen size: 6.5-inch
Resolution: 1600 x 720
CPU: 2GHz Octa-core, MediaTek Helio P35
RAM: 3GB
Storage: 32GB
Battery: 4,000mAh, Non-removable
Rear camera: 16MP + 8MP + 2MP + 2MP
Front camera: 13MP
Samsung Galaxy A21 Design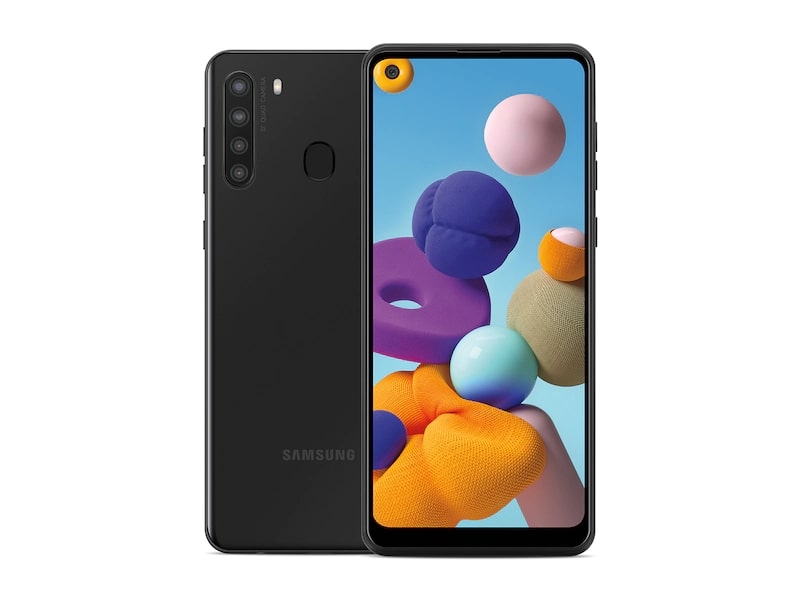 Measuring at 168 x 77 x 8.1mm, Samsung Galaxy A21 (S215DL) is a no small device. Tucking it in your jean's back pocket can be a struggle. It is also not a light phone either. Weighing at 193g, we suspect the four cameras here may be the reason.
That's the sort of inconvenience you get in exchange for the phone's many incredible features. To be honest, we are not complaining. Especially because the phone itself is attractive design-wise.
Samsung Galaxy A21 comes in a black matte color. Sadly there are no bold colors for more adventurous buyers.
The polycarbonate back casing doesn't feel plastic-y, although it does miss the metallic elegance of better materials. The placement of components such as camera and fingerprint sensors are aesthetically pleasing. Everything looks neat.
Buttons are located on the right side, while the left side is reserved for card slots. Most of the front side of the phone is reserved for the display. The consistency for minimalism is evident both in the front's design and the back's. And we like what we see.
We can't find any extras, though, like a water-resistant coating. Purchasing a phone case would be on your next to-do list after buying this device.
Samsung Galaxy A21 Display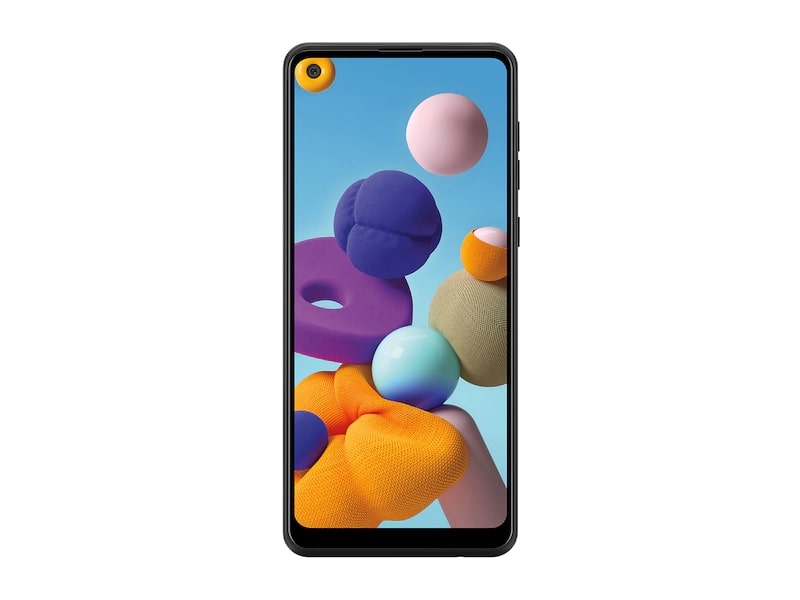 Samsung Galaxy A21 features a 6.5-inch display with a resolution of 1600 x 720. This display is categorized as HD+. Like many other phones on their line, Samsung also designed this display with Infinity type.
So you got an almost bezel-less screen with not even a notch on the top. The front camera is planted on the top left corner. It's almost minuscule compared to the vastness of the screen. The camera is still easy to spot, though. On the Home screen, you can disguise it with wallpaper.
The giant display is considered above average among its peers. At 6.5-inch, there's plenty of room while exploring the phone. For example, more content from a web browser can fit on the display. It's also very comfortable doing editing tasks here.
Meanwhile, the HD+ quality ensures crispness and details on every color coming out from the screen. HD+ is not the best quality you can get in the market. But for budget phones, you can't complain about an HD+ screen.
It is almost flawless, with imperfections hardly noticeable. However, for such a big screen, there's no additional protection that makes the display scratch-resistant. Again, prepare an additional budget to buy a tempered glass for this phone.
Read also:
Samsung Galaxy A21 Camera
The quad-camera setup on Samsung Galaxy A21 consists of one 16MP main camera. Acting as the most important lens among the four, it aided by three other purpose-specific lenses. You get a 2MP depth camera, which is perfect for pictures with background blur.
Then, there's a 8MP wide-angle lens. This lens captures more objects in a single shot. The last in the lineup is the 2MP macro lens. With it, you can capture all the beautiful details in a close-up shot.
All these settings make it possible to procure the best pictures you can get on a phone. Playing around with the features are fun, and the results fare perfectly for memories keeping as it does for social media. Even better, we also found out the 8X digital zoom on the main lens.
The splendid specs don't just end on the back camera. At the front, you can enjoy a 13MP lens for your selfies.
Looking at the camera specs, one thing is clear. The main selling point of this phone seems to be its quad cameras. We can imagine the market target for this Samsung Galaxy A21. It's a buyer with a knack for photography, but unwilling to pay more than necessary.
Samsung Galaxy A21 Storage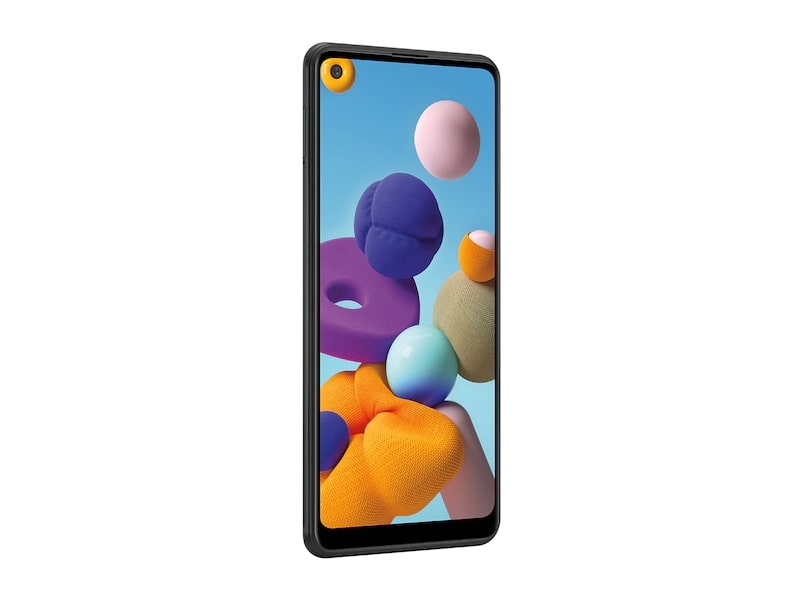 Samsung Galaxy A21 comes with 32GB of internal storage. Being a photography-focused phone, we think spacious storage is important. Image files tend to take up the phone's storage quickly. 
However, at 32GB, the storage on Samsung Galaxy A2 falls short of our expectations. It could be bigger or else it easily fills up. You can't rely on internal storage solely.
Buyers would need to add an SD card to their shopping cart too. For expandable storage, the phone allows up to 512GB of SD card capacity.  That's good enough for solving the storage problem on this phone. But since external storage is not included in the box, you'll have to spend more money on this.
At least you can save on your phone fees if you are using Tracfone. Apply TracFone promo codes, coupons, and deals whenever you buy a phone plan.
Samsung Galaxy A21 Performance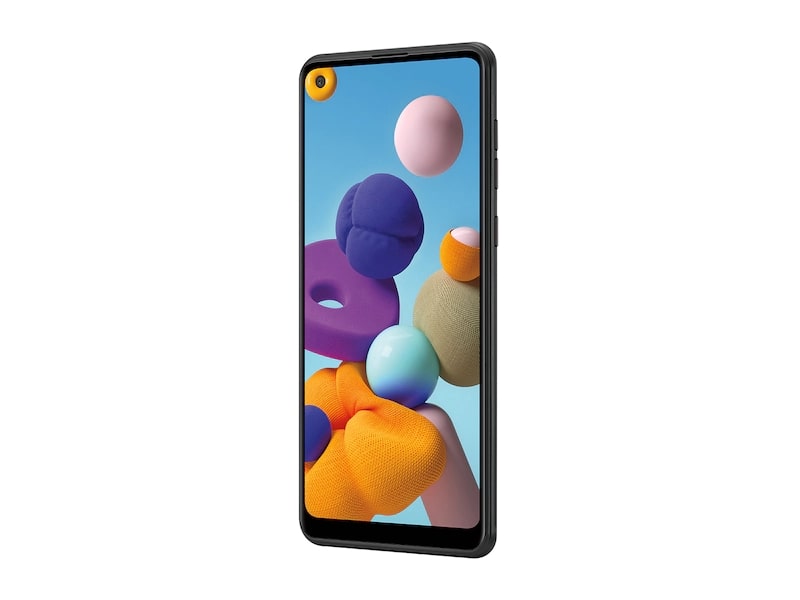 Samsung Galaxy A21 core machine consists of a 2GHz MediaTek Helio P35 processor and 3GB RAM. The Octa-core processor won't let down users as far as day-to-day tasks are concerned. The 3GB of RAM is sufficient too for multi-tasking.
This is a device equipped well for casual users. The touch capacitive screen is responsive when receiving any touch inputs. Apps launch quickly in a blink of the eye. Switching through one screen to another is only hindered by one thing, the fact that the screen is too big. But the processor and the RAM are no disappointment.
When you decide to get more adventurous with apps, the phone still caters to your demand at a certain level. You can play light to medium games without experiencing any lags. But pick the higher setting and you will sense a decrease in performance.
The Android version on Samsung Galaxy A21 is the latest. It's almost expected on every 2020 phone to have Android 10. And this phone knows it. So, enjoy the newest features this Google operating system offers. It includes better battery management, dark mode, wellbeing features, and many more. Android 10 also comes with better performing Google Assistant.
Like many other Samsung phones, buyers won't get the vanilla version. Samsung customizes its phone's software and this model is no exception. It always gives mixed reviews. Some users like the customizations and extra apps. While others aren't as excited about the possibility of bloatware-induced performance lags.
Moving to the type of sensors this phone has, we instantly spotted the fingerprint sensor. Its reader is located in the back. We found it not only adds security to the phone, but it also acts as an extra button such as when capturing a photo.
Other sensors available here are Accelerometer, Gyro, Geomagnetic, Proximity, and Virtual Light Sensing sensors. You can see that Samsung decided to go all-in here. Your phone will be able to do more. For example, the Virtual Light sensor detects the surrounding light level to automatically adjust your brightness.
Concluding the Samsung Galaxy A21 review on performance, we found the processor, RAM, and hardware to be somewhat decent, but nothing special. It is a phone that does its job, but won't make your mind blown away like a high-end model.
Read also: Samsung Galaxy A21 (S215DL) User Manual
Samsung Galaxy A21 Connectivity
Being a 2020 phone, we expect Samsung Galaxy A21 to provide all the recent technologies. The phone got our nods for its 4G LTE support, along with access to other older network bands (2G/3G).
Phone calls never gave any concerning problem. The experience was pleasant enough with uninterrupted calls and clear voice output. When exploring the internet, the Wi-Fi was quick to help you get the information you need.
Other connectivity features available in this phone include Bluetooth v5, USB Type-C, and GPS. We're glad to find the recent type of each of these features. The last surprise would be the NFC. It's another strength of this phone that makes it worth considering.
Samsung Galaxy A21 Battery
This device is fueled with a 4,000mAh battery. Big screens need bigger batteries, hence this capacity is what exactly Samsung Galaxy A21 needs. The phone promises around 54 hours of Talktime with its Li-Ion cells. The type of battery the phone uses here is a non-removable one.
Actual usage time will differ on every individual, though. But in general, we found the battery to be long-lasting. Just make sure to use your phone within the limit of what makes sense.
Normal usage will help the battery life extend until the end of the day. If you do need a recharge, the battery has the quick-charging capability. That's another plus of the Samsung Galaxy A21 battery.
Is the Samsung Galaxy A21 a good phone? 
Samsung Galaxy A21 is still considered a budget phone although the prices are slightly on the more expensive range. At $249.99, some buyers might think the phone is a pass. But at a discounted price of $199.99, the price becomes much more making sense for us.
This is what you will get: A big display, a fingerprint sensor, quad-camera, and NFC. Those are features many users would want on their gadgets. On top of that, processor and battery performance are decent too. At slightly below $200, we consider the phone is fair-priced. You'd get what you pay for.
If you're looking for a very cheap phone, you can consider flip phones instead. This type of phones are also perfect if you're looking for a backup device. Read The 10 Best Tracfone Flip Phones for Seniors for more info.
Samsung Galaxy A21 Pros
Big display
Quad camera
Long-lasting battery
Decent performance
Fingerprint reader
NFC
Fast Charging
Samsung Galaxy A21 Cons
Display resolution only at HD+
Storage that's too small for a photography phone
The phone can feel too big for some people
No protective features like water-resistant