Find out what's inside this Samsung Galaxy A21 (S215DL) user manual. Configuration tips, basic tutorials and many more. A download link is available.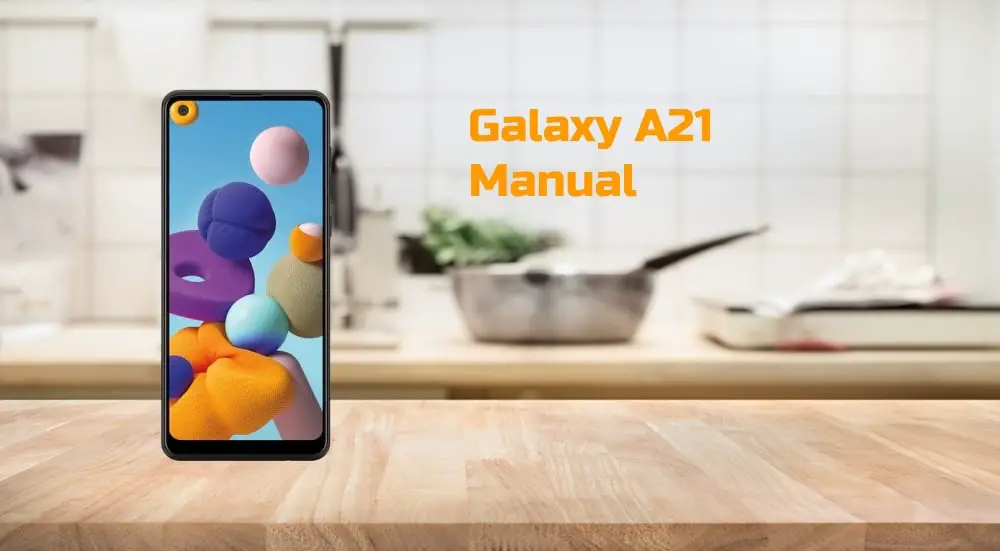 For new phone owners, a user manual is probably the most common thing they don't put a lot of thought into. People buy a new phone and immediately use it.
They'd rather try every buttons and menu without consulting to a manual first. However, this is kind of risky. An accident often occurs with a new phone because someone doesn't know how to properly do something.
For example, a broken SIM card slot due to the owner forcibly pulls it. Should he consult the manual first, he could read a tutorial about the SIM card. Therefore it would have prevented the accident.
So, that's Samsung Galaxy A21 user manual is for. It is your trusted companion when getting to know your new phone. Inside the document, you'll learn as follows:
Getting Started
This section contains the introductions to your phone's body parts, especially on the exterior. Here is where you can learn initial setup such as battery charging, SIM card installation, and turning on the phone. It only makes sense why this section is located at the beginning of the manual.
Start Using Your Device
Here, the manual guides you through first-time phone usage. There are tutorials about how to navigate the touchscreen. In addition to that, readers will also see a list of icons, notifications, and options menu along with their functions.
Read also: Samsung Galaxy A11 (S115DL) User Manual
Face Recognition and Biometrics
Since setting up the security measure is an important thing, the manual introduces Face Recognition in the beginning. Face Recognition and Biometrics are also a highlight feature. It's a must-check on your phone and the manual makes sure you don't miss it.
If you'd rather skip this feature, don't jump to the next session just yet. In this section, you will also read about setting up a fingerprint lock. There are alternatives for lock methods you can choose here.
Customizing the Home Screen
This section involves everything about beautifying your phone. It means choosing a theme, setting a wallpaper, and arrange the apps on your Home screen. Make sure to read this part. It helps to make your phone's appearance a lot more exciting.
Camera and Gallery
The camera setup on Samsung Galaxy A21 is as impressive as it also can be confusing. With four cameras on the back, even an advanced user will need a guide when first time operating them.
That's what this section of Samsung A21 user manual is for. You will learn about each of those cameras' functions. There are plenty of menus that are exciting to discover, such as Watermark and the Intelligent feature.
Read also: Samsung Galaxy A21 (S215DL) Review: An affordable Quad-camera phone
Samsung Apps
In every one of their phone, Samsung always adds their custom apps such as Galaxy Store. If you previously used a smartphone from another brand, this section will make you more familiar with Samsung apps. Among the apps discussed include Samsung Notes and Samsung Global Goals.
Google Apps
Since Samsung Galaxy A21 is an Android phone, it's not a surprise to find Google apps here. But it's always worth it to check any info related to them. In this manual, you can find about Google apps in this section. This document explains every app from Chrome to YouTube.
Microsoft Apps
If you plan to use the phone for work, you'll be glad to find out this section. It introduces productivity apps created by Microsoft. Learn how to use Microsoft Office on this phone.
Aside from Office, the manual also lets you know about Microsoft email service, Outlook. In addition to that, there's also OneDrive and LinkedIn. The manual shows you how to make your phone a reliable work assistant.
Phone Settings
When you need help with connecting to a network, changing the sound settings, and configuring your account, this is where the manual will be useful. The Settings section covers all the phone configurations from A to Z.
For network, the manual doesn't include tips about mobile plan, though. For that, you can check out our article about how to make your data balance last longer.
Back again to the manual, here you will also read about accessibility settings, storage settings, and software updates. This last part of the manual may look a bit more complicated. But it is still easy to read for average users.
Download User Manual
As you can see, Samsung Galaxy A21 (S215DL) user manual offers plenty of information to its readers. No more excuses to skip it, here we provide you the PDF file of the manual. Don't forget to click then download it.
We also have an the latest guide for TracFone Wireless. If you consider Tracfone as a your mobile provider, the guide is a good place to start.
Download: Samsung Galaxy A21 User Manual (PDF)