When LG Rebel 4 won't charge, refuses to turn on, and keeps rebooting by itself, the tutorials here will show you what to do in such situations.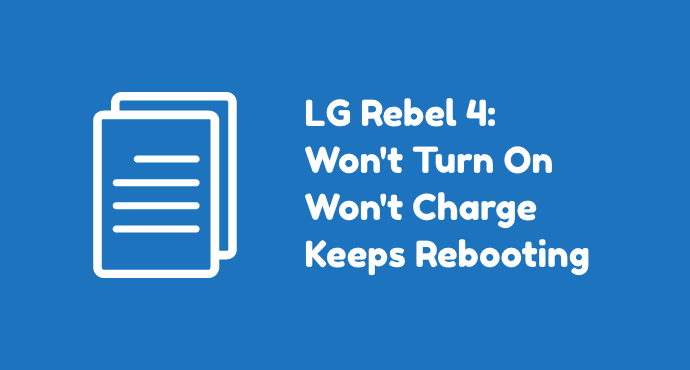 Are you currently experiencing problems with your LG Rebel 4? Do you have the difficulty to turn it on? Your phone could be experiencing charging issues too, or it keeps rebooting again and again for a mysterious reason.
These problems are inconvenient to have, and they certainly prevent us from using the phone normally.
You've come to the right place. Here we provide troubleshooting tips for LG Rebel 4 related to charging, rebooting issues, and the phone that won't turn on.
All the tutorials here are easy to follow so you can fix your device by yourself. No further assistance needed.
How do I fix my LG Rebel 4 that won't turn on?
The troubleshoot below shows fix LG Rebel 4 that won't turn on:
Perform force restart. If you can't turn on the phone normally, do the force restart method. You can do it by pressing the Volume Down key and the Power key together for up to 10 seconds. This is the simplest and quickest procedure to try as a "first aid" step when your phone won't turn on.
Charge the phone. A simple explanation of why your phone refuses to turn on: It runs out of battery. Plug into the charger and wait for a while. Then try to turn on your device again. If your phone is not charging, it means there is a serious defect which you can't do anything about it except ask for a replacement (if it's new). Else, bring it to a service center for repair.
Boot in Safe Mode. Aside from force restart, users can try starting the phone under Safe mode. Safe mode gives you insights for any possible app that prevents your phone from turning on normally. If the device manages to turn on under safe mode, it means you need to uninstall some recently installed apps.
Boot the phone in Recovery Mode. As a note, this step is not for a brand new phone. There's no point in doing factory reset or wipe cache partition for a phone that's never been used. So if your device is not new, you can attempt accessing Recovery mode to check if you can power it this way. Afterward, you can either choose factory reset or wipe cache partition.
A phone that fails to turn on seems like a common issue among phone users out there. Even is your phone is new, it doesn't make it immune to this particular problem.
However, no need to panic because it's possibly a minor issue you can fix easily. Hopefully your phone will turn on in a breeze.
That's why we listed 4 steps above to bring your phone back into life. However, if you did try everything but your device still won't turn on, the last resort would be the store where you got it. If the phone is still within the warranty period, ask for a replacement.
How do I fix my LG Rebel 4 that won't charge?
Do the following procedures on how to fix LG Rebel 4 that won't charge:
Check the accessories you use. Manufacturers always encourage customers to use only original accessories. And that's not without reason. An original charger is designed specifically for that particular phone model. Not only that it supplies the device with the amount of power it needs, but it also keeps the battery life longer. So, make sure you have the official charger and cable.
Check the charger condition. If you already use original accessories, inspect their condition. Dirt and debris could prevent them from working properly. Sometimes you only need to clean the port, the charger, or the cable. But if they do need replacing, make sure to buy an original new charger as well.
Do a force restart. If you suspect the charging problem is caused by firmware issue, doing soft reset or force restart will help bring the phone back to life. Make sure your phone has some power to do this. If it doesn't, you can try doing soft reset while the phone is plugged into a charger.
Boot in Safe mode. This procedure also works when your phone still have some power left. Put it under Safe mode, then try to plug in the charger. If you see the battery notification shows that the device is charging, you can safely assume a third-party app is the culprit. Remember what's the last app you downloaded. Go uninstall it then try charging again under normal mode.
Charge the device while it's turned off. Another attempt to make sure that's the charging issue is not caused by faulty hardware (battery / charger). When the device shuts down, plug in the charger and see if there's any battery icon that appears on the blank screen. If the screen remains blank, it's either the battery or the charger that is broken. Try a different charger. If this still gives you nothing, consider replacing the battery.
Do factory reset. The quickest method to solve any firmware-related issue is by wiping the phone and returning it to its factory state. However, it's not without a cost. Your data will be lost, and you'd need to reinstall your apps afterward. That's why doing backup is necessary. And of course, you can only do factory reset while the phone still has enough battery left.
When your phone refuses to charge, it sends signals that there may be software and hardware issues related to the battery.
The worse would be the battery problem, which can be harder to resolve. Sometimes the charger also the culprit behind this occurrence.
Whichever it is, it's always worth to check using these simple troubleshooting methods. Firmware issues are easier to fix, and it's always worth it to do some checking before diagnosing the battery. Follow the steps above to figure out what to do step by step.
How do I fix my LG Rebel 4 that keeps rebooting?
Here's how to fix LG Rebel 4 that keeps rebooting:
Delete system cache. This procedure clears temporary files stored on your device. You don't need them, that's why it's okay, and even is encouraged, to erase them. To do this, go to Apps > Settings > General > Storage. Then tap "Internal storage" and wait until the phone finishes calculating the storage space. Then tap Cached data > CLEAR to erase the system cache.
Reboot under Safe Mode. This method helps you identify any third-party app that may be responsible for this problem. It's possible that your phone keeps turning on and off because there's a bug from a troublesome app. If your device operates normally under safe mode, start uninstalling apps that you recently downloaded shortly before the issue occurred.
Do factory reset. Factory reset can be effective since it will wipe all data at once and return the phone to its original state. The most important thing is to back up your files before doing it.
It can be tricky identifying the cause when LG Rebel 4 won't stop rebooting by itself. Especially when there's seemingly no particular reason.
The cause could lie on battery issues, but most of the time it's also because of a glitch from the software. Despite annoying, there are some workarounds to stop this from happening.
To conclude, we couldn't emphasize more how easy it is to resolve a device that won't charge, won't turn on, or keep shutting down and rebooting on its own.
We've shown how to deal with them by inspecting the hardware, such as making sure the battery is okay when the phone won't charge. We also explained the possible software-related solution such as by doing soft reset.
If you have more to ask, inquiry us on the comment section below. We'll be glad to give you assistance. Lastly, we'll be grateful if you help this article reach more people by sharing on social media. Help us spread the word!