Every aspect of a smartphone is very important to know. Learn in detail about your new phone with this Orbic Maui+ (RC545L) review, and everything will be clear.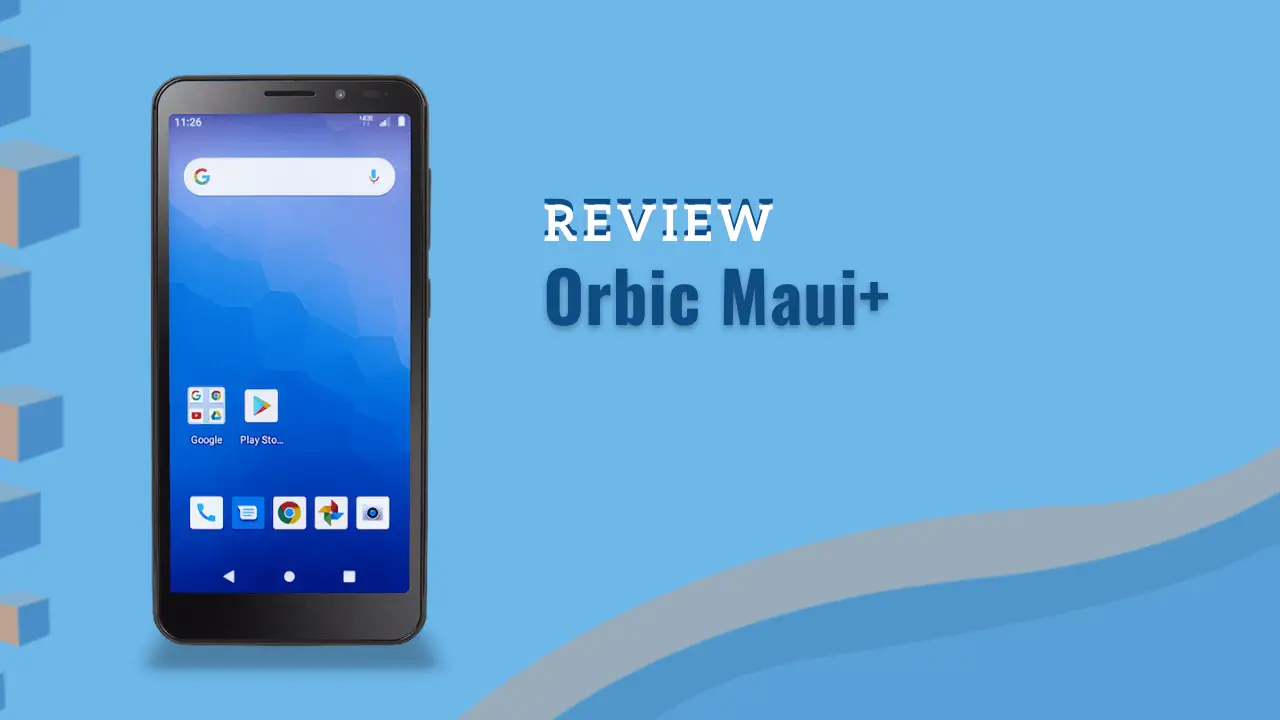 Who isn't interested in an affordable yet dependable smartphone? The Orbic Maui+ is one of the budget phones that tries to steal people's attention with its specifications. It comes larger, either its storage or RAM size than its predecessors.
As a budget phone, we must adjust our expectations. This device doesn't have stunning features. Despite this, it's perfect for casual usage. It's worth it for communicating, doing daily activities, or snapping some pictures.
But, is it worth it for your needs? In this Orbic Maui Plus (RC545L) review, you will discover all phone's features that may be useful and some minor aspects to look at. We recommend you to read this article before you make decisions.
Key Specs
Orbic Maui Plus (RC545L) specifications:
| | |
| --- | --- |
| Weight | 141g |
| Dimensions | 156.6 x 77 x 8 mm |
| OS | Android 10 |
| Screen size | 5.45-inch |
| Resolution | 1280 x 720 |
| CPU | 1.3GHz Quad-core, Qualcomm Snapdragon 215 |
| RAM | 3GB |
| Storage | 32GB |
| Battery | 3,000mAh, Non-removable |
| Rear camera | 8MP |
| Front camera | 5MP |
Design
The first moment we saw the Orbic Maui Plus, we didn't see any extravagant vibes. It is ordinary and reminds us of smartphone designs from a few years back. The dimension is 156.6 x 77 x 8mm and weighs only 141g. When we laid our hands on the phone, it fitted perfectly and felt lightweight. The build quality is not something we like, though.
The old design feels really obvious on the phone's display screen. It is still surrounded by thick bezels. Forget about a full-screen display. You won't get it on this phone. The camera and speaker are placed at the top of the screen.
The back cover also doesn't have anything spectacular. You will only see a single rear camera and LED in a vertical way. We spotted there was no fingerprint reader on the back.
Read also: Orbic Maui Plus (RC545L) User Manual
Display
Orbic Maui Plus display is relatively small if you compare it with other smartphones. It only has a 5.45-inch display screen. But, in our opinion, the screen is quite reliable for daily activities. With the 18:9 screen ratio, it provides a wider-viewing experience.
The Orbic Maui Plus has a 1280 x 720 pixels resolution for screen quality. It means you won't get the full HD but an HD+ screen quality. It's pretty average for an entry-level smartphone. However, you can still see a sharp-detailed of the screen. We notice some pixelated content here and there, but it doesn't come through rough, so it's still acceptable.
Camera
For camera purposes, the Orbic Maui+ is equipped with only an 8MP single rear camera. This is a bare minimum for smartphones, though. If you're into social media a lot, the camera of this phone doesn't do any justice. It doesn't have special features. This is kinda disappointing.
The Orbic Maui+ also allows you to take selfie pictures by providing a 5MP front camera. Again, these megapixels may not be the best for today's smartphones. However, you can still have a decent picture, enough for video-calling.
Despite taking a picture, this phone can also be used for recording a video. There is an LED flash to help users have lighter and clearer outputs when in dark light situations and enhance the photos and video quality.
Storage
We're moving on to talk about the phone's storage. The Orbic Maui+ has only 32GB of internal storage. This storage capacity may be one of the drawbacks. As we know, most smartphones today are equipped with a minimum of 64GB of internal storage. Especially if you're a heavy user.
The storage is quite small, so you must watch out for the apps you will download. The more apps you download, the faster your storage can fill out.
Fortunately, the Orbic Maui+ has an option for users to expand their storage. You are allowed to install the MicroSD card up to 256GB to have an extended storage capacity. By doing this, you're free to download the apps and save more files to the phone.
Read also: TCL 30 Z Review: Affordable Basic Phone with Android 12
Performance
The Orbic Maui+ runs on a 1.3GHz Qualcomm Snapdragon 215. These are the lowest specs you can get from a Qualcomm chipset in an entry-level smartphone.
As a result, this phone can't perform really well. Whenever we access the phone's features, we find any hiccups and lags. In our honest opinion, this phone tries really hard to deliver the 4G technology with power efficiency.
To save cache files temporarily, the Orbic Maui+ relies on 2G RAM. We must say, this RAM size is quite okay for a low-spec smartphone because it can help the phone's performance to suffer.
Nonetheless, you need to remember that this phone still has its limits. We advise you to use it wisely by not opening some apps simultaneously. We also do not recommend you multitask because your phone will be tired soon or later.
The phone can perform quite smoothly if you're opening light applications such as texting, calling, or others. But, if you try to use the phone for video-calling, playing 3D games, or playing videos, you will find glitches in no time.
For the operating system, the Orbic Maui+ uses Android 10. This OS is not the latest version. However, it's perfect for an entry-level smartphone because it's lightweight yet quite optimized. The user interface is also very simple, accessible, and intuitive.
The sensors available are the standard ones. But, this phone doesn't have a fingerprint reader or face recognition as its security sensors. However, thanks to Android 10, we can enjoy a Google Smart Assistant with this phone.
Connectivity
The Orbic Maui+ supports – at least 4G LTE connectivity and older bands. Even though you won't have a chance to enjoy the latest 5G technology, 4G is enough. You can still use 4G in most areas worldwide. As we expect, this connectivity is still fast and clear.
Other than that, this phone provides Wi-Fi connectivity to use. With Wi-Fi, you can experience the internet without using a mobile network. There is also a Bluetooth and USB Type-C cable to share your files. Bluetooth is for sharing files wirelessly, and USB Type-C is for sharing files with a computer.
Battery
The Orbic Maui+ has a 3,000mAh non-removable battery to power the smartphone. To be honest, this battery capacity is quite low even if you're compared with the other entry-level smartphones.
You can't do much with this capacity. It makes us think twice about using the phone for heavy consumed apps such as binge watching movies, or scrolling through e-commerce. Nonetheless, this phone promises to have 10 hours of usage time and 5 days of standby time.
Charging time is pretty average, but no fast charging feature is available. You need to charge the battery at night to ensure the phone has enough power to accompany you all day.
Is the Orbic Maui Plus a good phone?
The Orbic Maui+ smartphone may be a good choice if you're looking for a phone mainly purposed for communication and daily-related productivity. But, if you're a heavy user who needs more apps, more time, and accessing large files, you must have other smartphones.
This phone costs $50. This price point makes the phone very affordable. However, after all the explanations on this Orbic Maui+ review, this phone is perfect if you prioritize a low price over everything. It's up to you to decide.
Reliance Orbic Maui Plus Pros:
Affordable prices
Decent RAM size
Compact size
Reliance Orbic Maui Plus Cons:
Low storage
Low camera quality