Considering getting a new phone but don't want to spend a lot of money? Read this TCL 30 Z (T602DL) review to discover a dependable basic phone with a minimal budget.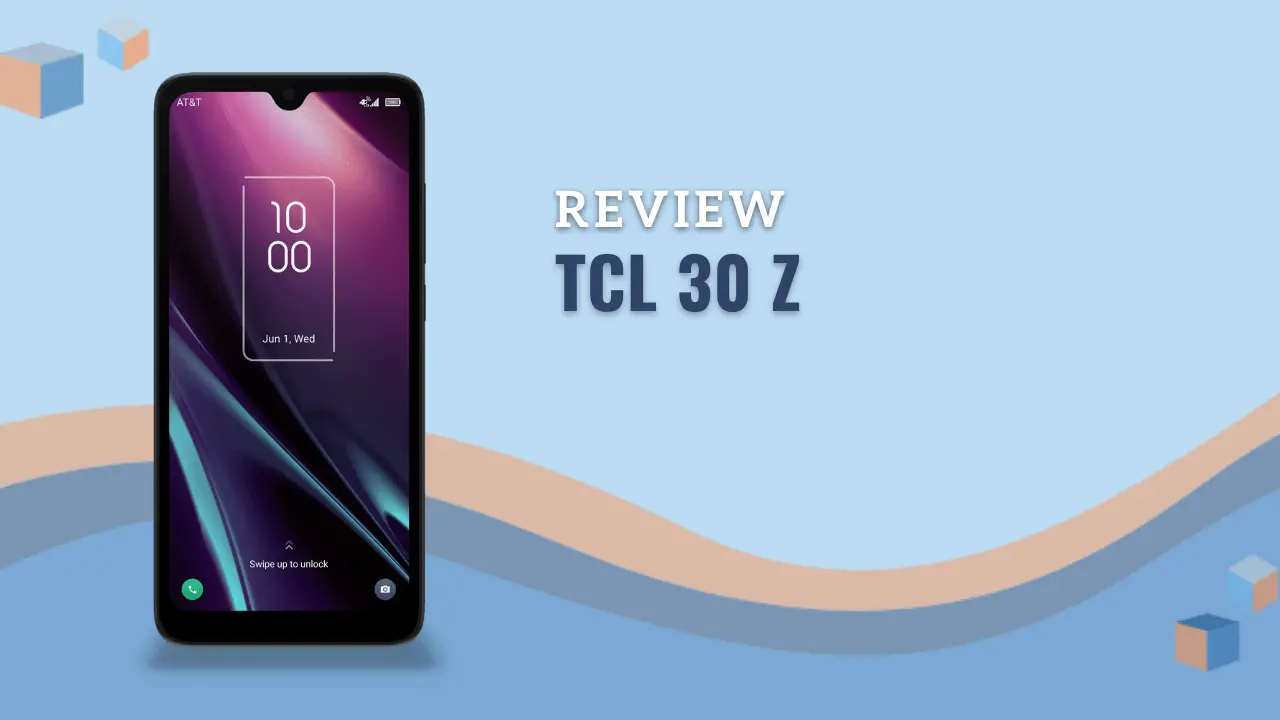 The TCL 30 Z smartphone was released in April 2022. It's a newly released phone on the market. This phone is categorized as an entry-level smartphone, considering its affordable price. 
This basic phone has many features and functions despite the affordable price point. For instance, the TCL 30 Z has a 6.1-inch screen display and 2.0 GHz Quad-core MediaTek Helio A22. It also has already been supported by Android 12.
However, this phone has some laws put into consideration. The phone's looks are so last-year with 32GB internal storage and 3,300mAh battery capacity. In this TCL 30 Z (T602DL) review, we will discuss the phone thoroughly.
Specifications
TCL 30 Z (T602DL) specifications:
| | |
| --- | --- |
| Weight | 183g |
| Dimensions | 156 x 74 x 10mm |
| OS | Android 12 |
| Screen size | 6.1-inch |
| Resolution | 720 x 1560 |
| Processor | MediaTek Helio A22 |
| CPU | Quad-core (4×2.0 GHz Cortex-A53) |
| RAM | 3GB |
| Storage | 32GB |
| Battery | 3,000mAh, Removable |
| Rear camera | 8MP |
| Front camera | 5MP |
| Features | Face Recognition, Hearing Aid Compatible |
Design
Design-wise, the TCL 30 Z display's look reminds us of the smartphone trend a few years back. It looks outdated and nothing fancy. The dimension of this phone is 156 x 74 x 10mm. When holding the phone, it feels bulky in hand. It may feel uncomfortable for some people.
The front part of the phone contributes a rectangular display and is surrounded by bezels. The left and right bezels come thinner than the other side. At the top, there is a punch-hole front camera and a physical button at the bottom.
The phone's back features a single rear camera with an LED flash positioned on the top left. The back cover has a rough texture to improve grip for users. This phone lacks a fingerprint reader.
Read also: TCL 30 Z (T602DL) User Manual
Display
The display of the TCL 30 Z consists of a 6.1-inch display screen. It's slightly bigger than most budget phones. In our opinion, this phone's size display is one of the best features they offer. It helps users to enjoy full on-screen content.
This phone features 720 x 1560 display resolutions. It means users can get an HD+ display screen. As an entry-level smartphone, the HD+ display is quite impressive. The color comes with richer tones and more vibrant colors.
With the combination of the display screen and resolutions, users can have a better experience when it comes to playing games and viewing videos. Users also will hardly notice pixelated icons and images on the screen.
Camera
The TCL 30 Z smartphone offers a bare minimum single rear camera as its main camera. The 8MP single-rear camera is all you get at the back of the smartphone. This camera quality indicates that the TCL 30 Z was made not for professional users.
This main camera is paired with an LED flash to help users take pictures in a dark light ambiance. To be added, the camera is also featured with autofocus to make your pictures more precise.
You will get a 5MP front camera for taking selfie pictures on the other side. It's above the average of budget phones. We give a plus point for this feature. You can also record 1080p videos with the TCL 30 Z's camera.
Storage
For storage, the TCL 30 Z phone is equipped with 32GB of internal storage. Sadly, users are only allowed to enjoy around 20GB of it.
The remaining space is already taken by system junks and pre-installed files. This internal storage capacity is plenty enough, especially for non-heavy activity users.
We know that some people aren't satisfied with internal storage size. Fortunately, you are allowed to expand the storage by inserting a microSD into the external storage slot. But, you need to buy the external storage separately by yourself since it doesn't come in the box.
Read also: Tracfone Nokia 2760 Flip Phone Review
Performance
The TCL 30 Z smartphone uses Quad-core MediaTek Helio A22 processors as its brain. This is a standard for an entry-level smartphone. The chipset is performed at a 2.0 GHz processing speed.
This smartphone is coupled with 3GB RAM. The capacity is considered generous to store a phone's temporary data. Honestly, we're not expecting a large RAM capacity with a certain price point.
The 3GB RAM provides more efficient multitasking. This combo is perfect for day-to-day operations. Opening many apps at once will feel comfortable.
You can also open heavy data apps. This phone delivers more optimal and reliable performance. We also hardly find any lags or much delay.
The TCL 30 Z is supported by Android 12 as its operating system. It is the latest version of Android. Honestly, we're surprised to find a budget phone with this feature. Indeed, it is one of the best features of this device.
Android 12 upgrades some more flashy features than its predecessors. It delivers a more personal, safe and effortless device for users. Users can transform their TCL 30 Z into their own preferences. This OS is also designed to be accessible to everyone.
With the Android 12, the device will also be safer since it offers new powerful privacy features. You are allowed to have full privacy control. Operating your phone will also feel more effortless.
We noticed that the TCL 30 Z phone carries some useful features. Those are proximity sensors that allow you to prevent any accidental touches.
Meanwhile, the accelerometer sensor can track users' steps and moves. This device also features the Hearing Aid Compatible rate T3/M3.
For security features, this smartphone doesn't come with fingerprint readers. Instead, they use face recognition to unlock the device. This feature may provide quicker access, but it can be tricky to unlock at night of lowlights.
Connectivity
The TCL 30 Z provides 4G LTE technology to let users connect with others. Don't expect something extra, just like 5G connectivity. This 4G connectivity is a standard norm. You can still enjoy the connection from anywhere.
Apart from the mobile network, this device also provides other options for internet connection. You can use Wi-Fi as an alternative. And, you can turn your phone into a mobile hotspot to share your internet connections.
Bluetooth and other connectivity are also available on the device. Bluetooth can be used to transfer data wirelessly or connect with other devices. Lastly, the USB-C type cable can be used for transferring files with wires.
Battery
The 3,000mAh removable battery is equipped to power up the TCL 30 Z smartphone. This battery capacity is average for a basic budget phone.
However, we expect much bigger than this, especially compared to today's phones. The removable battery can be a burden since almost no smartphone uses this type of battery.
This capacity promises up to 12.5 hours of mixed usage battery time. After all, the battery life varies depending on the user's activity.
If you are a non-heavy user, the battery life will last for a day. This phone also doesn't have a fast-charging feature, so it will take some hours to fill up the battery.
Is the TCL 30 Z a good phone?
This TCL 30 Z (T602DL) review has concluded that this phone is designed for certain users. It is perfect for a non-tech-savvy who prioritizes a minimum budget over qualities. The TCL 30 Z meets the needs for mainly communication purposes.
This phone only costs $40. It offers some decent features such as a large display screen, Android 12 OS, and affordable prices. However, most features have some drawbacks, such as the phone's design, camera quality, and low battery capacity.
Is the TCL 30 Z a good phone? Maybe yes, maybe no. The answer depends on your preferences. But, if you are looking for a budget phone with the latest Android, it is definitely the answer.
Pros: affordable prices, Android 12, large display screen
Cons: old-school phone's look, low camera quality, average battery capacity