Galaxy J7 Crown offers irresistible features such as 5.5-inch screen, 13MP camera, and a fast processor. Read this Samsung Galaxy J7 Crown review to know more.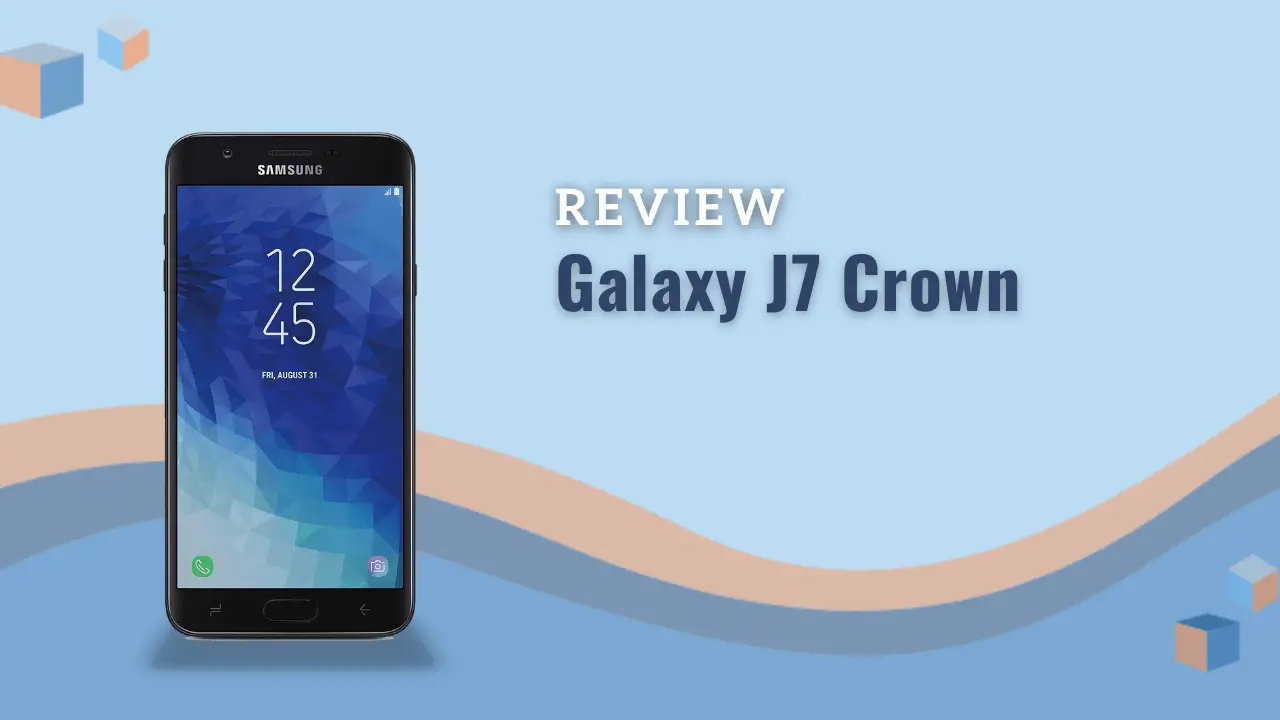 Often it's tricky to choose the best phone from Samsung's budget line. Although praised by critics for their high-end products, Samsung falls short over other brands such as Motorola, when it comes to low-tier phones.
This time we present Samsung Galaxy J7 Crown, yet another affordable phone from Samsung. Is it a phone providing good value for money? Let's find out.
But first, let's do a quick overview. Galaxy J7 Crown comes with a promising display setup: a 5.5-inch HD. It runs on a 1.56GHz processor and a 2GB of RAM, a more than decent setup for performance.
The camera is hard to resist at 13MP for both the back camera and the front camera. So far the specs impress us. Here's the complete Samsung Galaxy J7 Crown (S767VL) review.
Specifications
Samsung Galaxy J7 Crown (S767VL) specifications:
| | |
| --- | --- |
| Release Date | July 01, 2018 |
| Weight | 181g |
| Dimensions | 153 x 76 x 8.6mm |
| OS | Android 8 |
| Screen size | 5.5-inch |
| Resolution | 720 x 1280 |
| Processor | Samsung Exynos 7884 |
| CPU | Octa-core (8×1.56GHz Cortex-A53) |
| RAM | 2GB |
| Storage | 16GB |
| Battery | 3,300mAh, Non-removable |
| Rear camera | 13MP |
| Front camera | 13MP |
| Features | Face Recognition |
Design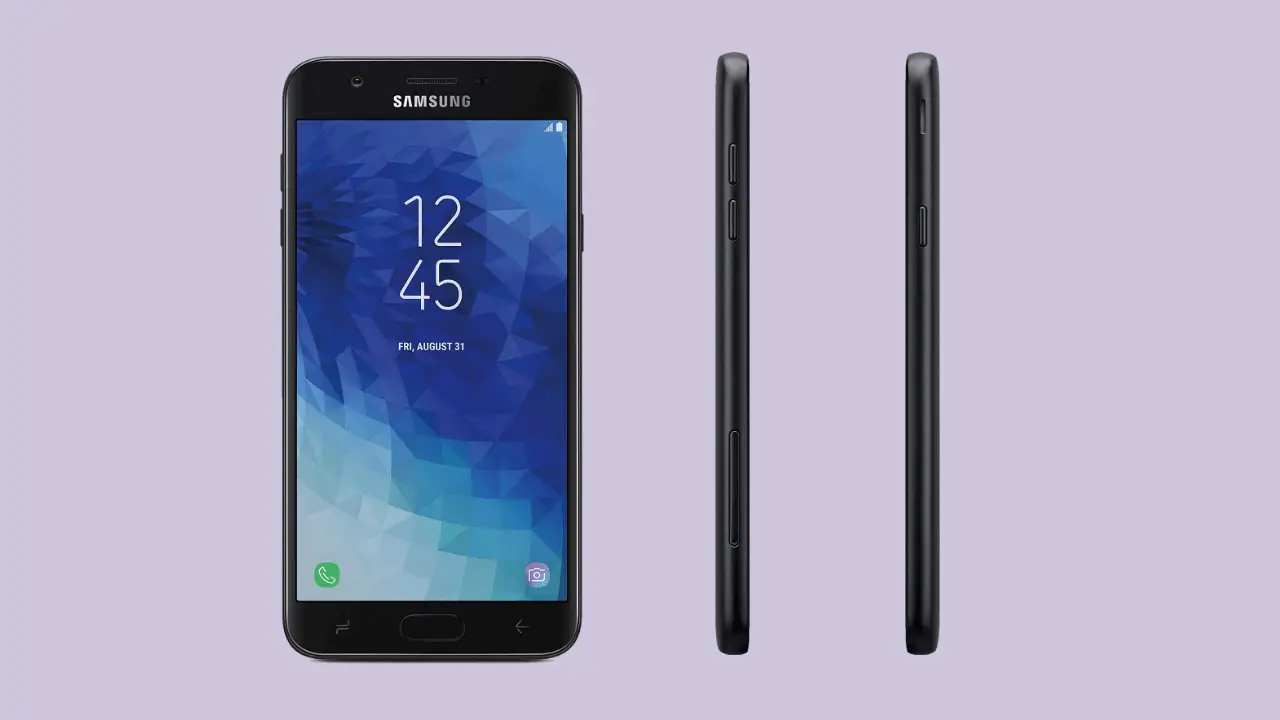 In terms of design, we wish J7 Crown at least looks better than cheaper models within the Galaxy J series. There's almost no difference between Galaxy J7 Crown and Galaxy J3 Orbit.
To compare, J3 Orbit comes with a $59.99 price tag while J7 Crown is priced at $99.99. The difference is quite high.
We expect at least J7 Crown has a more expensive physical feature. Instead, both phones look the same down to the placement of keys and ports, aside from the size.
In general, it's a beautiful design, and Samsung has done a good job to create an elegant design out of plastic material. The glossy front is comprised of the 5.5-inch display, Samsung logo above it, and the speaker.
There are also some sensors (ambience and proximity), as well as the front camera on top. Meanwhile, three physical buttons are neatly arranged side by side and occupy the bottom area.
The back has a matte finish that doesn't look plasticky. Apart from the camera, there isn't anything else on the back. The matte black provides a nice and soft grip when holding the phone.
The overall body itself is not heavy at 181 grams, yet not too light so it feels cheap. With only 76 mm in width, the phone is also comfortable to handle.
Galaxy J7 Crown has a small screen to body ratio, around 75%. There's no infinity screen just like what we can see on newer Samsung low-tier such as Galaxy A10e and Galaxy A20. It's understandable, as this phone is released back when infinity display was a feature on high-end phones only.
However, this is what we like about Samsung phones: when the screen is turned off, you can barely see the edge between the bezel and the display. Therefore, you will see the front area is all black. In our opinion, this looks luxurious on a phone, even though it's a budget phone.
Read also: Samsung Galaxy J7 Crown User Manual
Display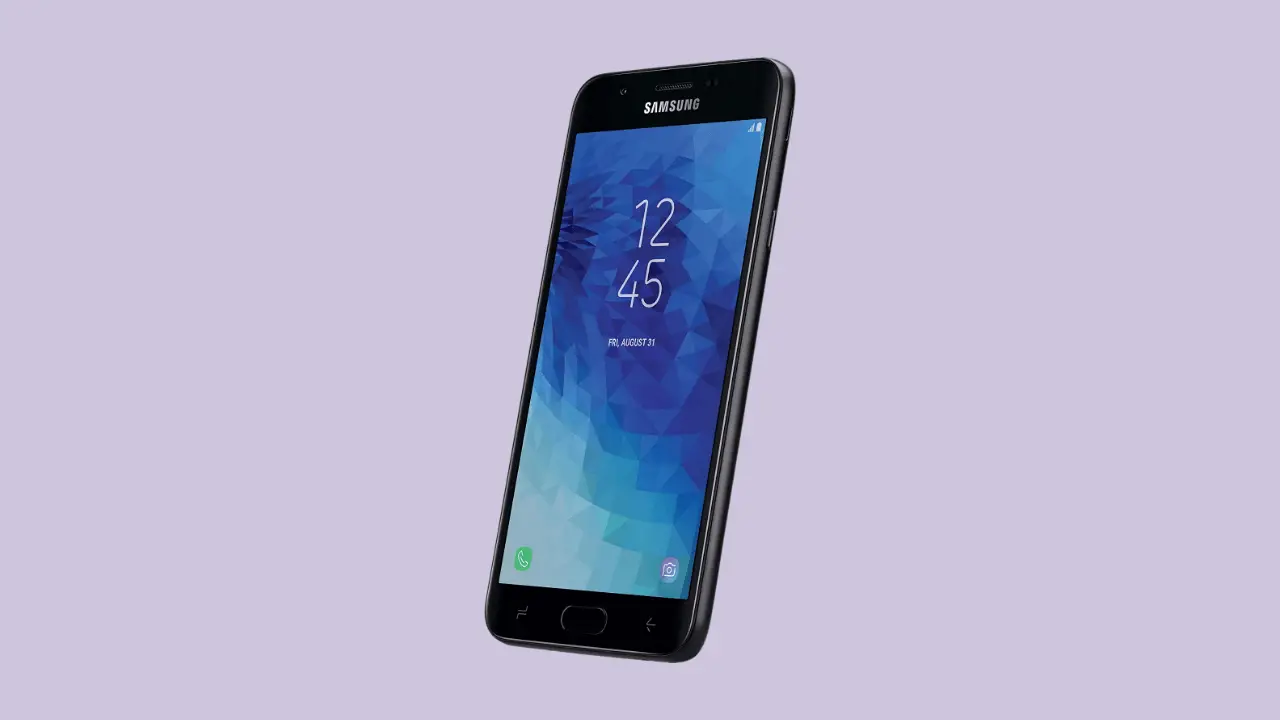 As mentioned in the overview, Galaxy J7 Crown comes with a 5.5-inch HD TFT display. To be exact, the display resolution is 720 x 1280. This display specification is a value for money. It's not bad at all and asking more seems unfair considering the price.
A 5.5-inch display is big by today's standard, even with many phones hitting 6 inches and more. It's a sweet spot for either people who like big screens or the other group who would rather have a display that fits in the palm.
You can comfortably navigate the phone with one hand. However, you might need to stretch your thumb a bit when reaching the far corner of the display (or you can use one-handed mode features).
The bigger display also means more space to view apps, images, and movies. Watching YouTube videos and playing games, for example, is a pleasant experience with J7 Crown. Since J7 Crown also supports multi-window, the display have enough room for two apps opening simultaneously on one screen.
Apart from the size, display quality is enough. It's not AMOLED screen, but the display is decently bright without straining eyes. There are few pixelated edges if you look close enough, but it's something average users won't notice most of the time.
Viewing angles is pretty good as well. When viewed from the 90-degree angle, sharpness doesn't decrease drastically. Contents on display are still readable and appear vivid.
To conclude, we rate display four out of five stars for this Samsung Galaxy J7 Crown review.
Read also: Samsung Galaxy A10e vs Galaxy A20: Specs Comparison
Camera
Galaxy J7 Crown camera strength lies on both the front and back camera, both at 13MP. If you are a fan of photography, Galaxy J7 Crown is probably the best you can get for a phone under $100.
This is an impressive setup coming from Samsung, they usually cut back on camera when it comes to their budget line.
As a result, here we have a camera that offers more than decent results. Images aren't the best but it's less grainy and noisy compared to little siblings Galaxy J3 Orbit.
Details are sharp and pleasant to see. Overexposure problems still persist. But the camera also comes with HDR mode to balance out the dark and bright area on a picture.
Another problem comes with J7's camera, sometimes it gives underexposure results. It means we have to turn up the 's bightness manually so many details won't be hidden under shadows.
But overall it's not a big problem, especially with the help of manual mode. With manual mode, users can control manually the exposure, white balance, and ISO.
Switching to the front camera is as easy as flipping the screen (swipe up and swipe down). The front camera basically has the same lens with a slightly smaller aperture.
The 13 MP doesn't disappoint in delivering great selfies. Pictures come out bright and since the camera also comes with a skin-smoothing feature, results come deceptively better than what we expected.
Samsung also provides some interesting bits on the camera's interface. Additional features such as stickers add more fun to the overall experience, although frankly, we don't see how often people would use this feature.
There is also the standard panorama mode. For video recording, both cameras can take a full HD 1080p videos, another nice surprise from Galaxy J7 Crown.
Read also: How to Turn Off Voice Assistant on Samsung Phone
Storage
We couldn't help but disappointed looking at J7 Crown's internal storage. At a measly 16 GB, this amount could easily decrease after installing one or two big games.
The real available space, after subtracted by what is used by System, is only 9 GB. We had hoped that with the increasing price than J3 Orbit, Samsung also increases the built-in storage capacity.
Sooner than later, users will have to add an SD card as expandable storage. The maximum capacity allowed is 400 GB. It's quite a high number, but it still means we have to pay extra since an SD card is not included in the purchase.
For some people, it might not be a problem, but for people who are really tight on budget, it means extra spending.
Performance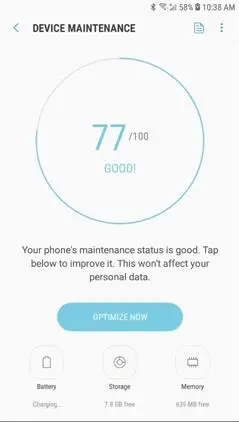 Exynos 7884 powers all the tasks on Galaxy J7 Crown, along with 2GB of RAM. The processor proves to be reliable, as Exynos 7884 is the chip Samsung use on their mid-range line such as Galaxy A Series.
This octa-core processor runs daily tasks with ease. Multitasking is seamless. Navigating between apps is snappy and comes with little lags. If there's any lag, big chance it is caused by the limited RAM instead of by the processor itself.
Most of the time RAM won't hinder much of the performance, as long as not too many apps are opening in the background. it's easy to argue that at least 3GB of RAM is a better setup. But of course, at such a price, this is the best we can get for RAM.
It's also worth mentioning that Exynos 7884 comes with GPU Mali-G71 as the graphic processor. It means the phone can handle some 3D gaming quite well.
Loading image-focused apps and webpages can be done quickly. If you're planning to buy a pocket-sized entertainment center apart from a communication device, J7 Crown could be your choice for under $100.
Samsung Galaxy J7 Crown smartphone released in 2018. It runs on Android OS v8.1 (Oreo) out of the box.
Alongside the launcher, we also see some preinstalled apps, either from Samsung itself and from other companies such as Facebook.
About the software performance, we find that the launcher doesn't make the phone go any slower. Some would argue Samsung's version of Android is easier to learn for people who are new with Android.
This is true to some degree. The user interface is straightforward and easy to learn. However, some people may find the preinstalled apps to be too overwhelming.
For average users, OneUI, how Samsung launcher is called, would give users no problems on a day to day use. Moving from one app to another is quick.
Menus and settings are easily accessible. Samsung apps, such as Notes and Gear can help daily tasks substantially. As mentioned earlier, the multi-window feature could also boost one's productivity.
Lastly, moving to sensors, Galaxy J7 Crown comes with face recognition. At first, we expected this phone to come with fingerprints, but a biometrics face recognition turns out to be a nice compromise. Setting it up was also easy.
Face recognition is one of the pros of J7 Crown. It's nice to have it for extra security. Aside from face recognition, there are also proximity sensor, light sensor, accelerometer, and gyroscope. Those are the standard sensors for phones nowadays.
Connectivity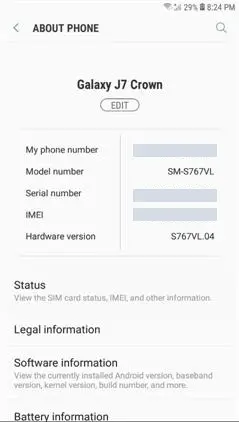 The mobile network covered by J7 Crown is 3G and 4G LTE. The phone still supports 2G as well. In general, J7 Crown has a good call quality. There's no issue with reception.
Voice sounds clear and crisp. Especially since the speaker is located ergonomically on top of the display, where users would put their ears when calling. The loudspeaker is also loud and Dolby Atmos technology helps enhance the audio output.
As for Wi-Fi, connecting to an available network was quick enough. Wi-Fi also supports Wi-Fi Direct and mobile hotspot. Unlike Galaxy A10e who comes with Bluetooth 5.0, J7 Crown's Bluetooth still stays at version 4.2. It's not a big issue as Bluetooth v4.2 still does its job well.
No USB Type-C as well on this model, connection to charging port or a computer is still with micro USB. This phone also doesn't have NFC.
GPS is reliable to use. Searching for location is quick and thanks to the big screen, navigation with Goggle Maps is not a hard task to do. As a nice addition, Samsung still equips Galaxy J7 Crown with FM radio and a headphone jack.
Battery
Galaxy J7 Crown runs on a 3,300 mAh battery, an acceptable capacity considering the large HD screen this phone has. A bigger battery may seem impressive, but at 3,300 mAH, it's not bad at all, not to mention it makes sense price-wise.
On the test, a full battery could last up to 1 day and 20 hours according to the Device Maintenance tab on the phone's Settings. But this estimate probably applies only when the phone is put on standby. On regular use, we estimate this phone could last until the end of the day.
The battery itself is non-removable, which is what most phones today have. Unless you insist on a removable battery, it's not an issue worth worrying about.
Is the Samsung Galaxy J7 Crown a Good Phone?
It's hard not to be biased on this Samsung Galaxy J7 Crown review when looking at the specs relative to the price. At under $100, we can argue that J7 Crown is probably the best Samsung budget phone you can get.
What's irresistible is also the TracFone price. Non-bundling J7 Crown has a retail price of $120 and up (unlocked or by other carriers). So when TracFone sells this phone at $99.99, we'd say it's a great deal.
For some people, Samsung bloatware and pre-installed apps could serve as nothing but a nuisance. Those are some major concerns of J7 Crown. If you think you can tolerate the drawbacks, J7 could be the best option for you.
Pros: HD display, high-resolution camera, face recognition
Cons: small internal storage, small RAM