This review explains the specs comparison between Alcatel TCL A1X (A503DL) and LG Journey (L322DL). Find out how they fare to each other in camera, performance, etc.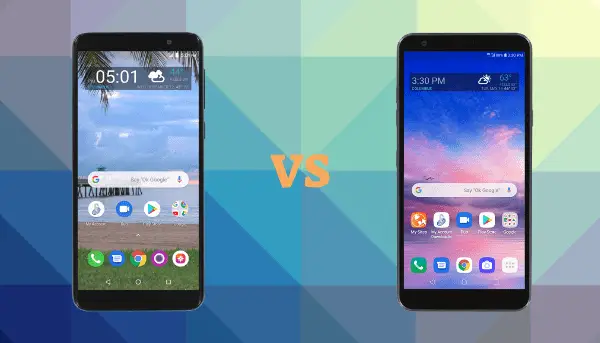 With the plethora of low-cost smartphone options these days, finding the one that suits you the best can be a headache. Every year, manufacturers keep rolling out new devices, trying to outcompete each other by providing the best features at a low price.
The results are budget phones just like what we're going to review here: Alcatel TCL A1X ($59.99) and LG Journey ($89.99). Both are sold by TracFone.
In hindsight, both phones are almost twins. Both feature a 5+ inch HD display with black design. It's hard to differentiate the two without examining the detailed specs.
Upon closer inspection, here's what we think. Laid out below is the specs comparison between Alcatel TCL A1X (A503DL) and LG Journey (L322DL).
Design
Both LG Journey and Alcatel TCL A1X adapted the standard brick-like design typical of smartphones nowadays.
The design is almost indistinguishable from the front except with the fact that TCL has more rounded edges and thinner bezels. While both phones come in black color, Journey has a grayish streak around its edges.
For the front view appearance, we prefer TCL more. The key feature of TCL design lies in its thin bezel. It makes the phone looks effortlessly trendy and luxurious. LG design is not that bad, but it lacks that trendy touch that makes the phone looks sleek and current.
TCL also subtly tucked the keys that they are almost invisible and non-intrusive. The journey looks more crowded, especially with the addition of the Google Assistant key on the left side. But Journey has a nicer port placement at the top and bottom edges.
On the back, LG polished Journey with a deep black glossy finish. Alcatel chose a grey rugged design for TCL. It's hard to determine which one is better. Both designs have their own advantage. Journey looks better while TCL is more practical, as the rugged design prevents the phone from slipping.
As for build quality, both phones are pretty much the same. Comprises of plastic, Journey and TCL A1X also come with no additional protection such as Water-resistant capability.
It's understandable for phones at this price point. However, there is one slight difference. At 5.18 ounces, Journey is heavier, giving a nicer feel compared to the 4.6-oz TCL A1X.
To conclude, we think Journey and TCL ties in terms of design and build quality.
Read also: Samsung Galaxy A10e vs Galaxy A20: Specs Comparison
Display
Alcatel TCL A1X has slightly more room for display at 5.5 inches. LG has only a 5.4-inch screen. Both phones' display qualifies as HD+, boasting 1440 x 720 pixels resolution at 18:9 aspect ratio. Again, we consider them being on a similar level on paper.
They deliver nice color output for eyes to see. Colors are vivid, quite sharp, and the screen have a wide viewing angle. TCL is slightly nicer because the thinner bezel gives an edge-to-edge illusion of a display. This minor advantage is especially noticeable when watching a video.
But other than that, both phones' screens are almost identical. Neither Journey nor TCL A1X comes with screen protection such as Gorilla Glass. It means whichever users choose, getting a good screen protector would be inevitable as both phones are not scratch-resistant.
It's hard to pick the winner here. Alcatel TCL A1X wins by a nose because it manages to minimize the bezel more. Other than that, both models are practically identical display-wise.
Camera
Having a tight race on design and display, one of the models here gets ahead when it comes to megapixels. The winner is Alcatel TCL A1X with its 13 MP main camera. Meanwhile, LG Journey disappointingly only has an 8 MP camera.
Comparing the quality, TCL A1X wins by a landslide. Pictures come with sharpness and clarity than the one taken with LG Journey. Journey's image results are not bad in general.
The phone takes an okay picture and you probably won't see the difference at a glance. But upon zooming, you will see how the image lacks detail.
It also an advantage for TCL that it has a second rear camera, a 2 MP one. The dual camera feature provides a depth-sensing capability to produce a picture with a bokeh effect. This is something Journey can't do.
Journey makes up the lack of megapixels with in-camera features such as Fast Catch. As the name suggests, Fast Catch capture image with rapid shutter speed, perfect for moments with a lot of action. LG is on advantage here. As a leading brand, they have more experience when it comes to camera features.
Moving on to the front-facing gear, both phones are equipped with a 5 MP megapixel camera. Although similar, here Journey is cooler because it has a blur effect for selfies. The Portrait Mode is probably the highlight of Journey camera.
Read also: Alcatel TCL A1X User Manual
Storage
Once more, it's a tie again in this specs comparison between Alcatel TCL A1X and LG Journey. This time it's the storage. Both come with a 16 GB internal memory, TCL and Journey also have the same amount of allowed external storage. Users can add up to 32 GB SD card.
However, LG equips Journey with pre-installed custom apps and features. This decreases the available storage space that's not used by the system. Out of 16 GB, only 9 GB is usable for users. Compared to Alcatel TCL with its 10 GB usable storage, LG Journey falls short in this matter.
Performance
LG Journey runs on a 1.4 GHz processor. The number is slightly surpassed by Alcatel TCL A1X with its 1.5 GHz processor. Both phones are equipped with 2 GB of RAM, so there's no competition in the memory department. Although Alcatel is theoretically faster by looking at the processor alone, it's simply not the case here.
We find that Journey is more enjoyable to use. Apps launch faster and everything feels more responsive to touch. LG uses the minimal launcher and keeps the Android as basic as possible. Alcatel performs pretty well too, we just find it is less snappy than LG in general.
The secret of Journey performance may lie in its software. Using the latest Android version, Android 9.0 Pie, it's no wonder that performance was top notch. Pie promises more efficient Android software, whether it's about the performance, user experience, and power saving.
Alcatel TCL A1X still uses the previous Android 8.0 Oreo version. It doesn't come with additional launcher or bloatware, so it's still fast too. However, it misses many features Pie offers such as intuitive user interface, notification management, and enhanced Google features. Therefore, Journey wins by a mile here software-wise.
Lastly, for sensors, both Journey and TCL A1X are packed with standard sensors such as ambient light, accelerometer, and proximity sensor. Both phones are also Hearing Aid Compatible (HAC) but with differences in rating. Journey has M3/T3 rating while TCL A1X is rated M4/T4.
For security features, unfortunately, there's no fingerprints scanner on either phone, which is not surprising.
Read also: TracFone LG Journey LTE User Manual
Connectivity
Moving on, there's not so much to compare on connectivity. Here, we have two phones that are 4G LTE capable, while still also support older bands 2G and 3G. We got a good reception from both of them. And as long as TracFone network is strong, you won't get any issue with dropped calls.
Everything else is also similar, from Bluetooth, Wi-Fi, and the USB Type-B port. GPS provides location service for both phones, but LG slightly gives more options because of its newer Android features. As expected, neither of the phones has a near-field communication system or NFC.
Battery
Coming with the same capacity at 3000 mAh, LG Journey and Alcatel TCL A1X competes in something else: power efficiency.
Being equipped with a more efficient OS, LG is slightly better than Alcatel. Talktime is up to 14 hours compared to Alcatel's 12 hours. Standby time is up to 13 days for LG while Alcatel doesn't stay too far behind at 12.5 days.
Wrap-up
In this specs comparison between Alcatel TCL A1X (A503DL) and LG Journey (L322DL), there's one key difference that we haven't truly discuss: the price. LG is far more expensive with its $89.99 price tag. Compared to Alcatel's $59.99 tag, LG sounds overpriced.
If your budget is tight, choosing Alcatel over LG is nothing but sensible. Especially also because you get 13 MP camera instead of LG's 8 MP.
But LG has a better OS. If you like being up-to-date and an additional 30 dollars is not a big number for you, you can opt for LG instead.
Since Android Pie is more recent, it guarantees your phone to keep up with new apps for at least a couple of years more. To conclude, pick the one that suits your preference and also your wallet.
LG Journey advantages:
Portrait Mode on the front camera
Heavier, feels more expensive
Android 9.0 Pie
More power-efficient
Alcatel TCL A1X advantages:
Dual rear camera
More megapixels for the rear camera
More usable storage space for internal memory.
Cheaper