LG Journey LTE (L322DL) user manual contains all information you need to set up your new LG phone. Pay attention to their special features under Custom-designed Features section.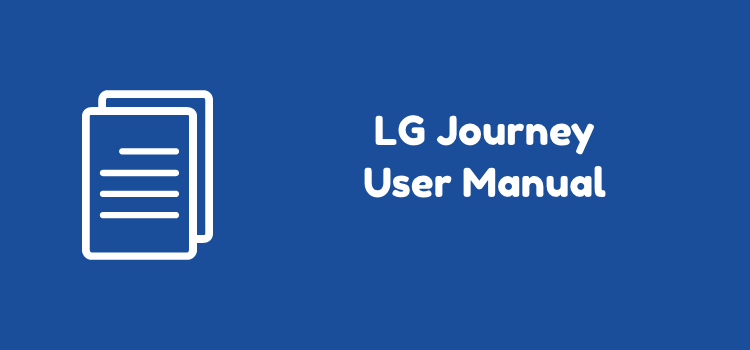 Getting a new LG phone can be overwhelming. You don't know what to do first. Instead of turning on your phone and go ahead blindly, take a look at the phone's manual first.
LG Journey LTE user manual is the manual you're looking for. As you begin activating your phone, have this manual by your side.
LG Journey (L322DL) User Manual
Inside, there are a lot of things you can learn. Let's check some of them:
Custom-designed features
Section Custom-designed features introduce interesting apps and features that come with LG Journey LTE.
One of those features is an enhanced camera with Portrait mode. Take advantage of this feature so you can take a selfie with perfect background blur.
If you don't know or aren't familiar yet about portrait or bokeh effect, it's all explained here. There's also a section for Flash Jump Cuts, a menu to create a GIF directly from the camera.
The Gallery app also has its own special features. Learn about making a GIF out of a recorded video. You can also learn about movie-making here, as the gallery allows you to create a movie out of your pictures.
Read also: LG Journey LTE Review: Pros and Cons
Google Assistant
Google Assistant is also presented as the special feature of this phone. With it, you can manage your daily task easily, from setting a reminder to open your email. In this section, learn how to launch Google Assistant.
There are some ways to do it, either with your voice or from the home screen. You can also customize the voice commands to activate it.
Multi-Tasking feature
The last custom-designed feature is Multi-Window. Now you can open two apps simultaneously on one screen.
It takes a bit of exercise to get used to this feature. But don't worry, because the manual is here for you. You will also see a step-by-step guide with pictures.
Read also: Alcatel TCL A2 User Manual (TracFone)
Basic Functions
This section is all about the basic of your phone. First, you'll read about product components and accessories. It's listed here what are the items you get, as well as their functions.
You will also learn about your phone's parts. Pay attention to special key such as Google Assistant key. This feature is unique to several models of LG phone only.
Cards Installation
After the introduction, now it's time for the early configurations. Included here are the card installation.
Make sure you insert SIM Card and SD Card properly by carefully following the instructions written on the manual.
Don't forget to read about the battery. There are precautions and also tips on using the battery efficiently.
Touch screen and interface
Once your phone is set up and now it's turning on, you can begin to read about Android navigation. Familiarize yourself with the touchscreen gestures.
There are so many motions and gestures you can learn here, such as touch and hold, double tap, pinching and spreading.
There are also explanations about the home screen, from its layout and status icons. Learn tricks such as opening the app switching screen, changing your screen orientation, and other home screen settings.
Lastly, make sure you know how to set up your security by reading about the Lock screen.
Read also: Motorola Moto E6 User Manual and Tutorials
Useful Apps
Once you know how to navigate your phone, it's time to get to know the apps. This section starts with basic apps such as Phone, Messages, and Email.
As you turn the pages, you'll also encounter multimedia and task apps such as Camera, Radio, Calendar, and many more.
Settings
When you open a manual's Settings page, you might get intimidated a bit because things suddenly seem so advanced. However, it's not a problem here.
This section starts with Network, where it explains connections between your computer to the internet and other devices. Each type is explained with illustration to make sure readers will understand it.
After Network, you can more preferences such as Display and Sound Settings. Learn how to adjust your display, from text size to brightness. You can change the sound of your incoming messages and calls here too.
Other settings covered here are security, storage, extensions (RAM cleanup, gaming, and shortcuts), and Accounts.
Download User Manual
To summarize, whatever it is that you want to know about your phone, LG Journey LTE (L322DL) user manual is here to answer your question.
You can jump to the appendix, located at the end of the manual, to seek a configuration quickly. There's also an FAQ page located at the end of this manual.
Download:
LG Journey User Manual
(1 MB)