Considering a feature phone? Read this Alcatel MyFlip review to find out features it offers, the price, camera quality, and other informative details.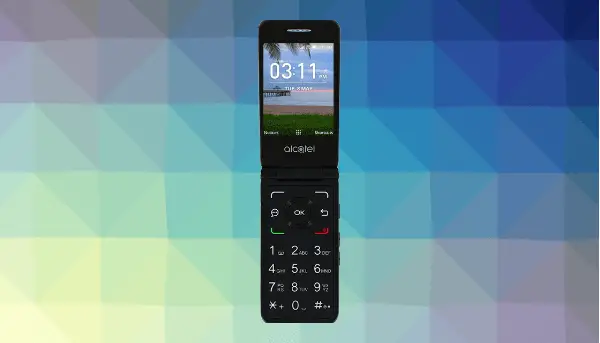 Feature phones heyday may have been long gone, but it doesn't mean they disappeared completely. A feature phone like TracFone Alcatel MyFlip (A405DL) still attracts its own fans.
It's because the simplicity of a feature phone is still unbeaten to this day. When compared to smartphones, Alcatel MyFlip offers design and functionality that is a lot more straightforward.
As a feature phone released recently, Alcatel MyFlip adapts to the recent technology. For example, it uses 4G for its network type. Here's the complete Alcatel MyFlip review.
Key Specs
Alcatel MyFlip (A405DL) specifications:
Weight: 4.16 oz
Dimensions: 4.13 x 2.08 x 0.74 inch
OS: KaiOS 2.5
Screen size: 2.8-inch
Resolution: 240 x 320
CPU: 1.1 Ghz Quad-core, Qualcomm Snapdragon 210
RAM: 512MB
Storage: 4GB
Battery: 1350mAh, Removable
Rear camera: 2MP
Design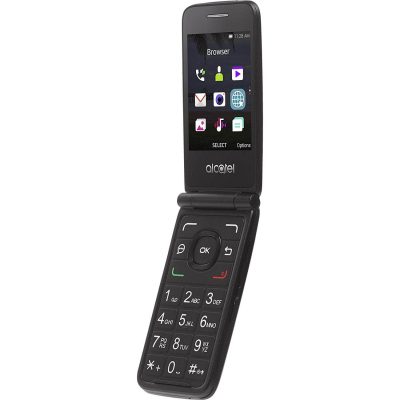 The "MyFlip" name on Alcatel MyFlip indicates the design choice of this feature phone. It uses the flip design people used to love.
Personally we also love this design because it's compact. Not to mention the satisfying flap it gives when whenever we hang up from a call.
At the dimension of 4.13 x 2.08 x 0.74 inch, MyFlip slides well inside a pocket. It's comfortable to use one-handed.
The keys on the keypad are nicely separated so you won't have difficulties when typing despite the small size. The numbers and fonts come in bold prints, therefore they're easy to read.
The upper part of Alcatel MyFlip hosts two screens: The main display and the secondary display on the outer part. Camera is located just above the secondary screen. The top part also hosts a speaker which users can find above the main display.
Aside from the keypad, the bottom part of the phone also houses the Power key and the Volume keys. These keys lie on the right side. As for the right side, here users will find the port for headphone jack and the USB connector/charger. On the back, there's an additional speaker.
Alcatel MyFlip only comes in black color only. Concluding the overall design, this phone lean more to being functional than beautiful. In our opinion, this is the best approach to design for Alcatel MyFlip.
Related: Alcatel MyFlip User Manual and Tutorial
Display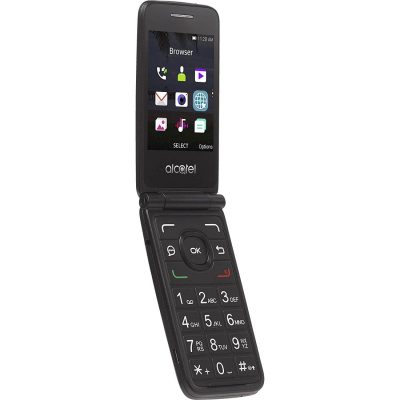 Alcatel MyFlip features a 2.8-inch QVGA. Of course, it can't be compared to a smartphone display. But for MyFlip, this size is just right.
It's relatively big for a feature phone, but not too big it uses up too much space. You can comfortably browse the contacts, type a message or an email, and do some light browsing on this display.
Its pixel density at 240 x 320 pixels (143 ppi) provides a bright output when used indoor. Color contrast is good and everything is readable. However, you will need to cover the screen when using it outside. The screen doesn't perform really well under sunlight.
The screen also isn't a touchscreen which doesn't come as surprising. But it comes with adjustable brightness and screen timeout for battery saving.
Users can also select wallpaper either from the wallpaper library, gallery, or camera. So, to conclude, MyFlip's display offers all the essentials needed.
The extra screen on the front is a nice addition to MyFlip. This secondary display shows important information such as notification, caller ID, and clock. This way, users don't always have to open the phone for a simple task. You can also check the phone's battery level through this screen.
Related: Understanding the Layout of Alcatel MyFlip (A405DL)
Camera
Alcatel MyFlip doesn't offer anything fancy for the camera part. This phone has a 2 MP shooter and it comes alone without an assisting LED flash. There isn't a front-facing camera as well, so selfies are only a dream with MyFlip.
We don't think this is a big deal-breaker of Alcatel MyFlip. This phone was never intended for photography. As long as it can capture a decent picture when needed, it is enough.
However, a flash would have been nice to have on this phone. Aside from aiding low-light picture-taking, a flash could also serve as a flashlight, a feature we're sure many people would appreciate.
If the camera hardware is simple, so is the camera app. Not many features we found here. There is the zoom in/out option for the Viewfinder, but not the lens itself. A self-timer is available. You can use it when taking selfies using the main and only camera. You can also enable the grid to help align your picture.
The camera comes with only two modes, photo and video mode. For camcorder, MyFlip allows users to record a video with the maximum resolution at 720p. Just like the photo mode, you can also zoom in or out of the video when recording.
Related: Alcatel MyFlip: Camera and Camcoder Guide
Storage
The internal storage at Alcatel MyFlip comes at 4 GB. Although it seems a lot for a feature phone, the capacity that's available for users is only 1 GB.
Users will have two choices. The first solution is to manage your file well to preserve storage space. Actually, this is possible to achieve if you don't put a lot of files on your phone.
The second one is installing an SD Card. Alcatel allows users to expand the storage to up to 32 GB using an SD card. This is the solution for users who wish to store a lot of files on their phone. However, you'll need to buy the card separately.
Performance
Alcatel MyFlip runs on a 1.1 GHz Qualcomm Snapdragon 210 processor. An entry-level processor, Snapdragon 210 is what makes 4G possible on feature phones like MyFlip.
But what about performance in general? The processor setup is completed with the 512 MB RAM. Again, small capacity for RAM and it's not surprising.
It's hard to describe how it feels navigating the phone menus on MyFlip. Although the processor is fast theoretically and the RAM is adequate, the software struggles to catch up with the hardware performance.
One thing for sure, know how to use the keypad to access apps and menu. There is a cursor when browsing a webpage, but it can get really slow to move around.
MyFlip itself uses KaiOS 2.5, a Linux based operating system. It's preloaded with essential apps from Phone, Emails, to utilities such as Alarm and Calculator.
Activating the phone doesn't take a lot of time. However, there's no setup wizard feature just like on a smartphone. Some carriers like TracFone requires activation on their website. Afterward, you can immediately use the phone for calling.
If the pre-installed apps aren't giving the features you want, there's KaiStore for apps download. Options are not as plentiful as in Google Play Store or Apple App Store. But you can find light games or popular chatting apps on its pages.
There are some useful features we found on KaiOS. One of them is Adjustable Text Size. Having a small screen, this feature can come in handy when you can't find your glasses.
This phone also supports the Spanish language aside from English. For people who need help, MyFlip is hearing Aid Compatible.
For entertainment, there are the Music Player and Video Player app. For music and movie files, you will need to transfer from your phone via USB or Bluetooth.
Streaming is a difficult thing to do with Alcatel MyFlip. We're not surprised when the phone froze during streaming or when downloading large files. Overall, offline entertainment is preferable on this phone. In addition, there's an FM Radio app and a slot for a headphone jack.
To summarize Alcatel MyFlip review for performance, we are satisfied with the essentials.
Performing basic tasks such as calling and texting (both using SMS and MMS) is easy. But Alcatel really can do better with internet browsing. Anything past a simple Google search can be a struggle.
Related: Alcatel MyFlip Tips and Tricks for Beginners
Connectivity
Here, we have a phone that's 4G capable. Alcatel MyFlip is equipped with recent technology to support a lightning-fast connection. The phone also supports Wi-Fi when you'd rather not use your data balance.
Calling from Alcatel MyFlip was clear. It's more of a phone for calling and texting than for anything else. You won't encounter a problem most of the time.
Meanwhile, browsing the web could be fast due to 4G, but often the browser software can't handle it and load contents slowly.
There is a built-in GPS but it isn't accessible for users. It's more for location finding for emergency calls. For USB data transfer, the type of connector used is Micro-USB. Other connectivity features available include Bluetooth and Mobile Hotspot using the USB connection.
Related: Alcatel MyFlip Common Problems and How to Fix Them
Battery
Alcatel MyFlip is equipped with a 1350-mAh Li-on battery. As a typical feature phone, the battery is removable. It means you can carry one for a spare and leaving your charger at home.
But the phone itself can do well with one battery or without single recharging in a day. As Alcatel has claimed, this phone boasts 10 hours of talk time.
During normal use, the battery can last until the next day. The standby time itself is 280 hours. A long lasting battery is one of the perks of feature phones. And here, Alcatel MyFlip has successfully fulfilled that expectation.
Wrap-up
To conclude this Alcatel MyFlip review, it's a phone that may work for you. Especially if you need a phone mainly for calls and texts.
It's reliable, simple to use, and has a long-lasting battery. But it's not without its drawbacks, such as limited internet activity caused by the laggy software.
One big attractive point of this phone is its price. Originally tagged at $19.99 for its retail price, you can also get the phone for free.
Carries such as TracFone offers a reconditioned version of Alcatel MyFlip for free with a Plan Purchase required. We'd say the offer is a steal especially because TracFone plan isn't expensive either.
Pros:
Basic and simple
4G support
Compact size
Battery is good
Cons:
Browser is prone to lag
Small internal storage
The camera is only 2 MP