Who says you don't need a manual for a feature phone? Alcatel MyFlip user manual is what you need to understand this phone better. Learn all the forgotten basics here.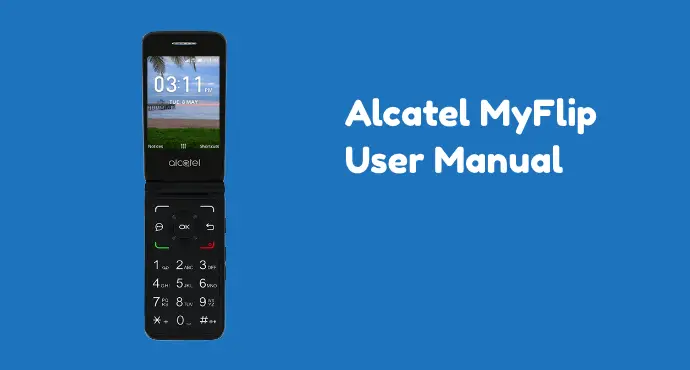 From making your first call, to even taking clear photos and uploading to the internet, this Alcatel MyFlip A405DL user manual will literally hold your hand and teach you how to use your phone.
What's inside the manual and why is it worth to take some times to read it? Alcatel MyFlip manual contains comprehensive information regarding this product.
It's definitely useful to help you navigate your day-to-day use with the phone. Alcatel MyFlip is a basic phone. If you're more familiar with smartphones, you might need a reminder on how to use a device that's considered "old school" by today's standard.
Alcatel MyFlip User Manual
Containing 34 pages, this user manual has all you can ever need to operate the Alcatel MyFlip (A405DL).
Read also: Alcatel MyFlip (A405DL) Review
Below are some of the user manual contents:
Your Mobile
Before diving into this section, learn how to restart the phone properly. The option for restart also comes with factory reset, so you need to be careful and pay attention to the manual.
Moving into the first section, you will encounter a chapter called "Your Mobile". Basically, it's about all your phone's fundamentals. Study the parts and components with an easy-to-read infographic.
Learn what each button is for, whether it is the center soft key or the Camera key. Don't forget to familiarize yourself with the ports such as the one for the headset and another one is for charging.
In sub-section "Getting Started", learn about SIM cards. Such as how to insert and remove them. There's also a guide for properly charging the battery and turning your phone on and off. Lastly, you'll read about home screen, app screen, and status bar.
Calls
The second most important section is placed next. Since Alcatel MyFlip is a basic phone, probably you bought this phone for call and text only.
In Calls, you'll read all you need to do in making a call, whether it is a normal call, an international call, or an emergency call.
Want to know how to decline a call? This section also got you covered for that. The last part of the chapter contains instruction about voicemail.
Contacts
Here you'll learn how to browse through your contact list. Also included are instructions on adding a new contact, edit the existing one, and remove a contact.
There are more options such as sharing a contact, exporting and importing contacts. Make sure you read everything just in case you need it someday.
Messages and Email
The message section tells you how to write and send a message with Alcatel MyFlip.
This phone also lets you send multimedia messages, its instruction is also written here. Next, read all about email, such as how to write one, enter the recipient, and send it.
Camera & Gallery
Let's see what's the camera app has to offer. Although this device seems basic, the camera has some useful features for you to try.
In this section, learn how to capture a photo, zooming the viewfinder in and out, self-timer, and using camera modes.
Video and Music
Entertainment is an added bonus of this phone. You can listen to music and watch videos.
Music and videos can be added from a computer via a USB connection, which you can learn how to do it here.
Calendar & Clock
Included in this section are guides to view events, add a reminder, setting alarms, and many more. Also, learn how to use the timer and stopwatch with the Clock app.
Settings
Anything technical is covered here in this Settings section. For networks, there are instructions on airplane mode, cellular data, Wi-Fi, and Bluetooth.
You can also do some personalization, such as changing ringtones, key sounds, and other sounds.
Security is also included here. Learn how to set a PIN for your SIM card. Alcatel comes with Geolocation settings, and you can set permission for apps whether or not they are allowed to access your location. You can also set Do Not Track for browsing privacy.
Other features you can learn in this section include USB tethering, Wireless Emergency Alert, and managing your phone's Storage space.
You'll also learn about the over-the-air upgrade. Stay updated with your phone's software by upgrading them whenever a new version rolled out. You can find the instruction for upgrading in the last part of this manual.
Download User Manual
So, those are what you can read on Alcatel MyFlip user manual. Now you can proceed using your phone with enough knowledge at hand.
If you have more time, read the troubleshooting chapter where it's listed common problems users may encounter with the phone. Lastly, there's also an explanation on safety use.
Download: Alcatel MyFlip User Manual (439 KB)
Learn more about Alcatel MyFlip:
---
Alcatel MyFlip FAQs
Does the Alcatel MyFlip have a removable battery?
Yes. Alcatel MyFlip comes with a removable battery. It means you can take it off and replace it when the battery wears out. The battery is located in the compartment on the back of the phone.
How long does Alcatel MyFlip battery last?
Alcatel claim the phone can reach up to 6.5 hours of talk time. On standby, Alcatel MyFlip's battery can last up to 300 hours. Alcatel MyFlip is equipped with 1350 mAh li-ion battery.
What size SIM card does the Alcatel MyFlip use?
Alcatel MyFlip uses Nano-SIM. It's the smallest kind of SIM card with a size of 12.3×8.8 mm. If your existing SIM card is Standard or Micro SIM Card, you will need to replace it with a Nano-SIM because you can't simply trim your existing card.
What is the screen size of Alcatel MyFlip?
Alcatel MyFlip's screen is a 2.8-inch QVGA screen with the resolution of 320×240 pixels. It's a small LCD with a pixel density of 128 ppi. It's not the brightest of the bunch, but decent quality for a phone that's mainly used for calling and texting.
How many megapixels is the Alcatel MyFlip camera?
Alcatel comes with a 2 MP camera. Much below today's standard of a camera phone, but it's enough to capture quick moments. The camera can record 720p videos. Others feature that comes with the camera is Timer, Grid, and Modes.
How much memory does the Alcatel MyFlip have?
For storing your files, Alcatel provides 4 GB raw storage. However, only 1 GB is available for users (3 GB is used by System). If you need more space, you will have to add an SD card (up to 32 GB).
How much RAM does the Alcatel MyFlip have?
To handle its everyday tasks, Alcatel is supported with a 512 MB RAM. Although small, it's fairly enough size considering it's a feature phone. As for its core machine, Alcatel MyFlip runs with a 1.1 GHz Qualcomm Snapdragon processor.
Does the Alcatel MyFlip have Wi-Fi?
Yes. Your Alcatel MyFlip can connect to Wi-Fi. To connect to a Wi-Fi network, go to the Wi-Fi screen and connect to an available network.
Does the Alcatel MyFlip have SD card slot?
Yes. Alcatel MyFlip comes with expandable storage. You can add a microSD card with up to 32 GB storage size. SD Card is not included on purchase, so you have to buy it yourself.
Does the Alcatel MyFlip have FM radio?
Yes. Alcatel MyFlip has FM Radio. You can listen to traditional radio stations with added features such as saved channels and visual radio. To be able to use the radio, you need to plug a headset as the antenna.
Does the Alcatel MyFlip have GPS?
Yes. Alcatel MyFlips uses KaiOS that has a A-GPS to approximate users location. It is a fixed feature and the only way you can manually turn it off is by activating the Airplane Mode.
Does the Alcatel MyFlip have a fingerprint scanner?
No. There is no fingerprint scanner on Alcatel MyFlip. However, Alcatel provides something else for privacy feature. To restrict unauthorized users from using your phone, you can set a Screen Lock with a 4-digit password. Any user will have to enter the password in order to access your phone.
Is the Alcatel MyFlip hearing aid compatible?
Yes. Users can connect a hearing aid device to Alcatel MyFlip. The device will translate incoming speech to text and convert outgoing text to speech for the caller on the other end of the conversation.
How do I soft reset my Alcatel MyFlip?
You can soft reset Alcatel MyFlip by turning it off, then turning the phone on again using the power key. Unlike factory reset, soft reset doesn't make you lose data and personal settings.
How do I check my minutes on Alcatel MyFlip?
One way to check your balance is by sending a text message to 611611. Type BALANCE and send it to that number. In a few seconds, you'll get a reply containing information about your quota (texts, calls, and data).