The Nokia 2760 flip review is here! Nokia equipped its flip device with modern-day features. Find out more about the nostalgic flip phone that's getting better and smarter.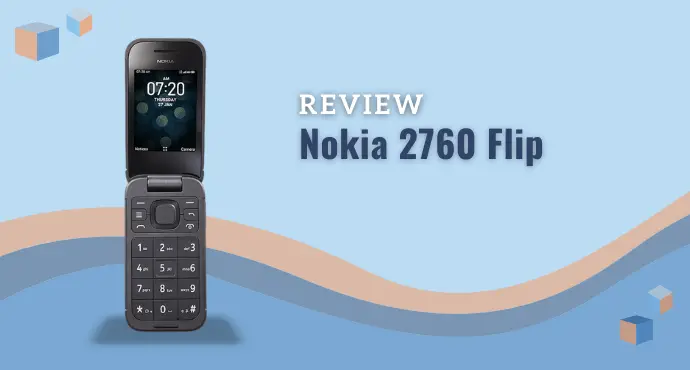 Nokia released the 2760 flip phone in March 2022, and it quickly gained attention (and reactions) from smartphone enthusiasts. The phone itself is smartly designed with intuitive navigation.
Combining a hint of nostalgia with modern convenience, this compact and stylish handset aims to strike a chord with those seeking a touch of retro elegance.
In this review, we delve into the features and performance of the Nokia 2760, exploring how it embraces its heritage while catering to the demands of today's users.
Specifications
Nokia 2760 Flip (N139DL) specifications:
| | |
| --- | --- |
| Weight | 136g |
| Dimensions | 110.2 x 58 x 19.5mm |
| OS | KaiOS 3.1 |
| Screen size | 2.8-inch (internal), 1.77-inch (external) |
| Resolution | 240 x 320 |
| Processor | Qualcomm Snapdragon 215 |
| CPU | Quad-core (4×1.3 GHz Cortex-A53) |
| RAM | 512MB |
| Storage | 4GB |
| Battery | 1,450mAh, Removable |
| Camera | 5MP |
| Features | Wi-Fi, Bluetooth, USB Type-C, HAC M4/T4 |
Design
Nokia 2760 Flip is tiny and ergonomic. The design is classic with a matte finish. As a feature phone, the Nokia 2760 is quite compact at 110mm in length. When we open the flip, the phone's length becomes approximately 202mm. The overall design reminds us of the oldies – a flip phone that gets the job done.
The front side of this phone has a secondary display placed in the middle and a Nokia logo at the bottom. The keypad is nicely built and comfy to type.
As usual, Nokia has been so great in designing smartphones. This device is sleek and elegant. Plus, it fits in the jeans pocket perfectly.
Read also: Nokia 2760 Flip User Manual / User Guide
Display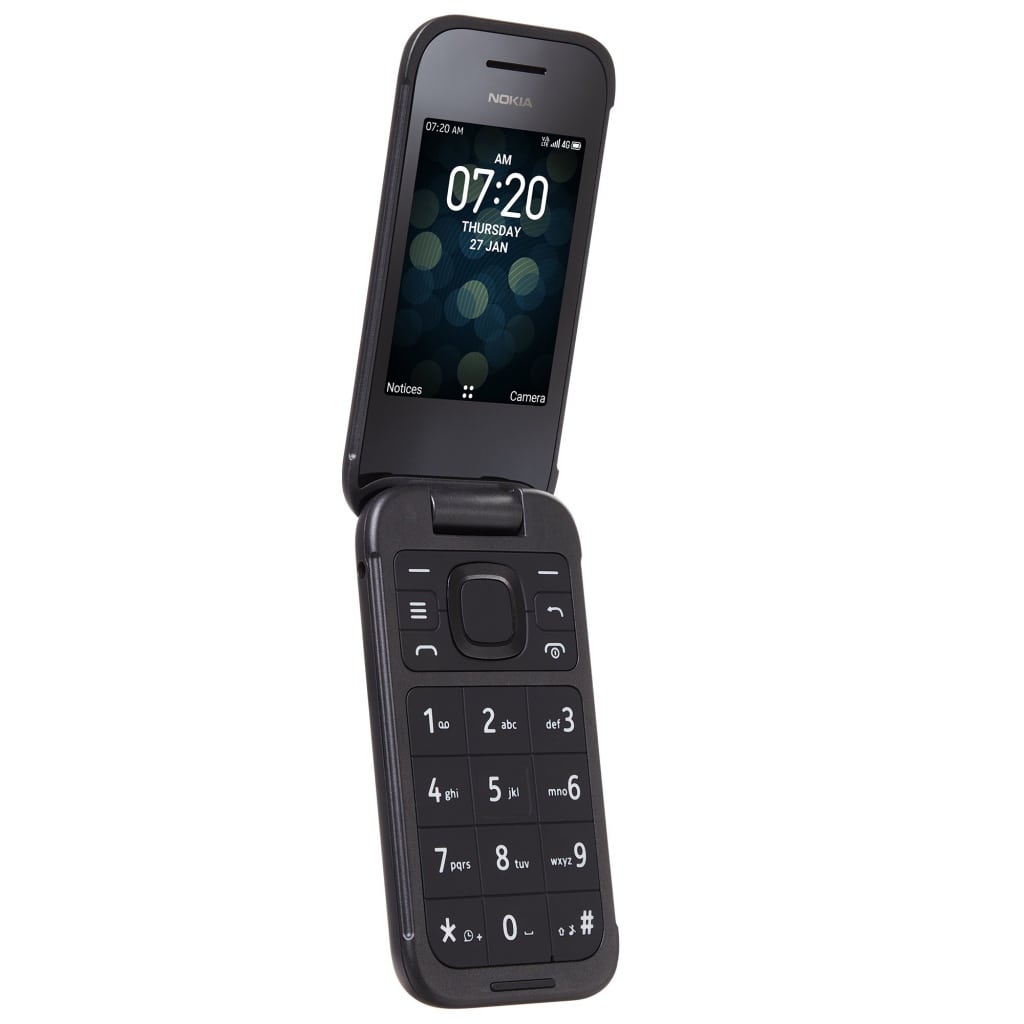 There are two displays in Nokia 2760 Flip. The secondary at the front displays the clock and weather. If there's a phone call, the caller ID shows up there, too.
The primary display flaunts 2.8-inch TFT screen with 240 x 320 pixels resolution. When we read the size, we cringed since that would be a very tiny screen but having it on our hand, it's actually enough to display the important stuff we need.
It's not a big resolution, but this phone shows a decent display given the small screen. However, we noticed the sun's flare when we used it outdoors.
Camera
Nokia 2760 Flip sports a 5MP rear camera. The quality is not made for shutterbugs. The VGA resolution is a huge step backward.
We believe that this phone is not made for taking pictures, and the camera is just an added feature. We can still be relieved that the phone features video recorder, although the quality is not amazing.
Storage
Storage-wise, Nokia 2760 Flip is equipped with 4GB storage. When preparing for the Nokia 2760 flip review, we were quite surprised with the storage since we've seen other feature phones with bigger storage.
The small space is meant for only important stuff worth keeping. There are not many apps to download compatible with its overall specs. And since the feature phone is not for multitasking, we think that 4GB is enough to store contacts and a few low-quality pictures.
Read also: BLU View 3 (B140DL) Review: 3GB RAM with 4G LTE Connectivity
Performance
The device runs on KaiOS 3.1. It's the latest built by the OS developer. Why it's not Android? Well, KaiOS is specifically created for feature phones. The developer has clearly said that they target first-time internet users.
The user interface is not confusing at all. Thus, for those who are not tech-savvy, this is the technology they need to get used to the internet of things. However, we found the user experience a bit disappointing because it took a few minutes to figure out the menus. Perhaps because we got used to touching screens.
Nokia 2760 Flip is an intuitive phone with Snapdragon 215 as its processor. Nokia claimed that the device is built with high durability for our daily activity. The flip to end call is responsive, so there's no need to press any button when you're done talking.
The fonts and backdrop color are changeable, so it's one of the attractive features you can expect. We especially loved the call quality. The sound is clear and bright, even in a noisy background. However, the audio experience is not super amazing. It's not crisp but still tolerable.
And thanks to KaiOS, Nokia 2760 Flip can have low RAM but still manage to run smoothly. The feature phone has 512MB RAM, but we didn't find any glitch when opening the apps. It is fast and responsive.
Overall, we think that the KaiOS and RAM capacity work together perfectly. The RAM might use a lot of power to run, but KaiOS is the operating system that conserves battery. So, we have a balanced engine here.
The Nokia 2760 Flip does not have any sensors, and it shouldn't. The flip phone secures its primary screen with its clamshell, so we just need to flip it when we need it. It's not complicated, and surely it does not need a fingerprint reader.
Connectivity
The Nokia 2760 Flip comes with a 4G network that promises higher data speed than its predecessor. The phone can connect to the internet for browsing, downloading apps, or finding directions – fast and easy.
This feature phone comes with pre-installed A-GPS for location tracking and a USB Type-C connector for charging. There is a hearing aid compatible with T4/M4 rating and a 3.5mm headphone jack.
Nokia 2760 Flip has built-in Wi-Fi, web browser and email. These features are a huge plus for a flip phone. It makes the device smarter with more modern functions added to it.
Battery
Nokia 2760 Flip sports a 1,450mAh battery capacity. It seems small, but with fewer apps to open and fewer functions to use, this battery capacity is enough to power our essential day-to-day needs.
Furthermore, the Kai operating system allows the phone to conserve battery – making it long-lasting with a talk time of up to 7 hours. From a single charge, the phone can last up to 18 days standby time.
For someone who isn't an avid phone user, we can just leave the phone for days, and it'd still be on, but for frequent callers, the phone may need charging every night.
Verdict
Overall, Nokia 2760 Flip is a nostalgic phone that becomes smarter. For a first-time internet user, the phone will be a good assistant to help transition to higher specs in the future.
However, we expect better quality from its speaker and camera. Still, the feature phone is made for making calls instead of entertaining its users.
Other than that, I found the phone very compact and responsive. It doesn't have much bloatware, and it comes with important apps pre-installed, like Youtube, Google Browser, and Google Maps.
The phone is available for $20 at Tracfone and $30 at Straight Talk. Hope this Nokia 2760 Flip review can help you decide better!
Pros: ergonomic design, no bloatware, excellent call quality
Cons: low-quality camera, low internal storage