Looking for a basic flip phone? Check out our Tracfone TCL Flip 2 review. With a compact design, 2.8-inch screen, and 8GB storage, it's a great affordable option.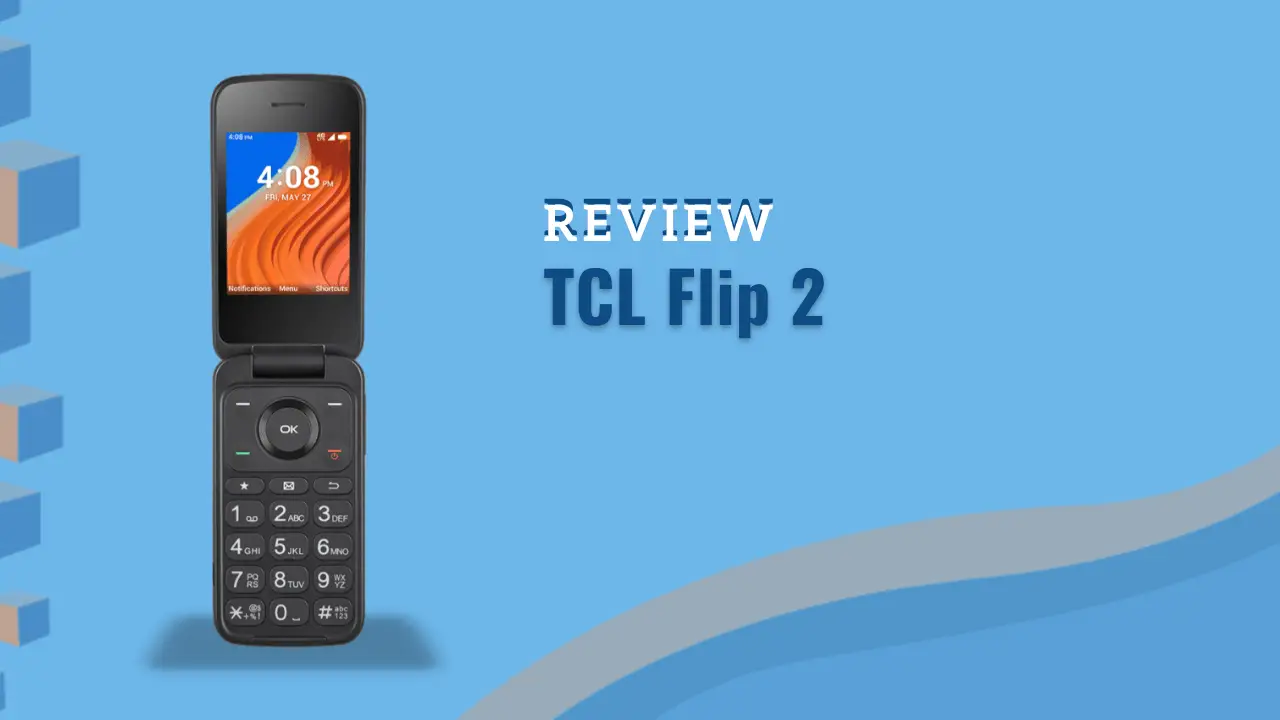 Flip phones are not everyone's favorite. Indeed, it's not for everyone since flip phones have their own targeted consumers. This phone aims for people who want a simple device to keep in touch with daily life. For calling, messaging, or browsing. Not anything fancy.
Nowadays, flip phones are making their debut in the market. Many manufacturers are focused on producing this phone. The TCL Flip 2 is one of those that is going into the war zone.
TCL Flip 2 features are not as advanced as smartphones. However, if you want to take a break from your hectic daily life. You might want to put this phone on the list. Read the TCL Flip 2 (T408DL) review for your future considerations.
Specifications
TCL Flip 2 (T408DL) specifications:
| | |
| --- | --- |
| Weight | 139g |
| Dimensions | 107.1 x 55.6 x 19.8mm |
| OS | AOSP based on Android 11 |
| Screen size | 2.8-inch (internal), 1.44-inch (external) |
| Resolution | 240 x 320 |
| Processor | MediaTek MT6739-CH |
| CPU | Quad-core (4×1.5 GHz Cortex-A53) |
| RAM | 1GB |
| Storage | 8GB |
| Battery | 1,850mAh, Removable |
| Camera | 2MP |
| Features | Wi-Fi, Bluetooth, USB Type-C, HAC M4/T4, SOS Button |
Design
Appearance says it all. Hence, the first thing we will discuss is the TCL Flip 2 phone's design. The overall appearance is just average. You will find any other featured phones just like this.
Compact and lightweight. That's what we describe as the TCL Flip 2. It comes in 139g and 107.1 x 55.6 x 19.8 mm dimensions. With these combos, you will get an ergonomic flip phone that fits most hands.
Interior-wise, it has a 2.8-inch display screen with tactile buttons. Meanwhile, the exterior part comes cleaner with black color. You will notice the external screen with the front camera and caller buttons at the top.
Read also: TCL Flip 2 (T408DL) User Manual
Display
As you can see, the TCL Flip 2 features two display screens. The first one is right in front of the phone. It is a 1.44-inch display screen and shows the phone's notifications. It shows the date and time, the phone's battery, and notifications.
The main screen features a 2.8-inch display screen with 240 x 320 resolutions. This screen size is familiar in most flip phones.
However, for first-timers, the tiny screen will affect much with their visibility. It is hard to adapt when you'll do some activities such as texting or browsing. But, with the QVGA quality, the screen is still quite bright and clear.
Camera
The camera feature is not the main concern of flip phones. We do not have high hopes for this feature. However, we must mention the camera to you since it is a part of the TCL Flip 2 phone.
The TCL Flip 2 has only one 2MP camera. Forget taking a selfie picture. You don't even find LED flash to allow you to take a brighter picture in dim light situations. After all, this phone sticks to its purpose as a simple yet practical phone.
You can still record a 480p video with this camera, though. There are also some features to boost your picture quality.
Storage
Most flip phone storage is typically small. The TCL Flip 2 features 8GB of internal storage. It may not be as much as smartphones. But, the 8GB storage capacity for flip phones is quite generous. To be honest, we rarely find flip phones with this capacity.
Since you can't do much with this phone, we think the storage is spacious. But, some of you may want to add more photos and other files.
The TCL Flip 2 allows you to install external storage into the phone. You can expand the storage by inserting up to 128GB of MicroSD cards.
Read also: TCL 30 XL Review
Performance
The TCL Flip 2 relies on the 1.5GHz Quad-core MediaTek MT6739-CH processor for its daily operations. While it may not be the most cutting-edge processor, it is a dependable choice for a flip phone.
This chipset prioritizes power efficiency and practicality over high performance, making it a sensible option for those seeking a phone that can last throughout the day.
TCL Flip 2 also comes in 1GB RAM. It may not be the best RAM you can get. But combining the CPU and RAM produces a smoother and more fluid phone navigation.
We think all are a good choice since users can enjoy a more efficient battery and come in full packs with the 4G technology.
The TCL Flip 2 proves to be user-friendly for everyone. You can see by its feature; the Hearing Aid Compatible (HAC) Rating: M4/T4. Despite that, we didn't find any notable features around.
Connectivity
The TCL Flip 2 phone is equipped with 4G connectivity, which is widely available and reliable in most parts of the world. This connectivity ensures that users can enjoy a fast and stable internet connection on their phone.
Besides the mobile network, users can also use Wi-Fi connectivity to connect to the internet. For data transfers, you can depend on two options; Bluetooth and USB Type-C cable.
Battery
The TCL Flip 2 is equipped with a 1,850mAh removable battery, which is a generous capacity for a flip phone. While it may be considered the bare minimum for some, it is more than enough to power the phone throughout the day.
The TCL Flip 2 claims it can last up to 6.8 hours of talk time, while in standby mode, the phone can last up to 14 days. It's impressive, but you need to remember that the overall battery performance depends on your activity towards the phone usage.
The removable battery type is still debatable in some factors. For instance, it's convenient for those who spend time outdoor. You can immediately change the battery with the spare battery if it runs out or is damaged. But, this type of battery is hard to get since it's unavailable in some places.
Verdict
You may not have realized it, but many flip phone options exist. But is the TCL Flip 2 considerable? It is a yes and a no. There are some pros and cons of the phone. The pros are the phone's design with tactile buttons. It has big buttons to allow you to have an effortless typing experience.
The phone's internal storage is also good enough, in our opinion. And, the most remarkable point is the price you need to pay to get this phone. It only costs $20, which is a good deal.
Pros: affordable, tactile buttons, large storage
Cons: low camera quality