Specs comparison between Samsung Galaxy A10e and Motorola Moto G7 Optimo. Budget phones with impressive features. Find out which one is the best.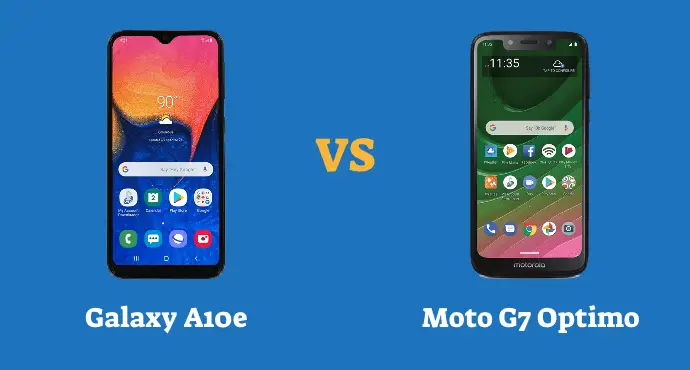 Every phone manufacturer seems to have budget range phones but with impressive specs. In this case, Samsung has Galaxy A10e while Motorola is offering Moto G7 Optimo.
Both phones are released in 2019 featuring large displays, LTE support, and an affordable price tag.
In addition to that, both phones offer long-lasting batteries, a decent camera, and the newest Android OS. They might sound similar, but they have their own pros and cons if you examine them more thoroughly.
In this specs comparison between Samsung Galaxy A10e and Motorola Moto G7 Optimo, we will take a look into all the details.
Design
Upon the first impression, what can be easily noticed from the two phones is how better-looking Galaxy A10e is. When compared to Moto G7 Optimo (XT1952DL), Galaxy A10e looks way more trendy with its bold, edge to edge display.
The screen takes up the whole front part of the phone, save from a notch on the top for the front camera. You will still bezels are the frame. But they are very thin.
On the other hand, G7 Optimo also adopts the same edge-to-edge design. But it's not to the extent Galaxy A10e is willing to go.
Moto G7 Optimo also features a notch, only it's larger as it also houses speakers and the LED Flash. On the bottom chin, you'll see the Motorola logo.
Galaxy A10e puts its brand logo on the back, along with the rear camera plus the flash lamp. The overall design on the back of Galaxy A10e is free of clutters.
The same components are also available on G7 Optimo's back cover. Only here you will also find a fingerprint reader.
Form factor and build quality are generally similar on both. The phones feel sturdy to hold. G7 Optimo provides more grip as the back cover has little textures.
Moto G7 Optimo is also more curved while Galaxy A10e is more rectangular. There is no water-resistant feature on either of them.
Read also:
Display
Both future owners of Galaxy A10e and Moto G7 Optimo will enjoy an expansive screen with awesome quality. Galaxy A10e comes with a 5.83-inch screen. It has the 18:9 aspect ratio and 295 ppi pixel density.
On the other hand, Moto G7 Optimo boasts a 5.7-inch display. Its aspect ratio is 19:9 (1512 x 720 exact resolution). Pixels density is 294 ppi, almost the same number Galaxy A10e has.
As we can see here, technical specs showed that there are only small differences in their numbers. On top of that, both use the same type of LCD TFT display.
Viewing experience on both of them is not noticeably different. You'll get fine graphic output and nice lively colors.
Both displays are bright enough to handle outdoor light. Texts on the screen do not come with sharp pixelated edges.
Moto G7 Optimo has one key advantage for its display. It's unrelated to the display quality, but more about the screen durability.
Motorola has added an extra protective measure by coating the screen with Corning Gorilla Glass. Users will have a scratch-resistant display. It doesn't entirely protect from cracks, but it makes the screen more durable to daily wear and tear.
Camera
In this category, we'll see how one phone is reducing specs to cut the cost. Galaxy A10e is a promising device, but buyers will have to accept that its camera is quite mediocre.
The rear camera has a resolution of 8MP. Although on the front, the selfie camera is pretty average with its 5MP resolution.
Galaxy A10e will have to compete hard with Moto G7 Optimo. G7 Optimo is offering an impressive camera setup with a 13MP lens on the back.
Not stopping at that, the front-facing camera is also a high-resolution one at 8MP. It also has an LED flash on the front. The overall camera setup for Moto G7 Optimo is hard to resist.
Up to this point, the final verdict for the camera is obvious. Customers who love mobile photography should go for Moto G7 Optimo.
Photos taken with G7 Optimo's camera offer more detail and sharpness than the ones taken with Galaxy A10e. Moreover, the front camera flash helps a lot with lighting.
If photography is the least of your concern, then Galaxy A10e can be your option. Although lacking in hardware, you can still find helpful features such as HDR and various shooting modes.
The additional features can improve image results. You'll have a camera that's suitable enough for occasional photo-snapping and social media.
Read also:
Storage
Both Samsung Galaxy A10e and Moto G7 Optimo offer plenty of space on their internal storage. They share the same capacity at 32GB. These are good numbers for entry-level phones.
Plenty of space is available for basic data and apps. After what's used by the phones' system, around 20GB is available for users.
If users want more capacity, they can easily add an SD card. The allowed external storage capacity is also similar on both phones. You can add up to 512GB of SD card.
For storage, there's basically nothing to compare between Galaxy A10e and Moto G7 Optimo.
Performance
To run its processes, Samsung Galaxy A10e uses its in-house chipset Samsung Exynos 7884. It has a clock speed of 1.6GHz. An Octa-core processor, the CPU is also accompanied by 2GB of RAM. Overall, this is an average setup for a phone in the affordable range category.
For Moto G7 Optimo, the setup is different, but overall still within the same level as Galaxy A10e. Optimo runs on a 1.8GHz Qualcomm processor. It's an Octa-core processor and has integrated GPU Adreno 506.
It's a capable processor with almost the same performance level as Exynos 7884. Additionally, the RAM on Moto G7 also has 2GB of memory space.
Running tasks and apps is quite smooth on both phones. Launching apps and moving from one app to another can be done seamlessly.
Galaxy A10e and Moto G7 Optimo are also capable of more demanding tasks and mobile games. When things get too heavy, you'll experience some lags. So you might keep staying with basic and medium tasks only.
Both phones run Android 9 Pie as their operating system. But there's a big difference in appearance. How the Android would look usually depends on the manufacturer.
In this case, it's not surprising that Samsung tweaked the Android Pie with their own design. Samsung is widely known to use their custom Android GUI.
On the other hand, Moto G7 Optimo chooses to stay with the vanilla (original) look of Android. Technically, it makes Moto G7 faster than Galaxy A10e because it doesn't have the extra weight that comes with the modification.
But it also means you won't enjoy many custom apps and features just like in a Samsung Galaxy phone.
Highlighted custom apps on Samsung Galaxy A10e include Multi-Window, Smart Switch, Samsung Notes, and Face Recognition.
Moto G7 Optimo sticks to what's Google already provided in Android Pie, such as Google Lens and Google Assistant. G7 Optimo also has a Multi-Window feature and Face Unlock.
Up until this point, the performance specs comparison between Samsung Galaxy A10e and Motorola Moto G7 Optimo shows no substantial difference.
But when looking at this one feature, you might want to consider G7 Optimo more. The phone has a fingerprint reader. It's a significant feature which sets the device apart from its competitor.
Sensors available on Galaxy A10e are the generic ones such as accelerometer and the proximity sensors. And it has no fingerprint one. Therefore, Moto G7 Optimo once again comes out as the winner.
Connectivity
The types of networks you can use on Galaxy A10e and Moto G7 Optimo range from 2G to the latest 4G LTE.
Therefore, in any area with 4G coverage supports, you can have the fastest connection with either phone. There was no issue about call quality and internet speed that's worth noting.
Both devices also provide Wi-Fi support, complete with tethering and other features such as VPN and Wi-Fi direct. Galaxy A10e and G7 Optimo also share the same features on Bluetooth, USB Type-C, and GPS.
There's nothing in particular that distinguishes one phone to another in terms of connectivity. Users can also still find a 3.5 mm headphone jack connector here.
Battery
To run everything, Galaxy A10e depends on a 3000mAh non-removable battery. The same type of Li-ion 3000mAh cells also powers Moto G7 Optimo (XT1952DL).
Capacity is not something to compare here since both phones are similar. However, each phone claims different durability.
While Galaxy A10e allows you to have up to 18.3 hours of talk time, G7 Optimo gives more than twice longer talk time at 40 hours. Both phones also differ in charging time.
Moto G7 Optimo provides a 10W rapid charging feature where you can get a couple of hours of phone time with 15 minutes of charging. Meanwhile, there's no such feature with the Galaxy A10e.
Wrap-up
Samsung Galaxy A10e and Moto G7 Optimo may be coming from the same gadget class, but here it's obvious that the latter puts a lot more effort to satisfy their customers.
You will get a lot more with Moto G7 Optimo with only paying $159,99 ($119.99 on discount). It's also how much Galaxy A10e will cost you.
The same price further concludes this overall specs comparison between Samsung Galaxy A10e and Motorola Moto G7 Optimo.
It's clear which one that would give you the best bang of your bucks. You may choose Galaxy A10e if you have a special inclination toward Samsung phones. But specs-wise, Moto G7 Optimo is better.
Samsung Galaxy A10e Pros:
Better design
Larger infinity display
Face Unlock
Motorola Moto G7 Optimo Pros:
More impressive camera
Fingerprint sensor
Water-resistant design
Rapid charging