A detailed look into the specs comparison between Samsung Galaxy A10e (S102DL) and LG Stylo 4 LTE (L713DL). Discover the perfect phone that matches with your needs.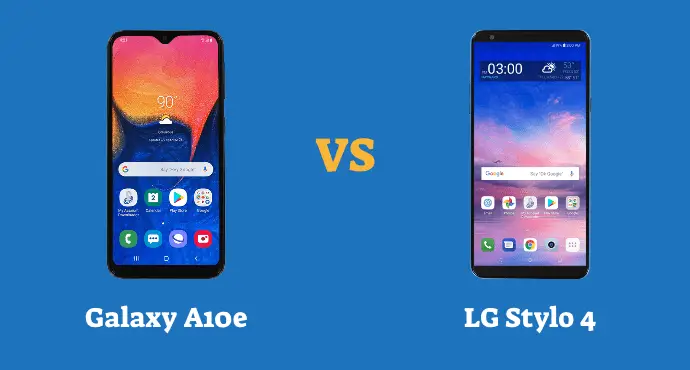 Samsung Galaxy A10e is an affordable phone by the tech giant released in 2019. It highlights a large display with bezel-less design as its key features.
Meanwhile, LG Stylo 4 LTE, released a year earlier in 2018, offers an even bigger display at 6.2 inches. Apart from the display, the two phones are competing in a tight race in other areas as well.
That's why we offer this review. This specs comparison between Samsung Galaxy A10e and LG Stylo 4 LTE is trying to shed some light on your confusion.
As two phones trying to outcompete each other, we'll offer our objective review on which model might work best for you.
Design
It's hard to pick between Samsung Galaxy A10e or LG Stylo 4 LTE design. We applaud both LG and Samsung because they managed to design a mid-level phone so aesthetically pleasing. When you see both of them, it's easy to mistake them for more expensive phones.
Let's start examining Galaxy A10e. This phone features an infinity design where the display starts from the tip of one edge to the other end. It's not completely bezel-less, but enough to give users no-distraction viewing experience.
The back casing stays simple with a full black plastic cover. Save from the camera and the Samsung logo, you won't fund any clutter here.
LG Stylo 4 design is not as full-display as A10e. But it's still thin enough to give users undisturbed viewing experience. Like Samsung, LG also keeps everything minimal. Although the back cover looks a bit crowded in LG Stylo 4 since it also houses a fingerprint reader.
All in all, there's little to compare in phone aesthetics alone. But LG Stylo 4 comes with a nice twist with its build quality. Instead of using plastic material casing just like Galaxy A10e does, LG Stylo users will enjoy a metal frame that's more premium at its own right.
Another difference between both phones is that LG Stylo 4 has a stylus pen. It helps with tasks like note-taking. You can access it by pressing the ejector at the bottom of the phone.
Read also:
Display
Samsung Galaxy A10e and LG Stylo 4 LTE are both gigantic phones. The former houses a 5.8-inch display while LG Stylo 4 has a bigger display at 6.2 inches.
The big size on them ensures more satisfaction as you scroll through the screen for browsing or sit back and just watch a video.
However, LG Stylo 4 is winning the display race here with its bigger screen. Not stopping at just that, LG Stylo 4 offers the best Full HD experience with its display. The display resolution is 1080 x 2160 px with 390 ppi for the pixel density.
On the other hand, Samsung Galaxy A10e features a lower quality display with a resolution of 720 x 1560 (HD+). Its pixel density is significantly lower than LG Stylo 4 at 290 ppi.
It means everything would look more beautiful in LG Stylo 4 Screen. Colors come out more crisp with details popping out more than they do in Galaxy A10e screen.
An HD+ screen usually looks good enough for an affordable phone, but here Galaxy A10e has a tough opponent to beat.
It's easy to pick the winner here. In addition to that, there's one more thing to consider in Galaxy A10e about its display design.
Since the phone has a notch to place its front camera, some users might find this notch as a distraction. Especially when watching a full-screen video.
Camera
LG Stylo 4 LTE still impresses us here. The phone is equipped with a 13MP lens on the back with a maximum aperture of f2/4. Alongside the camera, you'll find the LED flash.
With Samsung Galaxy A10e, we are slightly disappointed with its camera setup. Once again the phone faces tight competition in the camera category here.
The back camera on Galaxy A10e offers a significantly lower quality lens at 8MP. However, Galaxy A10e still ties with LG Stylo 4 for the front camera. It also has a 5MP camera just like LG Stylo 4.
The difference is easily noticeable, both in picture results and the camera technology itself. It's easy to get a sharper image with LG Stylo 4.
The phone offers high-speed autofocus which lets users shoot moving objects with precision. It means a lot less blurred pictures.
You will also have more fun exploring the camera menus on LG Stylo 4. The front camera has Portrait Mode. The blurred background effect on the front-facing camera is something Galaxy A10e doesn't provide.
Samsung Galaxy A10e only provides some popular menus such as HDR, panorama, and Pro mode which LG Stylo 4 also have.
As a conclusion, it's easy to pick which phone is better here. Mobile photography enthusiasts should go for LG Stylo 4 for a better quality setup.
Read also:
Storage
Storage is an area where Samsung Galaxy A10e finally outperforms LG Stylo 4 LTE. Samsung offers twice as much as LG Stylo 4 in internal storage.
While LG Stylo 4 LTE only offers 16 GB of memory, Galaxy A10e is providing an ample space of 32 GB.
The lack of internal storage on LG Stylo 4 is disappointing, especially since the phone's camera produces larger image files than Galaxy A10e's camera. LG should have at least equip the phone as much as Samsung does with Galaxy A10e.
Thankfully you can add an external storage option with an SD card. Samsung Galaxy A10e offers up to 512 GB of allowed SD card capacity while LG Stylo 4 offers 2 TB.
Performance
Looking at the technical specs, LG Stylo 4 LTE is armed with a 1.8 GHz Qualcomm Snapdragon 450 as its processor.
Samsung Galaxy A10e keeps up slightly behind in speed with its 1.6 GHz Samsung Exynos 7884 processor. Both phones have Quad-core processors.
The RAM capacity is similar at 2 GB on either device. Comparing their performance in detail, both processors have their own advantages.
LG Stylo 4 has faster CPU speed. On daily use, it means you'll be able to launch apps faster than in Samsung Galaxy A10e.
However, Samsung has the latest version of OpenGL graphic processing application. It means you can enjoy any graphics-related apps and functions on the phone faster and more intuitively than with LG Stylo 4.
Samsung Galaxy A10e can be the better choice for users who spend the time often playing mobile games.
Samsung Galaxy A10e is also better in terms of software. Being released more recently than LG Stylo 4, it features the newest Android 9.0 Pie as its OS.
There are several advantages on Android Pie that's non-existent in LG Stylo 4's Android 8.1 Oreo. For example, more intelligent brightness control. Android Pie also has better battery management.
Both phones come with their own customization, with Samsung slightly modifying the OS heavier than LG does. You'll find custom apps on both of them.
As far as appearance goes, their user interface is nice looking and easy to navigate. Their big screen also allows apps-stacking or multi-window view.
For special features, LG Stylo 4 users can take advantage of the stylus. It's the highlight of this phone. You can do plenty of things with it, from taking a handwritten note, drawing, or simply navigate apps and icons more precisely.
When an idea strikes, you can pull the stylus and write something without unlocking the phone.
Another highlight of LG Stylo 4 is the fingerprint reader. It's also something Galaxy A10e doesn't have and makes LG Stylo 4 way ahead of the competition here.
With fingerprints, owners of LG Stylo 4 can enjoy a top-notch security measure. In addition to that, you can use the fingerprint reader to shoot a picture, take a screenshot, and several other tasks.
Concluding specs comparison between Samsung Galaxy A10e and LG Stylo 4 LTE for the performance, the two phones roughly tie with each other.
That's considering the CPU and the software alone. The devil lies in the added details. We'd say that by also considering the fingerprint reader and the stylus, LG Stylo 4 can be hard to resist.
Connectivity
Samsung Galaxy A10e and LG Stylo 4 LTE have proven themselves to be a reliable modern-day phone with access to fast LTE network, Wi-Fi features, and GPS.
They're both more than capable devices for calling, browsing the internet, and doing other network-related tasks. We found no problem with each of them. No dropped calls or slow web surfing caused by the hardware issues.
Their general specs for connectivity are similar to each other. For data transfer, both phones have been utilizing the new USB Type-C port.
You can't find NFC on either phone, unfortunately. There are also Bluetooth, ports for headphone jacks, and FM radio on both phones.
Battery
LG Stylo 4 LTE has a larger battery with 3300mAh cells. It's not surprising since LG Stylo 4 needs to power a gigantic, high-quality screen.
In fact, that capacity is below average for a phone this size. So when compared to A10e's 3000mAh battery, LG Stylo 4 battery performance is slightly lower.
Samsung Galaxy A10e is able to give its users up to 23 hours of talk time. Meanwhile, it's only 15 hours with LG Stylo 4. Standby time is also longer in Galaxy A10e than in LG Stylo 4, 554 hours versus 504 hours.
Both phones use a non-removable battery and each doesn't come with charging features such as fast charging.
Wrap-up
Looking at the specs comparison between Samsung Galaxy A10e (S102DL) and LG Stylo 4 LTE (L713DL), it's no denying that LG Stylo 4 LTE is considerably better in many important categories.
Those categories are display quality, CPU speed, and the camera. Not to mention the extras such as the fingerprint sensor and the stylus. On the other hand, the only significant advantage Galaxy A10e has is its newer Android Pie.
One more thing to consider is the price. Surprisingly, Samsung Galaxy A10e is the more expensive one here. Its retail price is $159.99. LG Stylo 4 LTE is ten dollars cheaper at $149.99.
On sale, TracFone sells each of them at the same price of $99.99. It means when considering the price relative to the specs offered, LG Stylo 4 is the one providing more value.
Samsung Galaxy A10e Pros:
Full-screen infinity display design
Slightly better battery life
Better graphic processing
Newer Android
LG Stylo 4 LTE Pros:
High definition display
Better camera by far
Fingerprint reader and stylus
More capacity for external storage