The specs comparison between LG Solo LTE and LG Journey LTE in processors, screen size, and other aspects. Find out which one would be the best phone for you.
LG has a handful of choices when it comes to affordable phones. Among them are LG Solo LTE (L423DL) and LG Journey LTE (L322DL). Both priced for under $100, each phone offers something different between one another.
It looks like LG Solo LTE emphasizes more on performance with its 1.8 GHz Octa-core processor. On the other hand, LG Journey LTE boasts the newer version of Android on its software.
But that's not all. We will examine the specs comparison between LG Solo and LG Journey in more detail. We cover every aspect of the phone, from design, performance, the camera, and more. Hopefully, our takeaway can help you find the perfect phone to buy.
Design
LG Solo and LG Journey are easily distinguished from appearance alone. LG Solo comes with a smaller screen to body ratio than Journey. Solo decided to be bezel-less on its right and left. The choice of design creates the illusion of an infinity display.
LG Journey, on the other hand, has slightly wider edges. It's by no means drastic, but the difference can be big to the eyes. If we have to choose blindly from looks alone, Solo's design clearly wins. Many phones today are ditching bezels. And LG Solo is following that trend. Compared to Journey design, Solo also appears more up-to-date and premium.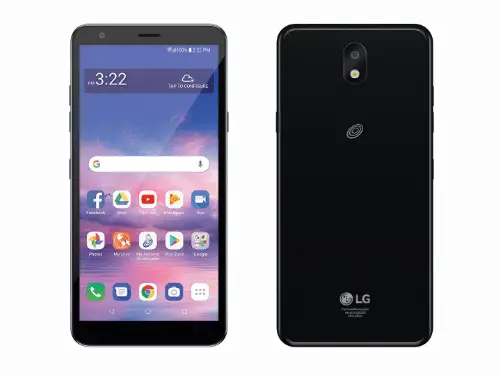 As for the material, both phones use the same thing. They use plastic for the casing, along with similar curve design on the edges. LG Solo is slightly taller and wider, but both phones have the exact same thickness. The shiny black casing on Journey attracts grease more than Solo's matte grey.
There's no difference in comfort when holding each phone. Their weight only differs by 0.06 oz. The curved edges on both phones help secure the phone on your palm. LG strategically places components in a way that the phones look tidy. In this case, both Solo and Journey are ergonomic enough.
To conclude the design aspect, the main difference between the two is the front part of the phone. Everything else is practically similar.
Display
The first noticeable difference for the screen is their size. LG Solo comes with a slightly larger display. But thanks to the bezel-less design, the screen looks bigger than it actually is. LG Solo comes with a 5.7″ HD+ screen with a ratio of 18:9.
On the other hand, LG Journey has a 5.45″ HD+ screen. But the screen size isn't everything. The resolution is also important in determining the display quality of a phone. In this case, both phones have a resolution of 1440 x 720 pixels. With Journey having the smaller screen size, it means it has denser pixels per inch. Therefore, Journey has a slightly better quality screen.
The difference is subtle. Users won't notice it most of the time. Both displays deliver pretty much the same level of brightness, sharpness, and vibrancy. It's comfortable to use either phone for browsing, watching videos, and video gaming. Although, the experience with Solo is more pleasant because of the bezel-less design.
So as a conclusion, the deciding points for display lie in screen size. If you like a bigger screen, go for Solo. If you want to be able to operate the screen with one hand, LG Journey is the better option.
Camera
LG Solo LTE and LG Journey LTE feature the same camera specs. They both come with an 8 MP rear camera and a 5 MP front-facing one. Neither of them has dual lenses. LED Flash is present alongside the rear camera.
But there's one difference. Solo has an LED flash for the front camera. The extra lighting will definitely help when taking selfies in low light environments.
After hardware, let's see what the phone offers in software features. The image quality taken with the rear cameras on both phones is roughly similar. But a difference in post-image processing could mean day and night for the final result.
Features that could improve Solo's photo results are HDR and Fast Catch. On Journey, there's also an HDR option. Fast Catch is replaced with Burst Shots. For the front camera, both phones offer Portrait Mode with blurred backgrounds as well as Beauty Mode.
As we can see here, there's not much difference either in shooting features. In addition, both cameras are capable of recording an Full HD 30fps video.
It should be easy when considering which phone you should buy. The camera specs comparison between LG Solo and LG Journey is almost identical. Except for the fact that Solo has an LED flash on the front. We consider LED Flash as a minor feature. Although for some people, it could be a deciding factor.
Storage
Buyers of either LG Solo or LG Journey will have to settle for a meager 16 GB of internal storage. It's not a lot of space, especially since only 8 GB is available for users. Yes, almost half of that capacity is reserved by the system.
Both phones provide an external storage option. LG Solo makes it possible for a 2 TB SD card to be installed on the phone. Meanwhile, LG Journey only allows 32 GB of SD card capacity.
When it comes to external storage, LG Solo is the clear winner. Potential buyers planning to store large files should take this difference into accounts.
Performance
Performance is where LG Solo and LG Journey differ by a mile. Starting with the processor, LG Solo boasts a faster setup with its 1.8 GHz Octa-core Qualcomm Snapdragon 450. Meanwhile, Journey has "only" a Quad-core Qualcomm Snapdragon 425. The processing speed is slower than Solo's setup at 1.4 GHz.
With the same capacity of RAM, competition between processing speed depends on the chipset. LG Solo does offer a more intuitive experience with the faster CPU. You can comfortably move from one application to another.
LG Journey is not a slow phone, but it's lacking in some activities like gaming. You'll fare better in gaming with Solo than with Journey. The Adreno 506 on Solo delivers more powerful processing with faster graphic rendering. It also uses less power when the phone runs a mobile game.
LG Journey is ahead of LG Solo when it comes to software. Equipped with Android 9.0 Pie, Journey enjoys some optimization and features Solo doesn't have. Meanwhile, LG Solo still uses the older Android 8.1.
The newer Android on LG Journey helps to narrow the performance gap between both phones. It also makes Journey more power-efficient than Solo. Several features you can utilize in Android Pie include Blue Light filter (Night mode) and smarter Google Assistant.
One thing to note, LG comes with its own UX design. It looks beautiful but it means a heavier operating system. In addition to that, there are LG custom apps on both phones. You will find applications such as Knock On, QuickMemo+, and Capture+. You can enjoy all these features on both Solo and Journey.
These two phones also share the same sensor specs. The accelerometer is available to control movement when playing games. You can see the Proximity and Ambient Light sensors on the front part of both phones.
But when you see the back on both phones, you will notice that only Solo has a fingerprint reader. This fingerprint sensor is another advantage of LG Solo. It increases the security measure on the phone significantly. Moreover, a fingerprint is also more convenient. LG Journey, on the other hand, doesn't have a similar feature. Users will have to use the standard PIN, and password lock options.
As a conclusion, when deciding performance, LG Solo excels in terms of hardware while Journey is a bit ahead in the software department. The difference in hardware is greater than in software. Features and apps are pretty much the same between both phones, although one OS is newer than the other.
Connectivity
LG Solo and LG Journey users will enjoy LTE capability on both phones. The phones are made to keep up with the current standard of communication. You will have 4G options while older bands (3G and 2G), are still present. Outside mobile networks, Wi-Fi and Bluetooth add more options for connectivity. You can use them for Mobile Hotspot too.
For data transfer and charging, both phones use the MicroUSB. NFC is nonexistent on either phone. You'll have no problem with location service, as GPS is available and integrated well into apps like Google Maps.
In short, there's little to compare in this category. But one crucial thing is network speed. Since both phones use a different processor, Solo with the better CPU enjoys a download/upload speed twice faster than LG Journey. It means you're more likely to have dropped calls or slow internet with Journey than with Solo.
Battery
Again, LG Solo and LG Journey share the same specs in this category. Both phones are powered by a 3000 mAh battery. They're both non-removable types. You won't find fast-charging options on either phone.
On paper, their performance slightly differs since they have different display sizes and processors. LG Journey offers longer talk time at 14 hours, while LG Solo tops at 12 hours. Journey also boasts longer standby time (13 days vs 10 days with Solo).
In real-life applications, the performance of both phones is roughly the same. You can easily stretch the battery on both phones until the end of the day under normal use.
Wrap-up
Concluding the specs comparison between LG Solo LTE and LG Journey LTE, key differences lie on the processor, security, and display. So far, LG Solo wins with a faster processor, a bigger display, and fingerprint sensor availability.
Let's talk about prices. It's not surprising that LG Solo LTE (L423DL) is more expensive than Journey. The retail price of Solo is $119.99. On discount, you only need to pay $89.99, which is also the retail price of LG Journey LTE (L322DL). LG Journey can get even cheaper too with a discount at $69.99.
The 20-dollars difference is something to consider. It's up to you whether the price difference is worth the additional perks (fingerprints, larger screen, etc). As far as the essentials go, both phones deliver what's needed as a decent communication device.
LG Solo LTE Pros:
Faster processor
Larger expandable storage
Bigger display
Fingerprints sensor
LG Journey LTE Pros:
Cheaper
Newer Android 9.0 Pie
More compact design
Slightly longer battery life