Take a look at our Samsung Galaxy A51 review before going phone shopping. See if this beautiful piece of technology deserves to be your next big purchase.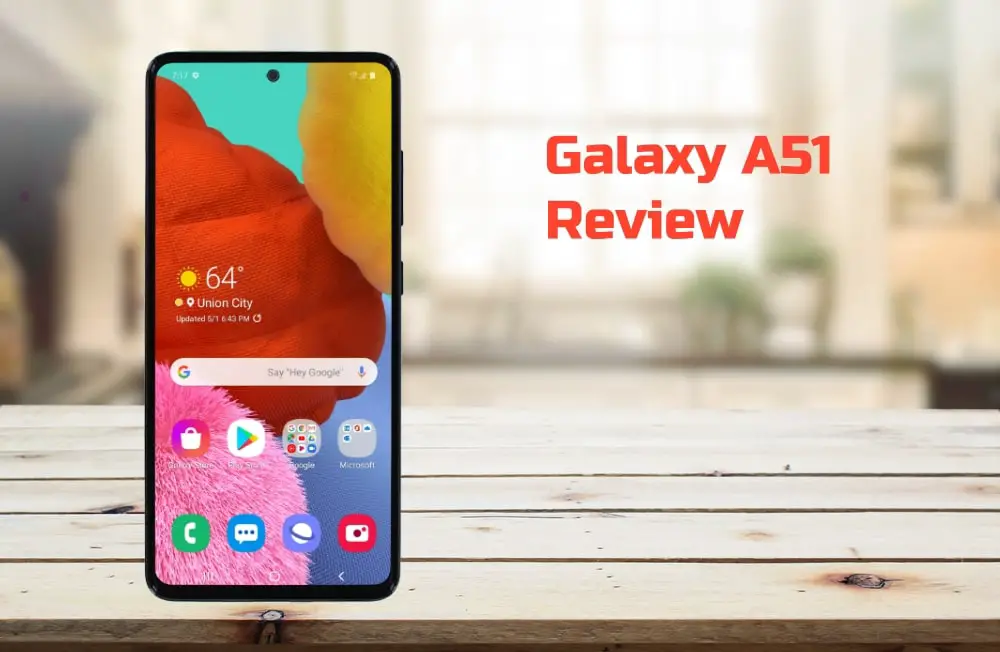 The Samsung Galaxy A51 smartphone was released in January 2020. Smartphones have played a dominant role in our lives. We must invest in a good, proper device to perform our daily activities.
Unfortunately, not all of us have the privilege of affording costly, premium gadgets. However, in recent years, there has been an emergence of low-cost premium phones in shops. One such instance is the Samsung Galaxy A51.
Packaged in its trademark Samsung aesthetics, the phone has been garnering a heap of attention from the public. Manufacturers have challenged themselves in creating a high-quality phone that is still affordable.
After reading our Samsung Galaxy A51 review, we will let you know if this phone should make it on your list.
Samsung Galaxy A51 Key Specs
Samsung Galaxy A51 (S515DL) specifications:
Weight: 172g
Dimensions: 158 X 73 X 7.9mm
OS: Android 10
Screen size: 6.5-inch
Resolution: 1080 x 2400
CPU: 2.3GHz Octa-core, Samsung Exynos 9611
RAM: 4GB
Storage: 128GB
Battery: 4,000mAh, Non-removable
Rear camera: 48MP + 12MP + 5MP + 5MP
Front camera: 32MP
Samsung Galaxy A51 Design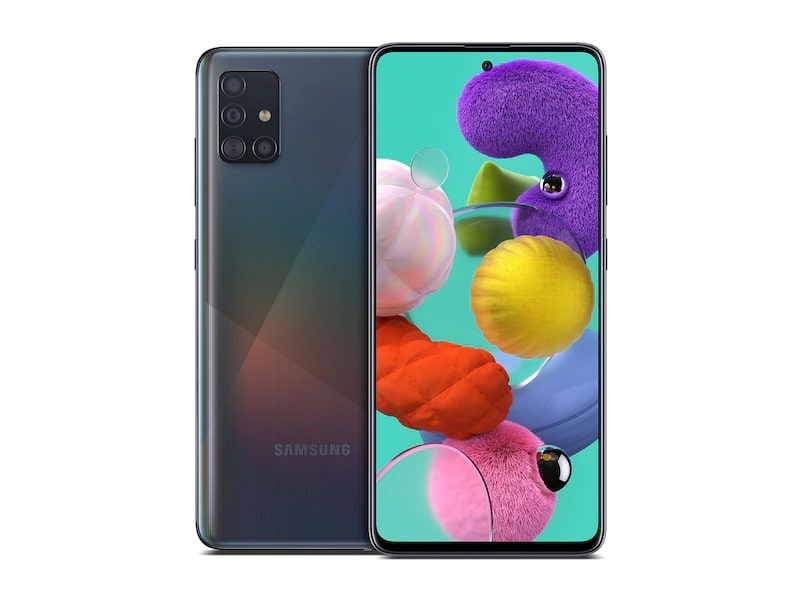 The Samsung Galaxy A51 has an almost bezel-less look surrounded by round edges. The phone comes in prism black which reflects colors when light bounces on the back. An interesting detail we noticed is on the edges. Not only are they round, but they are also flat. This is a breath of fresh air in a market of waterfall phone displays.
Moving onto the back cover, the phone's main cameras are packaged in a square bump. The cover is made up of a combination of glass and plastic. Upon closer inspection, the phone mostly looks like it's built from plastic.
But with its additional choice of glass, the phone has a more durable and secure touch to it. Despite the composite materials, the smartphone still feels light in our hands.
Developers have kept a more simplistic approach with the Samsung Galaxy A51's sides. On the bottom, we have our USB-C port, a headphone jack, and a speaker. Sadly, it is not a dual speaker like most modern smartphones.
On the right side, there is only a power button and volume controls. Meanwhile, the left side doesn't even have buttons. Only a dual-SIM card slot with a MicroSD expansion installed on it.
Samsung Galaxy A51 Display
The Samsung Galaxy A51 features a stunning 6.5-inch Infinity O-Display. With the thin bezels, we can enjoy up to 6.3 inches of the screen. This is considered as a huge plus for those who appreciate phone aesthetics. A majority of smartphones may boast larger-than-life big displays. But not all developers invest time in minimizing the bezels to maintain the screen size.
Oftentimes, we found that most front cameras are tucked away in their tear-drop shaped bezel. This little notch reduces the actual screen size that users can enjoy. In the Samsung Galaxy A51's case, the phone's front camera becomes a part of the screen. With no distinct bezel, this allows the screen to stretch out to the very top of the device.
The phone's display technology does not disappoint as well. Showcasing a 1080 x 2400 resolution, we are promised rich, crisp visuals. This is all thanks to the phone's pixel allocation, providing clear-cut accuracy on the display. The phone takes it up a level by adding FHD+ as well. We are treated to the small details usually overlooked on our screens.
Sharpness isn't the only thing users can expect from the display. The phone's 16M Color Depth Technology treats us to the vast, richness of colors. Our viewing pleasure is further enhanced by the clarity the display provides. Whether it's scrolling through social media or watching videos, our eyes are stimulated by such clarity.
Read also:
Samsung Galaxy A51 Camera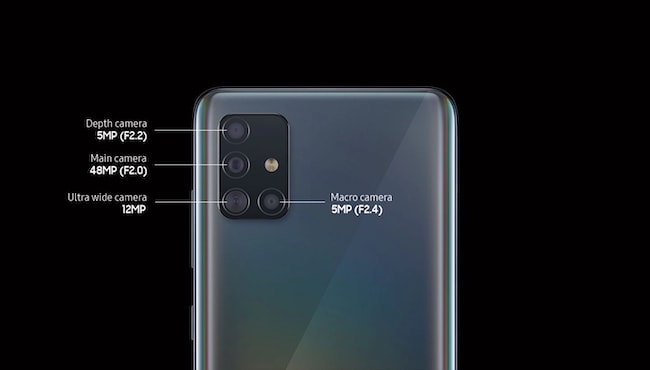 The Samsung Galaxy A51 boasts a 48MP rear camera and a 32MP front camera. Those two cameras are just the icing on top. The back also features a 5MP depth camera, 12MP ultra-wide camera, and a 5MP macro camera. Bringing back the spirit of photography, this selection of cameras leaves us spoiled for choice.
The cameras are complemented by the many photo modes this phone can accommodate. Love taking dramatic photos of yourself? We have the classic Portrait Mode. A big fan of mouth-watering shots of your lunch? The Food Mode will make your lunch look even more delicious. Sadly, the camera seems to underperform in low light settings, which may be a bummer for some.
Smartphones are nothing without a camera to take quick selfies. Having a 32MP front camera is considerably impressive, but this comes as no surprise. With more smartphones in the market, a functional front camera is becoming a major selling point. It is already expected that a newly-released phone like the Samsung Galaxy A51 can take sharp selfies.
The video recording function lives up to its standards as well. The phone can capture videos with immense stability. As a result, videos come out smoothly, and of course, with HD quality. Recording videos at rowdy concerts or in moving vehicles shouldn't be a problem anymore with this device.
Samsung Galaxy A51 Storage 
The Samsung Galaxy A51 has 128GB of raw hardware installed into the device. Out of the entire storage, only 106GB can be accessed. This shouldn't be a major issue for most users like us. More than 100GB of available storage is still enough to download an abundance of apps. We do not have to face the hassle of constantly clearing the memory to save up space.
If the 106GB internal phone memory is not enough, don't sweat. We can expand the phone's storage by using a microSD card. The Samsung Galaxy A51 accommodates an external memory of up to 512GB. For those who have tons of photos to keep, this phone should do the trick.
Read also: Samsung Galaxy A51 (S515DL) User Manual
Samsung Galaxy A51 Performance
The Samsung Galaxy A51 employs a 2.3GHz Samsung Exynos 9611 processor and a 4GB RAM. The processor has garnered a reputation for its fast performance on both light and heavy tasks.
Not only does it launch apps at a quicker pace rate, but also organizes the many tasks on the phone. Multitaskers who need to run many programs in the background are treated to smoother efficiency. The processor does run into a hiccup or two sometimes. However, it will easily get back to its normal performance.
Another perk that comes with the processor is its ability to accommodate a stronger network connection. It is installed with its modem that reaches up to 600Mbps. This is extremely handful, especially since we don't use the phone just for the Internet. Phones must be able to guarantee proper connection to support a variety of online activities.
Let's get to the crucial part of this Samsung Galaxy A51 review. Shifting our focus onto the phone's 4GB RAM, the phone promises lesser crashes. The minimal amount of RAM for a smartphone to perform efficiently is 2.5GB. We consider having 4GB of RAM itself to be a luxury.
Despite the high RAM, it is still important to maintain the phone's performance in the upcoming years. One of the many initiatives that can be done is clearing cache. By cleaning up unnecessary data, the phone is bound to be good as new. This will prevent the RAM from overworking itself within longer usage.
The Samsung Galaxy A51 makes use of an Android 10 OS to fully function. Over the years, Android has continuously updated its operating systems to meet current demands. The Android 10 is no exception. We can look forward to easier accessibility in terms of gesture navigation. Say goodbye to conventional buttons, and hello to swift swipes and taps.
As the era of technology is coming to rise, so do security breaches. This has motivated developers to strengthen privacy settings with Android 10. We can now configure permissions for certain apps and tools. This includes the camera, microphone, location, and more. The OS ensures our data can be protected with a few alterations in our settings.
Sensors have had such a history ever since its initial implementation. For quite a while, it has gone through several advancements. However, the Samsung Galaxy A51 has decided to keep it simple. The phone has an in-display fingerprint sensor. This is handy if we're on-the-go and need to open our phone every second.
Like most fingerprint sensors, it might not work as well during the initial configuration. This is a common issue that requires frequent usage and time. After a couple more fingerprints, the sensor will eventually come to its senses.
Samsung Galaxy A51 Connectivity 
The Samsung Galaxy A51 uses 4G LTE data technology as its main network. For us to get connected, we will need to install a Nano-sized SIM Card. However, using Internet data may not always be our cup of tea. Alternatively, we can utilize the phone's Wi-Fi Direct function to save up on data. Read more tips here on how to make your data balance last longer.
The device also comes with a Bluetooth Version 5.0. This allows us to send bigger files at a quicker rate. Ditch the cables, and simply send photos or audio through Bluetooth. If we're ever going away to a foreign land, the GPS has got us covered. Its state-of-the-art technology ensures the precise accuracy of our current locations.
Samsung Galaxy A51 Battery
The Samsung Galaxy A51 has a non-removable battery with a total capacity of 4,000mAh. Power-efficient at best, the device can withstand up to 348 hours of standby time. This means up to 16 hours of non-stop Internet usage using Wi-Fi. When the battery is running out of juice, fast-charging is here to fill it in no time.
Please be advised that a phone's battery life ultimately depends on personal usage. Multiple factors could affect the battery. A few examples include data usage, running apps, and the frequency of messages. Coordinating our preferences with the device's functions is essential for power-saving.
Is the Samsung Galaxy A51 a good phone?
Our Samsung Galaxy A51 review has concluded that this phone has surprisingly exceeded our expectations. Going for a price of below $250, it is remarkable that this phone is placed under the low-range category. It has the exteriors of a premium-looking phone and running software that matches. Let's not forget the other perks, such as its cameras, storage size, and fast-charging option.
The smartphone is proof that a brand can manufacture well-designed budget devices. Sure, it may come with certain flaws in its minor details. But if we are looking for a high-quality phone that doesn't burn a huge hole in our pocket, look no further. The Samsung Galaxy A51 (S515DL) is our next choice.
Need a mobile plan that's perfect to be paired with Samsung Galaxy A51? Check out our definitive guide for Tracfone Wireless.
Samsung Galaxy A51 Pros 
Beautiful, durable aesthetics
Variety of high megapixel cameras
A huge amount of storage
Fast-charging battery
Samsung Galaxy A51 Cons 
The processor may glitch sometimes
Camera underperforms in low light
Does not have dual speaker