Learn all about the two methods on how to hard reset TracFone Samsung Galaxy J7 Sky Pro, where each method works best for different situation and condition, with the same result.
Do you know that there are two methods that you can use when you want to hard reset a TracFone Samsung Galaxy J7 Sky Pro smartphone? Each method works for different situation, which means you can choose the best method that suits you.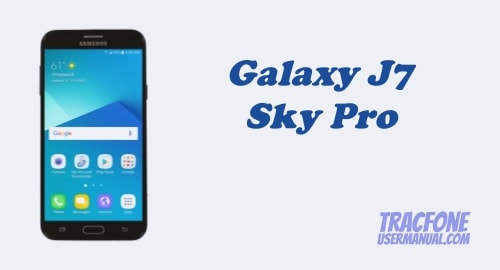 Related Posts:
➥ TracFone Samsung Galaxy J7 Sky Pro Phone Review
➥ TracFone Samsung Galaxy J7 Sky Pro User Manual
➥ TracFone LG Stylo 3 Hard Reset
But before you do any of that, make sure you already back up every single file and data stored in the phone's internal memory. Why? Because hard reset will wipe out everything, other than the built-in file and app.
Hard Reset Samsung Galaxy J7 Sky Pro Method 1
Now you already back up everything, let's proceed to the first method. This method works in a normal situation where you have no problem accessing the phone and its content. In this method, all you need to do is:
Go to your Galaxy J7 Sky Pro phone Settings.
Find the "Backup & Reset" option among the available menu and tap on it.
You will find more option, and you need to find "Factory Data Reset" and then tap on it
At the bottom, you will see the option of "Reset Device", tap on this option as well.
One more thing, tap on the "Erase Everything" option and now the factory reset will begin.
Once the factory reset process is complete, the device will turn back on automatically.
But what if you can't access the phone's feature and app? This is possible if the phone is frozen or when the phone got stuck in rebooting process. In this case, use the second method to perform a hard reset on Samsung Galaxy J7 Sky Pro. Follow the guide below:
Hard Reset Samsung Galaxy J7 Sky Pro Method 2
Turn OFF your Galaxy J7 Sky Pro completely.
In the same time, press and hold Power button, Home button and Volume Up button for several seconds.
Release Power button only when Samsung logo appear on the screen.
Release the rest button when Android logo appear, the recovery menu will appear.
Choose "Wipe Data / Factory Reset" option using Volume button and Power button to select it.
Choose "Yes — delete all user data" to confirm the whole operation.
When it's done, choose "Reboot system now" option to take the phone back to standard operating mode. Now the phone has reset back to its factory default setting and ready to use once more.