Hard reset on TracFone LG 328G is possible and it is easy to do. Follow the available guide below that will show you step by step on performing hard reset on this phone as well as the options to take along with it.
Hard Reset TracFone LG 329G Phone – One of the great things about performing hard reset on simple phone such as TracFone LG 328G is that it doesn't have third party app. People usually use this kind of phone mostly to make call, send message and check email occasionally. It means the whole hard reset process is simpler and faster compare to the more complicated smartphone.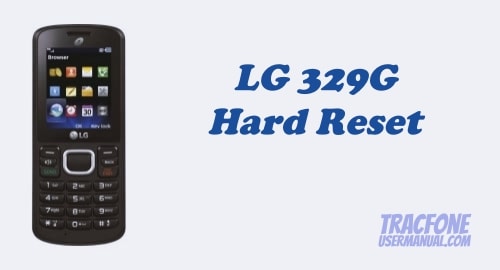 Related Posts:
➥ TracFone LG 329G Phone Review
➥ TracFone LG 329G User Manual
➥ How to Hard Reset TracFone LG 305C Phone
Hard Reset Tracfone LG 329G
As for TracFone LG 328G, there is only one procedure to perform and that is called hard reset. To perform hard reset, follow this guide:
"Go to standby screen > Left Soft Key > Menu > Settings > Phone Settings > Reset Settings > choose between Master Reset and Master Clear".
If you like to bring the phone to its original setting, choose for "Master Reset". But if you simply want to delete everything on the phone and make sure nothing is left out, choose for "Master Clear". It is nice to know that you have more options on what kind of data, file or setting to reset. It is more flexible compare to the common hard reset that will bring the phone setting back to original and also clear out any additional file and data.
The whole process will take some time and just wait until it's done. After that, restart the phone to clear any glitch and let the change take place. When it's done, you will notice the change on the phone, on the phone setting and on the files as well.
No matter what option you take, either Master Reset or Master Clear, you need to make sure that you already have the back up of your personal file first. Those files will be erased when you perform this action and you surely don't want to do that. You can choose any back up method that you enjoy the most and restore it back once more to the same phone or perhaps on another phone.