Dual-camera for under $100? Find out the other perks in this LG Premier Pro Plus review. Complete assessment on performance, battery, and more.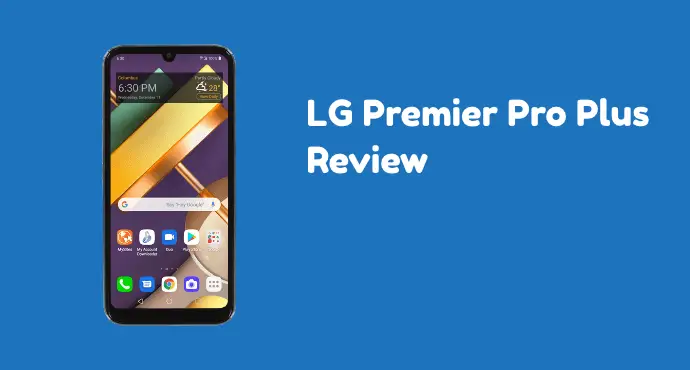 LG Premier Pro Plus is one of the newest LG phones released in 2020. This phone aims for budget customers. Coming with a price tag just shy under $100, it offers the latest technology while not completely emptying your wallet.
The device's key features include a big display. It is apparent upon the first impression examining this phone. The screen, at 6.1-inch, is surrounded by an almost bezel-less frame which LG calls FullVision display.
Other notable features include the fingerprint sensor installed on the back. The phone also keeps up with the trend of having more than one camera on the back. The dual-camera looks interesting.
So far that's the overview for LG Premier Pro Plus (L455DL) review. Let's take a look deeper into each spec and find out how our final verdict would be.
Key Specs
LG Premier Pro Plus (L455DL) specifications:
Weight: 172g
Dimensions: 174 x 82.7 x 9.6mm
OS: Android 9.0 Pie
Screen size: 6.1-inch
Resolution: 1560 x 720
CPU: 2GHz Octa-core, MediaTek Helio P22
RAM: 2GB
Storage: 32GB
Battery: 3,500mAh, Non-removable
Rear camera: 13MP + 5MP
Front camera: 8MP
Design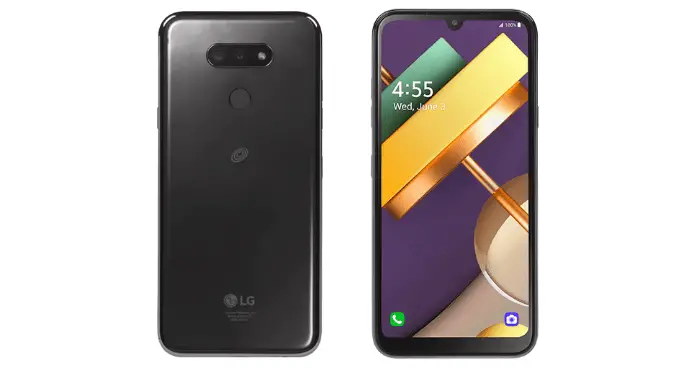 LG Premier Pro Plus features a typical bar design with a dimension of 174 x 82.7 x 9.6mm. Meanwhile, the phone weighs at 172g. For the Tracfone edition, the color option is only in black.
LG claims to incorporate the metal design on this model. As a result, you might feel the familiar heaviness just like when holding a metal-framed phone. For us though, the phone still feels lightweight.
Appearance-wise, this phone is good looking. We're pleased to see little details on the shiny back cover. It looks neat with a sleek appearance and minimal clutter. It attracts grease easily though, but that's not a big problem.
The curved edges make the phone easy to hold even though it's gigantic. Buttons are neatly tucked alongside the very slim side frame of the phone. Apart from the usual Power and Volume keys, a Google Assistant button completes the lineup.
We are quite pleased with the LG Premier Pro Plus design. You can't hope for a very premium look because that would be unrealistic, but this design is not bad either. It looks like a phone that's released only recently. So if you want to look trendy, you won't have a problem with this phone.
Read also:
Display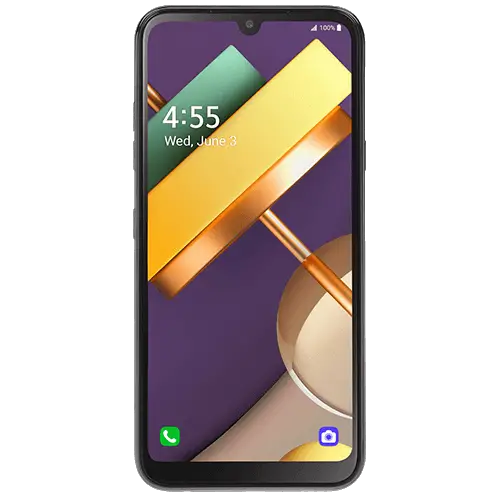 The 6.1-inch camera on LG Premier Pro Plus proves to be the highlight of this product. The quality is also pretty good at HD+. The pixel count is 1560 x 720 to be exact. The glass display, however, doesn't come with anti-scratch protection like Corning Gorilla Glass.
LG uses a display design called FullVision. Basically it's similar to Samsung's Infinity Display which emphasizes an edge-to-edge look. LG Premier Pro Plus is doing pretty well here adapting the FullVision design.
The thin bezels feel almost invisible as you browse the phone. The size of the display makes watching videos a treat. The notch for the camera is small and almost unnoticeable. The big display also allows room for multitasking freely. Activities like writing a long email and playing games is also not a problem with LG Premier Pro Plus.
The display quality itself is reasonably acceptable. It's a TFT display and certainly not a competitor for AMOLED screens. However, for daily use, it doesn't display obvious imperfections that decrease your phone experience. It displays sharp color and adequate details for an HD+ screen.
If you are upgrading from phones with a lesser quality display, you'll find this phone as remarkable. However, if your previous phone has a Full HD display or better, you will notice the decrease in quality. For some people, this is something very important to consider.
Read also: LG Premier Pro Plus (L455DL) User Manual
Camera
As mentioned before, LG Premier Pro Plus comes with a dual-camera setup. It's a combination of 8MP main camera and a 5MP wide-lens camera. Meanwhile, the front camera lies on the small notch as it has a resolution of 8MP.
With the dual camera, you can adjust depth-of-field and capture photos with blur effects. It's recommended to try features such as Focus peaking that is available inside the Camera app.
In our opinion, the image result is well-balanced in terms of colors. Each picture spews out intrinsic details and color tones that match real-life. The biggest contributing factor to an excellent shot is the light. On sunny days, that's when the camera performs the best.
Therefore, the camera struggles with lowlight. It's not surprising, however. Users can utilize the LED flash, although noise and shaky results would still be inevitable.
The front camera captures okay-ish selfies. There's no room for an LED flash on the notch. So, you'll also need to make sure you get a decent amount of light when taking photos.
That's our LG Premier Pro Plus review for the camera. It's evident that the camera is not comparable to flagship phones' cameras. However, LG Premier Pro Plus is perhaps among the few phones with a dual camera that's under $100. So it's quite unique in that matter.
Storage
LG Premier Pro Plus comes with 32GB of internal storage. This capacity is the average one, especially on budget phones. You'll probably get around 20GB as a real capacity. It's usually enough for a few months or so.
Running out of storage will require users to expand with external storage. Especially if you take advantage of the camera a lot (i.e. taking a lot of photos), those 32GB might even run out faster.
Fortunately, LG Premier Pro Plus happily provides this option. You can pop in a microSD card to the available slot. The phone lets users install one with the maximum capacity of 1TB.
Performance
LG Premier Pro Plus runs on a 2GHz Octa-core, MediaTek Helio P22 chipset. The hardware performance specs also list 2GB of RAM. Further, the Android version this phone use is Android 9.0 Pie.
MediaTek Helio P22 is a new generation of processors that supports the latest technology such as dual-camera. It also plays a great role in supporting big screens as this phone has. The processor is quite powerful, topping on 2GHz of processing speed. This chipset also comes with an integrated GPU.
The overall experience is satisfactory for the users' point of view. You can navigate the phone with ease, jumping from one app to another with little to no delay. The RAM is relatively small at 2GB. So you might not want to go overboard to keep everything running smoothly.
As a 2020 phone, it's disappointing to see this phone still using the older Android. Android 9.0 Pie is last year's edition, and this year, the newest one is Android 10. Many manufacturers already use Android 10 on their new releases. But apparently it's not the case with LG Premier Pro Plus.
So, it feels like LG Premier Pro Plus can't reach its maximum potential. Especially because Android 10 offers more optimization and new features not found in the previous version such as adaptive apps and brightness.
The good news is, LG doesn't do a lot of customization here. At least not as much as Samsung. So the user interface is relatively free from bloatware and unnecessary apps.
Apps inside are pretty standard. You'll find the ones from Google. Then there are the native apps such as Camera, Gallery, Music, and Calculator. The multi-window feature is available. With it, you can use two apps at the same time.
All in all, the software is easy to use for beginners. When considering the appearance alone, Android on this phone offers a beautiful design that's very nice to look at. Apps and settings are easy to access from the Home screen.
Most importantly, the phone packs a fingerprint sensor. That can enhance the security of this phone. Setting it up is easy, and the reader itself is responsive. However, there's no Face unlock on this phone. So your choice is only the fingerprint apart from the usual PIN/password.
Customers won't need to worry when it comes to accessibility features. This phone is hearing aid compatible. It also comes with Google Assistant so you can do tasks without using your hand.
Connectivity
For its connectivity, LG Premier Pro Plus runs on the 4G LTE band while still supporting the older 2G and 3G. Standard Wi-Fi connectivity is also available, along with Bluetooth, and USB connection.
The LTE support on LG Premier Pro Plus allows for smooth calling experience with minimal interruptions. The mobile network also allows for quick and seamless internet access, which you can optimize by making your data balance last longer.
Wi-Fi comes with more features such as Wi-Fi Direct and Hotspot. The phone is also GPS-enabled, making it possible for using location-based apps and finding directions. Another miscellaneous wireless feature includes FM radio (offline). Unfortunately, this phone doesn't provide NFC, which doesn't come as a surprise on a budget phone.
Battery
For its battery, LG Premier Pro Plus comes with a 3,500 mAh non-removable Lithium-ion. For us, we consider this capacity as below average, especially for a phone with more than a 6-inch display. It means you have to be careful with your usage if you want the phone to last until the end of the day.
On standby, this phone claims it can reach 18.2 days. Talktime is also quite long at 17.5 hours. For browsing and streaming, however, LG Premier Pro Plus certainly can do a lot better. For that, you might want to do some configurations to save battery life.
For charging, there isn't an option for rapid charging either. When competitors like Samsung and Motorola phones come with bigger batteries and also with quick charging, this phone lags behind in comparison.
Is the LG Premier Pro Plus a good phone?
LG Premier Pro Plus is certainly a legit option for a budget phone. It has several attractive features such as a big display and the dual-camera. However, when you look around at competitors, you will see better options out there.
At $99.99, the LG Premier Pro Plus is certainly very cheap. Even competitors charge a bit more expensive price for a 2020 release. If you are really tight on budget and want a big display or fingerprint reader, this phone might be good for you.
But if you can afford to spend an extra $20 or $30 more, it's better to consider options such as Samsung Galaxy A11.
So that's the verdict for our LG Premier Pro Plus review. We understand that some people intentionally look for cheaper options. That's why we also recommend affordable carriers such as Tracfone. You can add text balance for as cheap as $5 here.
LG Premier Pro Plus Pros
Big display
Dual-camera
Fingerprint sensor
Cheap price
LG Premier Pro Plus Cons
Still use older Android 9.0
Small battery